As an Amazon Associate we earn from qualifying purchases.
Warm, sunny days are the perfect excuse to make your way to the beach or pool to get a little Vitamin D – what better way to do that than in a cute, trendy bikini? With so many swimwear options, it can be hard to pick your favorite to flaunt.
Top Bikini Reviews
When it comes to bikinis, there are numerous styles, colors, and designs to pick from. One of the best things about a two-piece is that you can mix and match the different styles of tops and bottoms until you find your perfect look.
Whether you live in a beach city with the ocean steps away, have an easily accessible pool, or are planning a water-based vacation, here are my top recommendations for the best bikinis on the market.
Brand
CUPSHE Crochet Padded Swimsuit
La Blanca Island Goddess Rouched Halter Top
Product
Material
85% Nylon, 15% Lycra Spandex
Fabric: 80% Chinlon, 20% Spandex
Product
Material
85% Nylon, 15% Lycra Spandex
Brand
CUPSHE Crochet Padded Swimsuit
Product
Material
Fabric: 80% Chinlon, 20% Spandex
Brand
La Blanca Island Goddess Rouched Halter Top
Product
Coco Reef Five Way Top and Bikini Bottoms with Shirred Sides
Some women find it difficult to find the best bikini for large busts. With the Coco Reef Five-Way Bikini Top and Shirred Sides Bottoms, you get a convertible neckline that allows you to reinvent your swimwear while providing full coverage lift and support. 
Depending on your mood, you can switch up the bikini's style to a halter, wrap front, over the shoulder, or bandeau. Even if you change the top's style, you won't experience spillage as you move. 
The use of nylon gives the elasticity you need with big busts, especially in the straps, so that the bikini hugs in the right places. The addition of spandex allows the cups to retain shape even after you wash and wear the bikini several times.
The molded cups and removable straps work together so you can confidently move around as you swim, bend, and even run along the shoreline. The underwire acts as additional support, especially for those with cup sizes ranging from C to DD. 
Meanwhile, the bottoms are a great fit as they don't come up too high at the back or too low in the front. 
Pros
Adjustable straps, molded cups, and underwire offer comfort and support
Convertible neckline for a versatile fit 
Cons 
Color tends to fade easily
CUPSHE Crochet Padded Swimsuit
Do you want to end your hunt for the best bikini for small chests and figures? The CUPSHE Crochet Two-Piece Swimsuit provides support and full coverage so that you can swim and lounge comfortably. The cups give a fuller form, which is extremely flattering on gals with small chests.
The youthful crochet design makes up for the lack of curves in your chest. Even if the crochet thread's hold isn't as good as nylon, the padded cups give enough coverage for ladies with small breasts. 
Similar to the first bikini set, this crochet bikini also contains spandex to ensure comfort and anti-wearing properties. More than that, the long straps allow you to change the bikini top into a halter, bandeau, or middle lace-up. 
One of the best things about having small boobs is that you won't generally rely on breast support. With that said, you can also turn the top into a strapless bikini.
As long as you use the right size, the low-rise bottoms will hug the curve of your butt cheeks. The bottoms cover just enough while ensuring it won't slide or ride up.
Pros
Crochet design provides delicate yet supportive and concealing cups 
Balances sexiness and modesty 
Popular swimsuit brand on Amazon with lots of positive reviews
Cons 
The top tends to create side boobs
CUPSHE Women's V Neck Low Rise Bikini Set Crochet...
Design: V Neck and Adjustable Shoulder Straps Bikini Top with Back Hook Closure. Crochet Trim Bottom...
About Padding Cups: With Removable Padded Cups.
Garment Care: Hand Wash and Hang Dry. Recommend with Cold Water. Do not Use Bleach.
La Blanca Island Goddess Rouched Halter Top and Shirred Band Hipster Bottom
The best bikini for mothers should have excellent breast support and tummy control. With vibrant colors and a comfortable fit, the La Blanca Island Goddess Rouched Halter Top and Shirred Band Hipster Bottom will let you flaunt your mom bod and boost your self-esteem. 
The great thing about this bikini top is that it isn't as skimpy as a triangle bikini, yet the rouched design provides the right coverage for your breasts. The folds in the design also distract other people from other parts of the body you might want to conceal.
With the combination of nylon and spandex, you can spend years of pool time with your family as the material can withstand saltwater. In effect, the bikini won't stretch excessively or lose shape over time unless you clean it on a washing machine. 
As your body changes, it would be best to wear bottoms that you can adjust depending on the situation. Fortunately, the Shirred Band Hipster Bottom's mid-rise ensures moderate coverage. When you want to wear a low summer cut, you can wear the waistband down for a sexier look.
Pros
Adjustable bust coverage and waistband
Fabric is ideal for daily pool use  
Cons 
Paddings are not removable
La Blanca Women's Island Goddess Rouched Halter...
DESIGNER SUMMER SWIMWEAR — This halter bra-style bikini top is the MVP of your swimwear lineup. It...
V-PLUNGE NECKLINE — The sexy v-plunge neckline gathers in the middle to accentuate the bustline.
ADJUSTABLE STRAPS — Double straps tie around the neck for an adjustable fit.
Tempt Me Women Ruffle Flounce Bikini Solid Swimsuit Top and Teeny Mini Cheeky Brazilian Cut Bottom
Most Brazilian bikinis have a 'less is more' theme, particularly for the bottoms. If you want to be more daring yet still get the necessary support for your body, the Tempt Me Women Ruffle Flounce Bikini Solid Swimsuit Top and Teeny Mini Cheeky Brazilian Cut Bottom is the perfect combination for your next beach trip.
A nylon-spandex blend results in a stretchable yet durable bikini top and bottoms. This is perfect for exposing as much of your buttocks without accidentally revealing anything else. 
Besides, the bikini is fully lined for comfortable wear and a snug fit. Even if you have a larger bust, the bikini remains revealing while holding everything in.
While the cut-out bottoms look strappy and minimal, the pull-on style, low rise design to show your shape curves and bottocks.
The low-rise design makes your legs look impossibly long, while confident to show your shape curves and buttocks. Furthermore, the touch pull on closure means there's a slight dip in the backside to expose more of your gorgeous skin.
Pros
Removable soft bra paddings and adjustable straps for full adjustability
Sexy low-waist fit 
Cons
Might feel a bit skimpy for some ladies 
Tempt Me Women Black Bikini Tops Push Up Swim Top...
This black push up bikini top features a front tie knot, adjustable straps, and removable soft bra...
The cute bowknot pattern makes you vital. The keyhole sexy design makes you feel super special....
Material: Quick-drying, smooth, durable fabric is very stretchy, soft, comfortable and breathable,...
COCOSHIP Solid Black Elegant High Waisted Swimsuit
Looking for an affordable yet effortlessly stylish bikini swimsuit? Making you look like an it-girl straight from the 1950s, the COCOSHIP's Vintage High Waisted Bikini lets you wear a halter bikini top with ruched high-waisted bottoms. 
The overall look passes as a one-piece bikini on this list. Whether you have a big or small chest, the halter top will support your breasts as you run or swim around the beach. Despite having padded cups, the tops don't look or feel too bulky.
If you have a bigger chest, this halter top will hold the girls in as you swim or run around on the beach. Thanks to the polyester-spandex material, you won't have a hard time holding the top and bottom in place.
Since the bikini includes high-waisted bottoms, the waistline extends past the belly button, giving you an extended coverage and a slimming effect. It's also available in sleek black and daring red colors, which can bring out more of your alluring side.
Pros
Vintage design with modern materials 
One-piece style is suitable for curvy bodies 
Cons 
Can't choose different sizes for the top and bottoms
COCOSHIP Retro Elegant Black High Waisted Bikini...
Sizes(recommend):Small:US2/US4 Medium:US6 Large:US8 X-Large:US10 XX-Large:US12 XXX-Large:US14...
Hand wash cold, line dry;Polyester Spandex Breathable Swimsuit Fabric
Pattern:Solid Color,Clasp Hook Clousure,Vintage High Waist
Haicoo Solid Ruffle Top and Trina Turk Hipster Swimsuit Bottom
When choosing the best pushup bikini, it's important that you get a comfortable band and extra padding, much like the Haicoo Solid Ruffle Top. Because of the wide top, a hipster bottom would be a more suitable partner.
A pushup bikini aims to lift the breasts and put more volume in the bust area. What's extra special about this bikini top is that it uses structured cups to support the breasts individually. There's also a thick gore that ensures your breasts won't spill out. 
Even with thin shoulder straps, the wideband provides excellent lift so that your breasts won't sag or create sideboobs. The band also helps flatten out back fat to give you a slimmer figure.
Meanwhile, the bottoms provide a mid-rise fit and moderate rear coverage that ensures a snug fit. If you're not as blessed in the buttocks as in the breasts, the coverage of the bottoms creates an illusion of a bigger butt, making your body appear more proportional. 
Pros
A great combination for ladies with flat butt yet voluminous breasts
Comes in several colors and prints 
Cons 
Solid Ruffle Summer Beach Swim Push Up Tops Pin Up...
NOTICE:IF YOU ARE NOT SURE WHAT SIZE FIT YOU, YOU CAN READ OUR PRODUCT DESCRIPTION. IT WILL GIVE YOU...
S M L XL 2XL Strappy Adjusted Summer Beach Fashion Sexy Colorful Swimwear For Women Swimsuits...
New Style Cute Unique Novelty Blue Orange Purple Black Beige Underwire Push Up Swimming Suits For...
Rip Curl Classic Surf Cross Back Top and Classic Surf Hipster Cheeky Bottom
The best bikinis for surfers must have a good fit and sturdy materials. The Rip Curl Cross Back Top and Classic Surf Hipster Bottom will give you more confidence as you ride the waves. The flexible top and bottoms guarantee cover and protection for your private parts without restricting movements.
At first glance, the bikini top looks like it wouldn't hold the pressure of big waves. However, it uses cross-back straps and a tie closure that prevent the top from loosening up. In effect, you can reveal much of your skin without sacrificing protection.
Aside from that, light padding makes your breasts appear more rounded without looking lumpy. The padding adds sturdiness to the top, letting it withstand harsh water conditions.
When it comes to the bottoms, the cheeky design minimizes irritation and chafing as you do lots of complex movements. Since it uses polyamide and spandex, the water won't weigh down the bottoms, keeping it in place even with a low-rise design.
The material also results in good weight distribution, so you don't end up with painful marks after a day of surfing.
Pros
Adjustable straps for a better fit 
Cheeky rear coverage
Cons 
Thinner material compared to the other bikinis 
Rip Curl Classic Surf Cross Back Bikini Top Swim...
SWIM SUIT TOP FOR WOMEN: Our Rip Curl bikini tops for women are a flattering triangle shape with...
MADE FOR THE SEARCH: Rip Curl is a company for, and about, the crew on The Search. The products we...
DESIGNED FOR PERFORMANCE: Our products are designed to make The Search a bit drier, warmer, and more...
The Mesh King Coqueta Thong Swimsuit Bottom
No products found.
The best thong bikini bottoms can elongate your legs and give your bum a fuller form. Aside from a sexier backside, the No products found. gives you a cheeky look while hiding all your love handles.
The great thing about this low-rise thong bikini bottom is that the T-shaped style pushes the butt cheeks outward to enhance the shape while still providing ample coverage. Even if it uses thin straps, it has enough thickness to hold the material and carry your body weight. 
Moreover, the front side fully covers the bikini line, so you won't have to worry about exposure. It's common for bikini thongs to have V-font styles. Hence, you can put the straps high on your waist for you to have a curvier figure and extra-long legs. 
Since this bikini uses a spandex and nylon blend, you get a tight yet stretchable fit. However, consider sizing up as the sizes run a bit small, especially for ladies with wide hips.
Pros
Fully lined bikini thong with a pull-on style 
Low-rise design for a sexier backside 
Cons 
No products found.
Features to Consider in the Best Bikinis 
There are different kinds of bikini tops and bottoms on the market, and choosing one can be overwhelming. These are the factors you need to take into account in order to get the best bikini for your body. 
Comparing Bikini Features
| Bikinis | Machine Washable? | Closure Type | Bottom Style |
| --- | --- | --- | --- |
| Coco Reef | No | No-closure | Hipster |
| Cupshe Crochet | No | Hook | Hipster |
| La Blanca Island | No | Pull on | Hipster |
| Tempt Me | No | Tie | Brazilian |
| Cocoship | No | Tie | High waist |
| Haicoo Ruffle | No | Hook | Hipster |
| Rip Curl Classic | Yes | Tie | Hipster |
| Mesh King | No | No | Thong |
Comfortable Yet Flattering Fit 
The majority of bikinis use spandex, nylon, and polyester that provides a flexible yet flattering fit. The best bikini should be the one that hugs your body protectively without leaving pain marks after a long period of usage.
Whether you will wear a bikini while swimming or doing water sports, the material should adjust as you move, ensuring you get to do a range of movements with ease.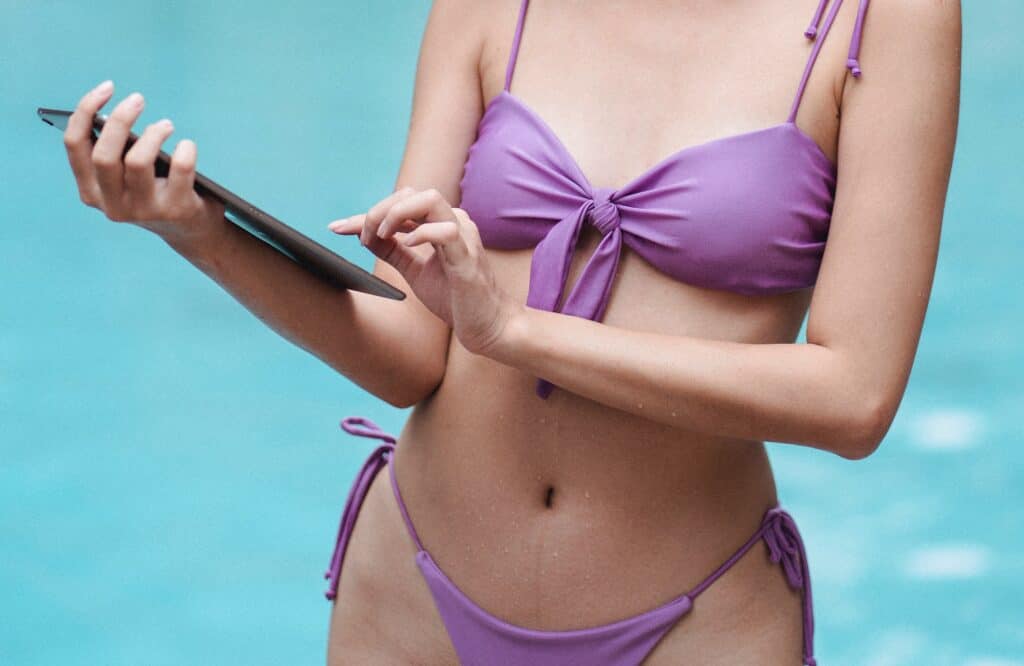 Body Support
The level and kind of support you need may depend on the body shape and activity level.
Top straps: Do you need adjustable straps to support your large breasts, or can you do well with strapless tops? Do you need thin or wide straps?
Underwire: Do you need extra help in lifting your breasts regardless of the shape? While underwires are uncommon in bikinis, they can provide a push-up effect for some women. 
Padded cups: Paddings are also not typical for bikinis since you would be wearing them while swimming. However, foam can give additional support and volume to your breasts.  
Band: Working with the cups, the band catches and supports the underside of your breasts, preventing them from spilling out of the bikini top.
Bikini Top Style
Choosing the right style can give you the appropriate kind of support for your body type. These are among the most common yet versatile bikini top styles that would suit most women.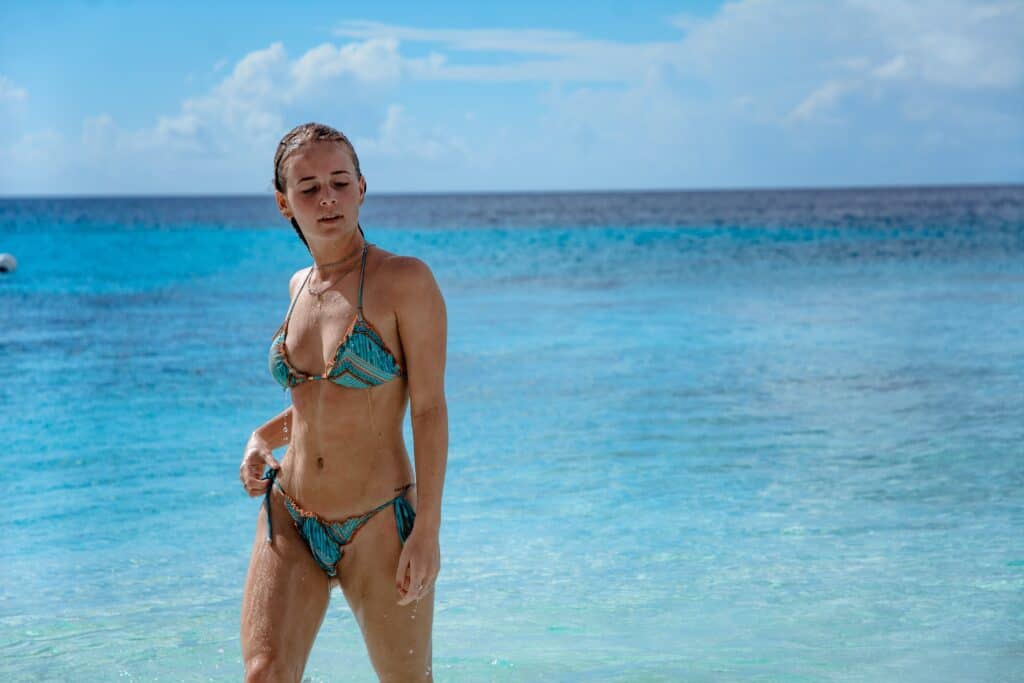 String: Features two cups connected with a string in the middle. It usually also has thin shoulder straps.
Bandeau: A kind of strapless bikini that looks like a tube top due to a broader coverage. 
Halter: Contains two triangular cups with broad straps meeting together around the neck. 
Bikini Bottom Style
People have different lower body shapes, especially at the waist. Choose a style that won't fall as you move while still giving you a flattering look.
High waist: This style smooths out the torso and elongates the waist while giving modest coverage. 
Hipster: Contains a thick waistband that hugs the hips, which is ideal for ladies with athletic or pear-shaped bodies.
Brazilian: A sexier kind of bikini bottoms that features higher cutouts to flaunt your buttocks and thighs. 
Ruched String: A loincloth-like bikini that features flirty ruffles and ruched details.
Thong: Another style that gives you rounder buttocks and longer legs.
Tanga: Provides better coverage than a thong yet more revealing than boyshorts.
Frequently Asked Questions
Which Is the Best Bikini Material?
The best bikinis are made of a spandex and nylon or polyester blend. Usually, these bikinis contain more than 10 percent spandex to give them the stretchability that allows them to fit and stick on the skin, minimizing resistance when swimming.
Polyester is also resistant to chlorine and UV rays, making the bikini ideal for use in both swimming pools and busking on open beaches.
Can I Swim Without a Bikini?
Technically, it's possible to swim without a bikini. However, wearing normal clothing when swimming can cause water resistance, especially when swimming against a tide, or even restrict your movements, reducing your performance.
Keeping in mind that most clothes are made of cotton, you might also take longer to dry after swimming.
How Long Can a Bikini Last?
You can expect a bikini to last three months to one year. However, the durability of the bikini primarily depends on how often you wear it, whether the bikini is fitting, and the quality of the fabric it is made from.
For instance, bikinis made of nylon and spandex blend tend to outlast those made of polyester and spandex blend.
HOW TO FIND THE RIGHT BIKINI FOR YOUR BODY TYPE
Conclusion
There's no better time than now to pick up new swimwear. The trends have been set, the options are all there, and all you have to do is click on your picks. My recommendations are promising enough to not disappoint.