As an Amazon Associate we earn from qualifying purchases.
I have a long torso, so finding swimsuits and that fit me well has been hard. A friend told me that Cupshe is a good swimsuit brand with a great selection of swimsuits for long torsos.
So far, I have ordered many swimsuits and different types of bikini bottoms from them. In this guide, I will share my findings on the Cupshe pricing, discounts, free shipping, and return policy.  
Is Cupshe a Good Swimsuit Brand?
Cupshe is a good brand primarily due to the wide variety of swimsuit trends, styles and sizes it offers at affordable prices. Generally, when you compare the cost and quality of Cupshe swimsuits, it has a greater value for money compared to other brands. Additionally, their bikini designs are updated and mostly on-trend.
Cupshe also offers massive discounts through promos and coupon codes. Even though I believe in the free market and don't like being a brand loyalist, I have found myself sticking to Cupshe swimsuits for the following reasons. 
Reasons Why Cupshe Is a Good Swimwear Brand
After trying out various swimsuits from Cupshe, I've found different reasons why Cupshe is a good swimwear brand.
Styles
Style variety is one area where Cupshe excels best. This company started in 2015; by 2016, they already had over one million customers. This can tell you by now they have mastered the market trends and know the latest and popular styles. They have bikinis ideal for moms and teenagers.
That means if you are looking for uncommon swimsuit styles such as swimsuits with cutouts on the chest, midriff, or back, high-waisted swimsuits, ruffled swimsuits, or mesh swimsuits, you can get them from Cupshe. Cupshe also offers a variety of designs for almost all bikini top types.
Quality
Cupshe swimsuits are made from high-quality fabrics, such as nylon and spandex, which have a history of being durable and comfortable. However, quality is a subjective matter depending on durability and fit expectations.
Prices
Cupshe is a direct-to-consumer brand, which means they sell their swimsuits directly to consumers without needing a middleman. This allows them to save on costs and pass those savings on to their customers.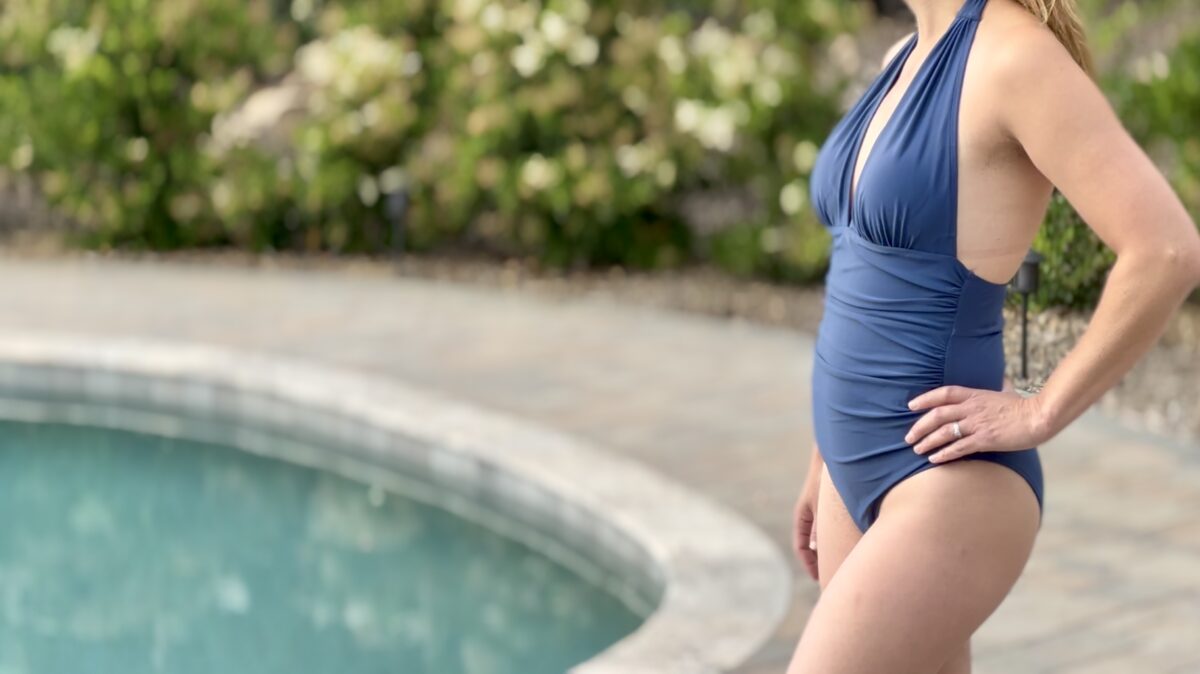 As a result, Cupshe swimsuits are generally well-priced, with most swimsuits on their website ranging between $25 and $50. For example, a typical Cupshe bikini set costs around $35, while a similar set from Roxy would cost around $50. 
Discounts
Apart from the relatively best cheap bikinis they have, you can still save more money through the following discounts that Cupshe offers. 
Download and install their free app, browse the selection, and make orders of more than $65, and you will get a 15% discount. 
If you are shopping for the first time, get the Cupshe promo code that helps you qualify for free shipping.
Get 70% off if you shop the Cupshe summer sale.
You can get up to 50% off if you are shopping for kids' swimwear.
Shipping
Cupshe offers free shipping within the U.S. on orders over $59. This can help you save on shipping costs when buying in bulk. However, things might be better if you order swimsuits ranging from $0-$59, as you will have to pay a $5.99 shipping fee.  
Another thing I love about Cupshe is its express shipping package. If you want your swimsuit quickly and can't wait for the 5-7 business days expedited shipping time, you can opt for express shipping, which takes 3-5 business days. 
Return Policy
These things about Cupshe's return policy make them better than other brands.
You can return within 30 days of delivery. This is a big window to allow you to try the swimsuit and decide whether to return it.
You will receive a full refund for the swimsuit. 
Downsides of Cupshe as a Swimsuit Brand
Although you can get a full refund for the swimsuit, I still find the following Cupshe return policy limiting, and you might not get an exchange or refund.
You will need to pay for the shipping of the return yourself. 
Swimsuits marked as flash sales, final dales, and special sales are not eligible for returns or exchanges. 
You must pay a return USPS label fee of $10 for the first item and $5 for each additional item. 
You need to return the swimsuit unwashed, in its original condition, with the tags and hygiene liners attached.
Related Questions
Why Is Cupshe Popular?
Cupshe is popular because of its various sizes and styles, making it a good brand for swimsuits. Its reasonable prices also make them popular with many women from different countries.
How Good Is Cupshe Customer Service?
Cupshe's customer service is generally good, thanks to the live chat feature on their website. Typically, they have a 4.1-star rating from Trustpilot reviews, indicating that most buyers are satisfied.
Does Cupshe Have Good Tracking System?
You can track your Cupshe order shipping by going to the Cupshe website and logging in to your account. Click on the orders tab, find the order you are looking for, and then check the shipping information.
HONEST review of the Cupshe V-Neck Ruched Bathing Suit
Conclusion
If you wonder whether Cupshe is a good swimwear brand, the simple answer is yes. Cupshe offers a wide variety of swimsuit sizes and styles at affordable prices, and sometimes the prices are even lower due to their massive discounts.