As an Amazon Associate we earn from qualifying purchases.
Every year, there's always a new batch of swimsuit trends to try. It's the perfect chance to upgrade your closet and treat yourself to something new to wear on your next vacation.
If you still haven't figured out the perfect swimwear for you this year, consider this article your guide to finding the right pieces that best match your skin tone and body type.
Before you hit the beach, make sure you're up-to-date with the latest swimsuit trends this season. I have compiled the most popular colors, styles, accessories, and types of material to help you decide which ones to buy.
Popular Swimsuit Trends to Try In 2023
It seems like every time I'm looking for a new swimsuit, there is a new type of style released. Each year, designers are coming up with creative styles to break the mold and push the limits of fashion. 
High-waisted Bikinis
The high-waisted, retro trend has been popular for a few years now, and it's clear that this style is here to stay. I love that this particular trend highlights that you can wear a fuller-coverage suit and still look stylish and cute. Because the bottoms conceal your stomach, these are perfect for all ages and body types to wear.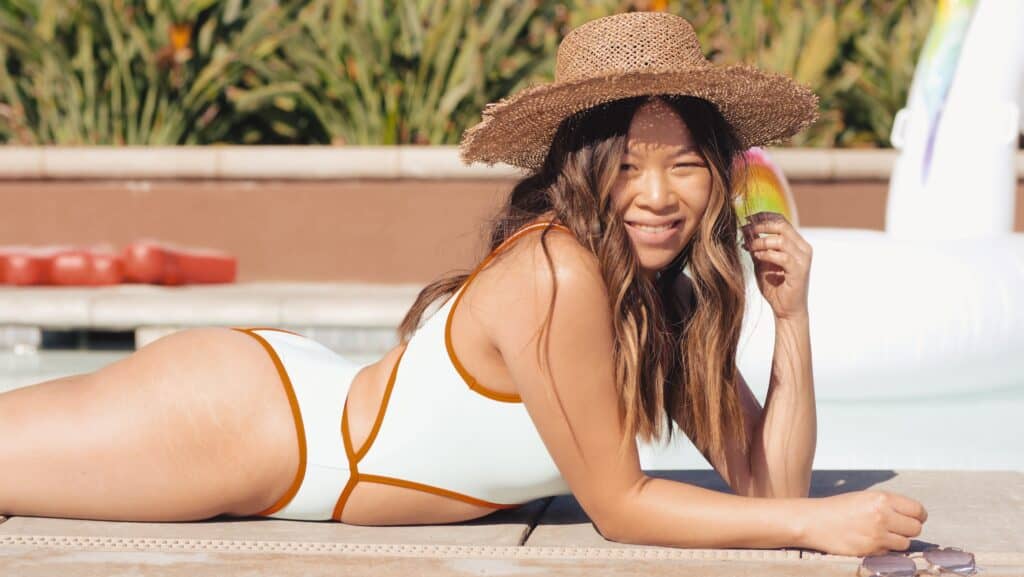 Cut-out One-pieces
Break away from your traditional one-piece and try out a more playful look. The cut out one-piece swimsuit is the perfect way to showcase your curves. This style has an array of designs and shapes to choose from that will highlight the most flattering parts of your body.
A cut-out one-piece swimsuit is a type of swimsuit that features cutouts, or openings, in the fabric. These cutouts can be in various shapes and sizes, and can be located in various areas of the swimsuit, such as the sides, back, or stomach.
An example of a cut-out one-piece swimsuit is a one-piece that has cut-out sides, creating a cut-out detail that resembles a bikini. This type of swimsuit offers a mix of coverage and skin exposure, making it a popular choice among those who want to show off a little skin while still having a modest look.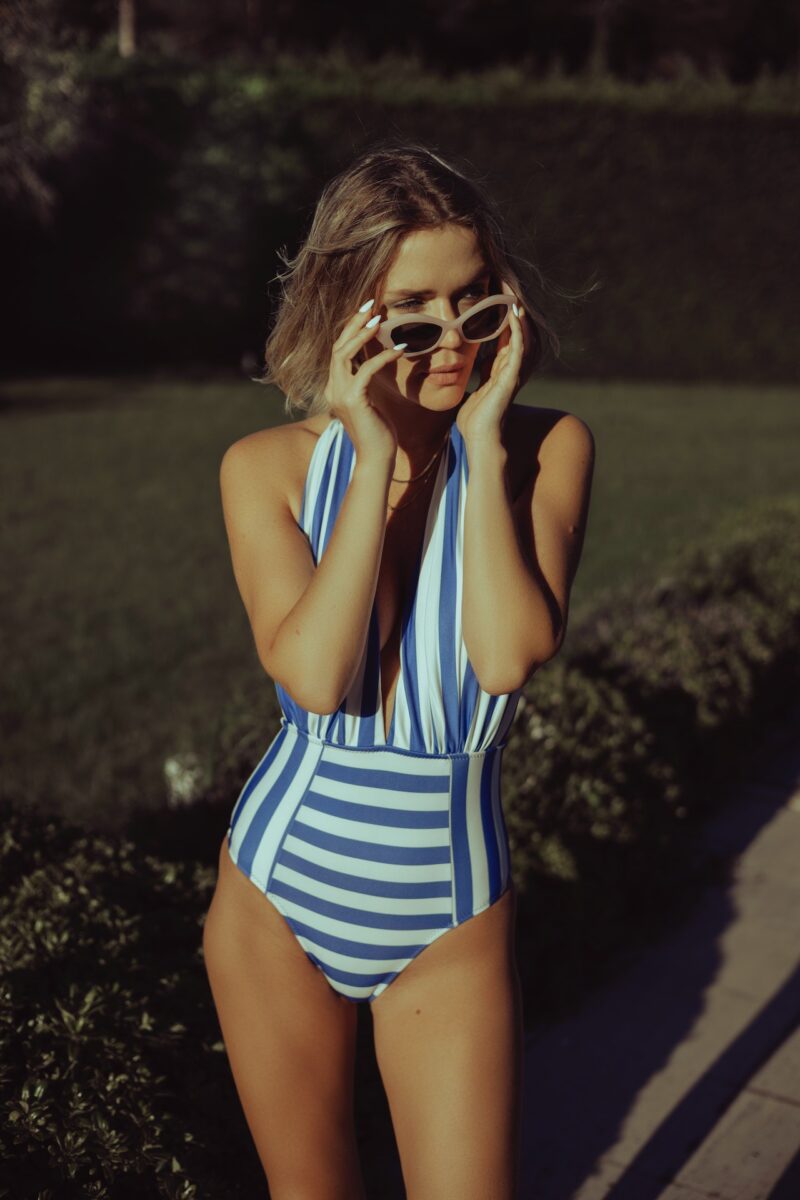 Retro and Vintage Inspired Designs
Retro and vintage inspired swimsuits often feature vintage-style patterns, colors, and cuts that were popular in past decades, such as polka dots, floral prints, high-waisted bottoms, and one-piece swimsuits with cutouts or ruched detailing.
These designs aim to evoke a nostalgic, old-fashioned look while incorporating modern materials and construction.
Retro and vintage inspired swimsuits are popular in 2023 for several reasons:
Nostalgia: Many people enjoy the retro look and feel of these swimsuits, which hark back to a simpler time.
Style: Retro and vintage swimsuits offer a unique and eye-catching look that sets them apart from more modern styles.
Timeless appeal: These styles have a timeless quality that transcends fashion trends, making them a popular choice among those who prefer classic, elegant looks.
Comfort: High-waisted bottoms, full coverage tops, and other design elements of retro swimsuits provide a comfortable and supportive fit.
Trends: Vintage and retro fashion has been trending in recent years and this has spilled over into swimwear as well.
Sustainable and Eco-friendly Materials
With how the world is changing, it's no surprise that more and more people are getting into a sustainable lifestyle. A sustainable lifestyle isn't exclusive to recycling and vowing against the use of plastics. Did you know that there is an emerging swimsuit trend catered specifically for sustainable swimwear?
Sustainable swimwear is all about recycling materials to create new pieces. This movement is all about being responsible manufacturers, by choosing to produce ethically made and sustainable pieces. There are some suits that recycle post-consumer materials, which are then reused as fabric for their swimwear.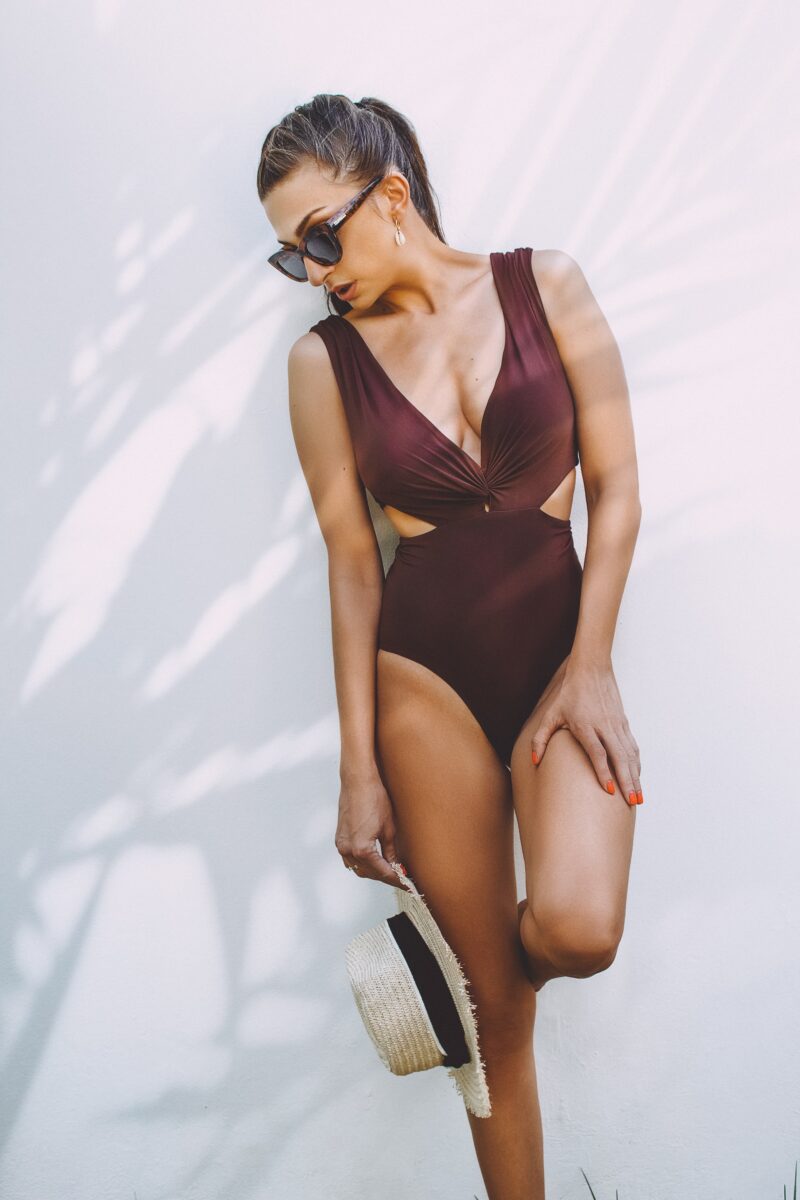 Wrap Swimsuits
The wrap-effect swimsuit is one of the more flattering swimsuit trends in the market right now. This style is often found on one-piece swimsuits, which gives them an instant glow up compared to traditional one-piece designs.
Designers are now more than ever looking for more ways to create swimsuit pieces that are not only trendy but functional for women. You can wear a wrap-effect swimsuit on tanning salons, beach trips, and swimming pools. This swimsuit is both trendy and multi-functional, to say the least.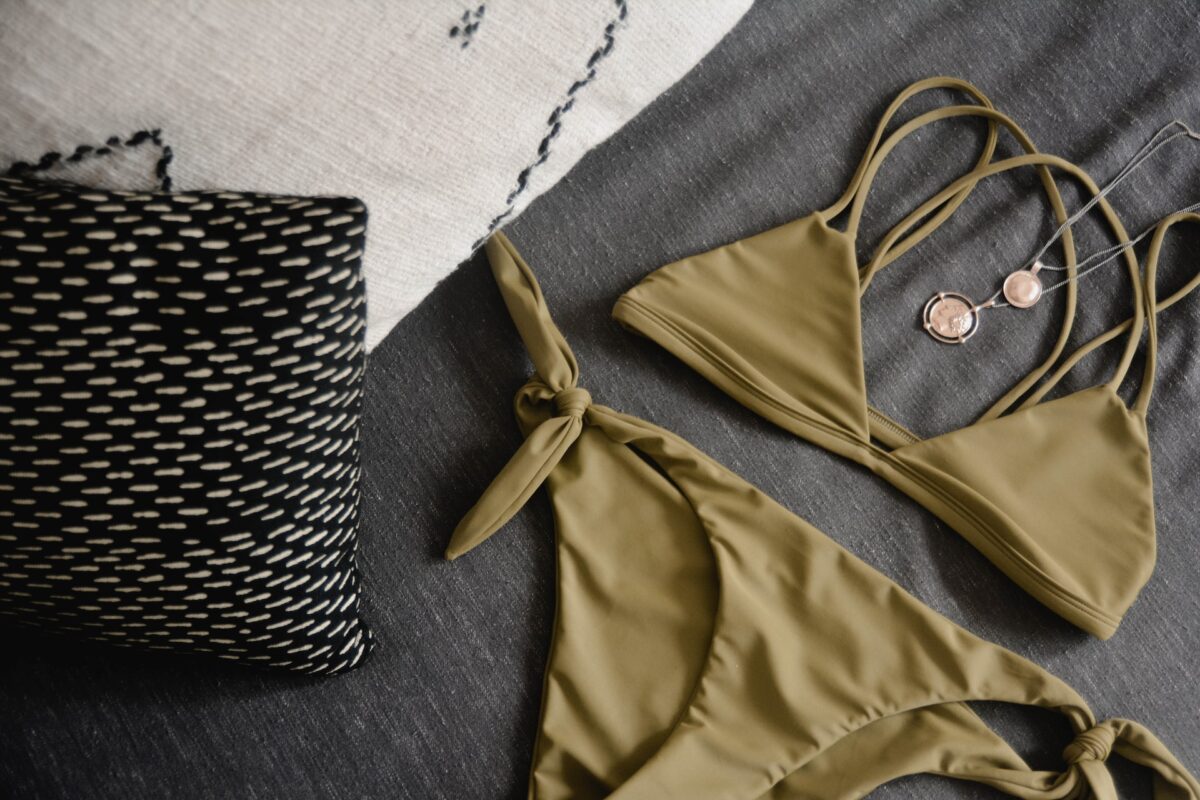 Triangle Bikinis
The classic triangle bikini is still at the top of this year's trends. It's basic yet versatile, so it never goes out of style. If you want to accentuate your breasts, you'll definitely want to wear a triangle bikini top. It emphasizes your upper body and gives you that flattering boost.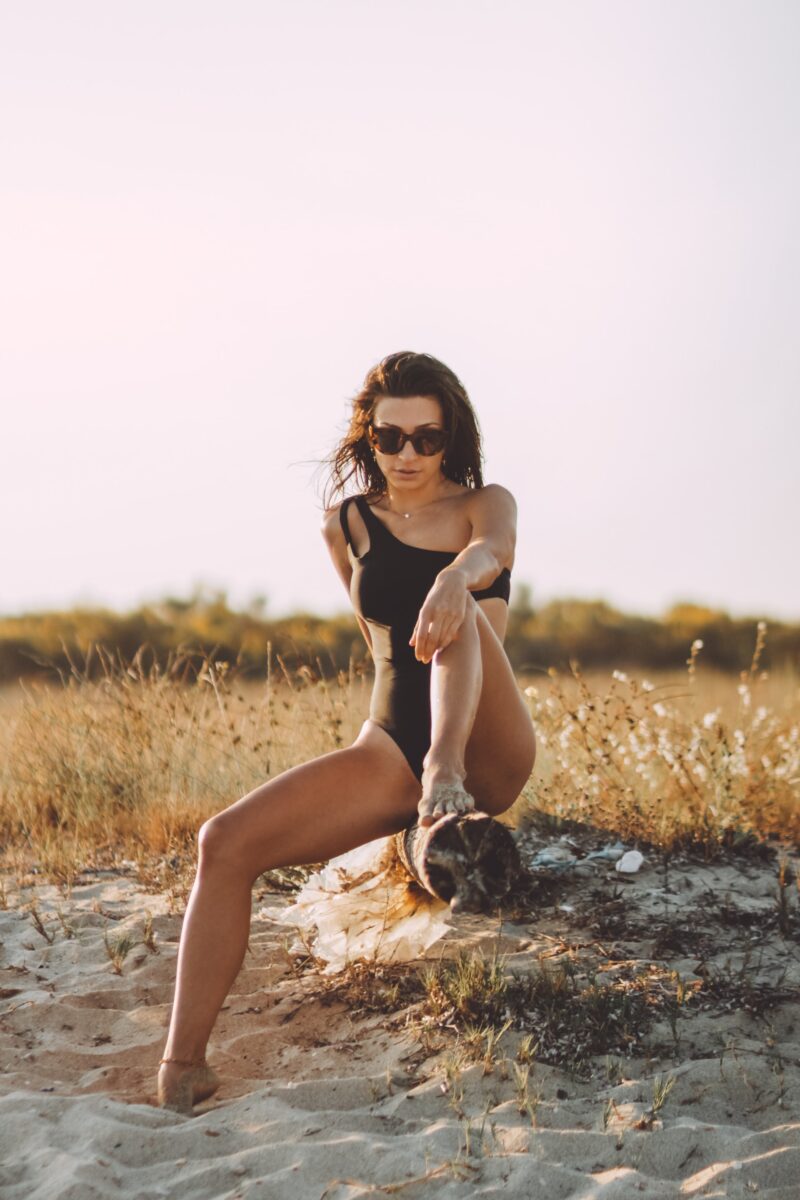 One-Shoulder
The chicest and fashionable style of 2022 is the one-shoulder swimsuit. It allows you to show off a bit more skin without being too revealing. Whether it's printed or monochromatic, this silhouette gives off an elegant feel and is flattering across many body types.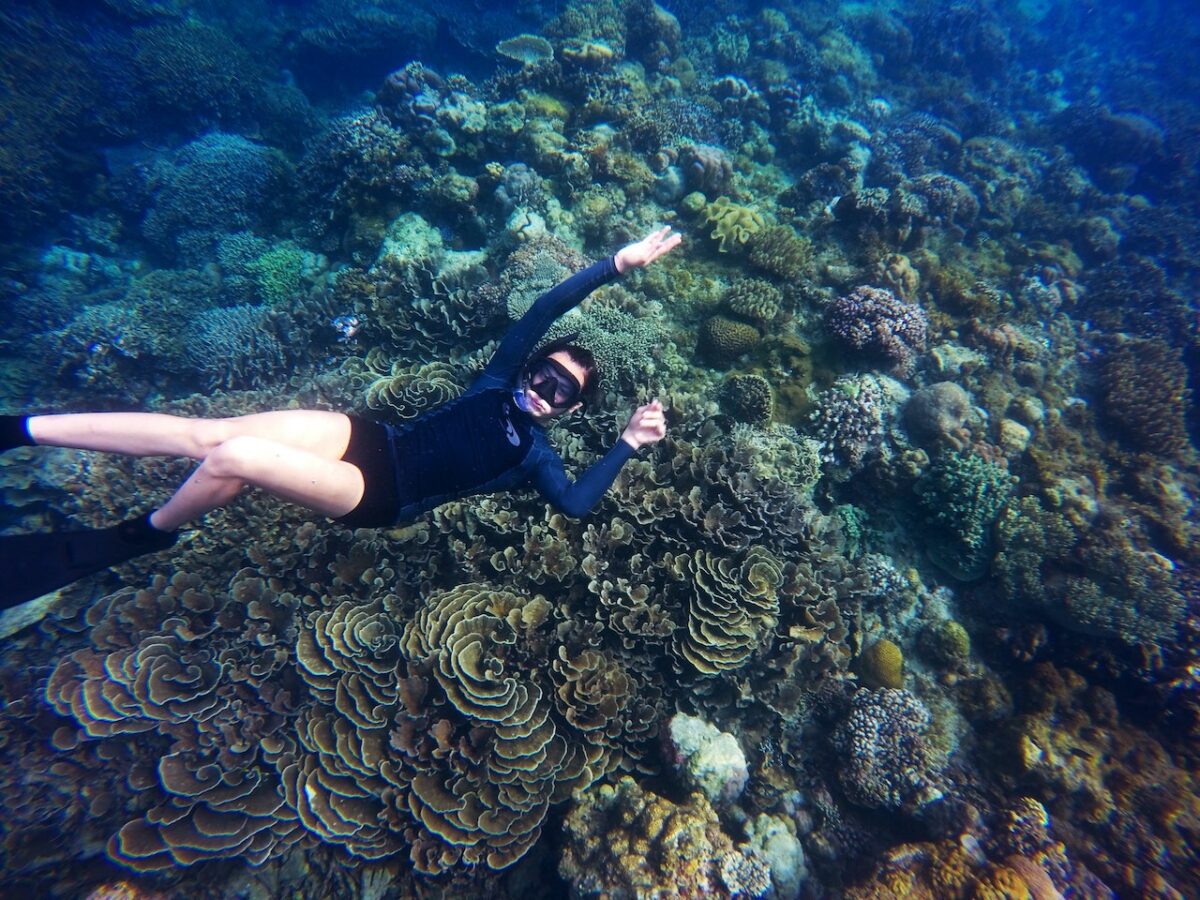 Long-Sleeve Two-Pieces
You can look both sporty and sexy with a long-sleeve two-piece swimsuit. This surfer-inspired swimwear is as stylish as it is functional. You can buy long-sleeve two-pieces with built-in sun protection that will prevent harmful rays from penetrating your skin.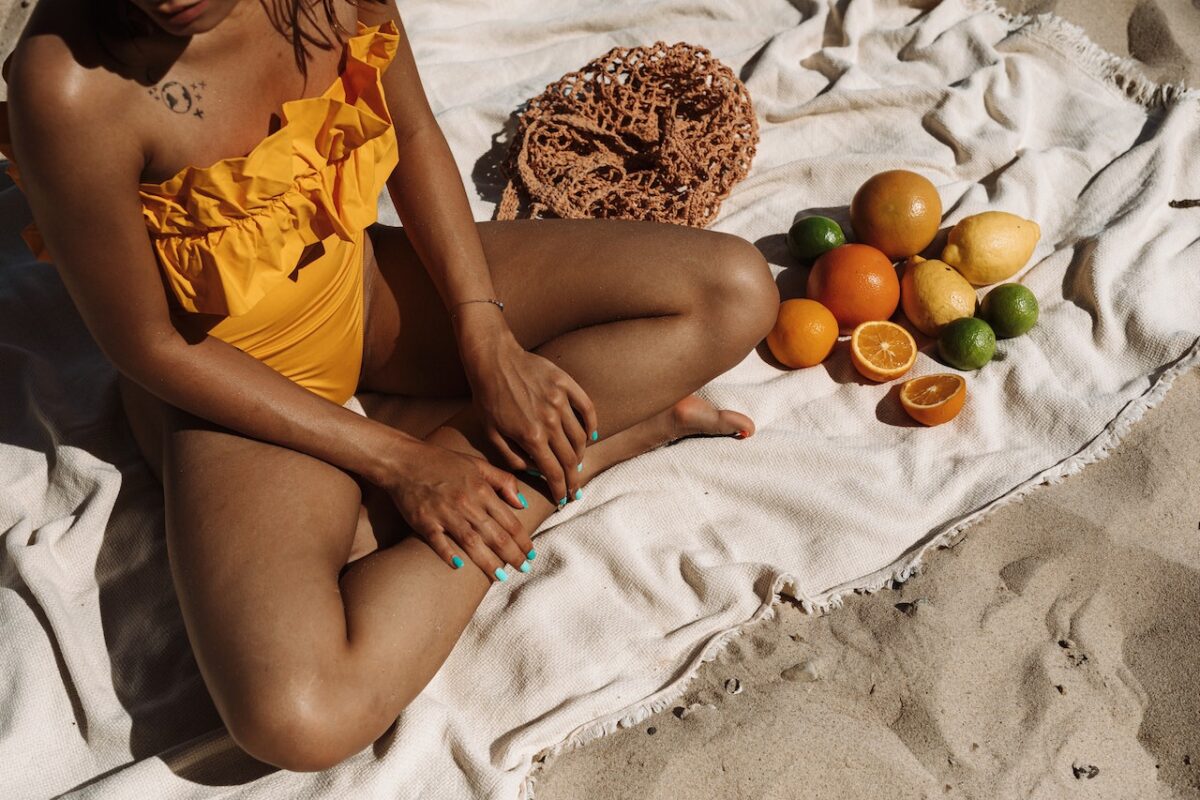 Ruffles
A lot are apprehensive about this up and coming swimsuit trend, but apparently, swimsuit with ruffles is a real thing. Most people can help to associate ruffles with childhood, and sometimes too much of it can be too kitschy. However, I've found pieces that will be just right to fit in this swimsuit trend.
Wearing a two-piece bikini, with a ruffled top might just be the key. Wear it at your next pool party, or your beach trip. Pair it with your jeans or shorts and wear them on your casual days.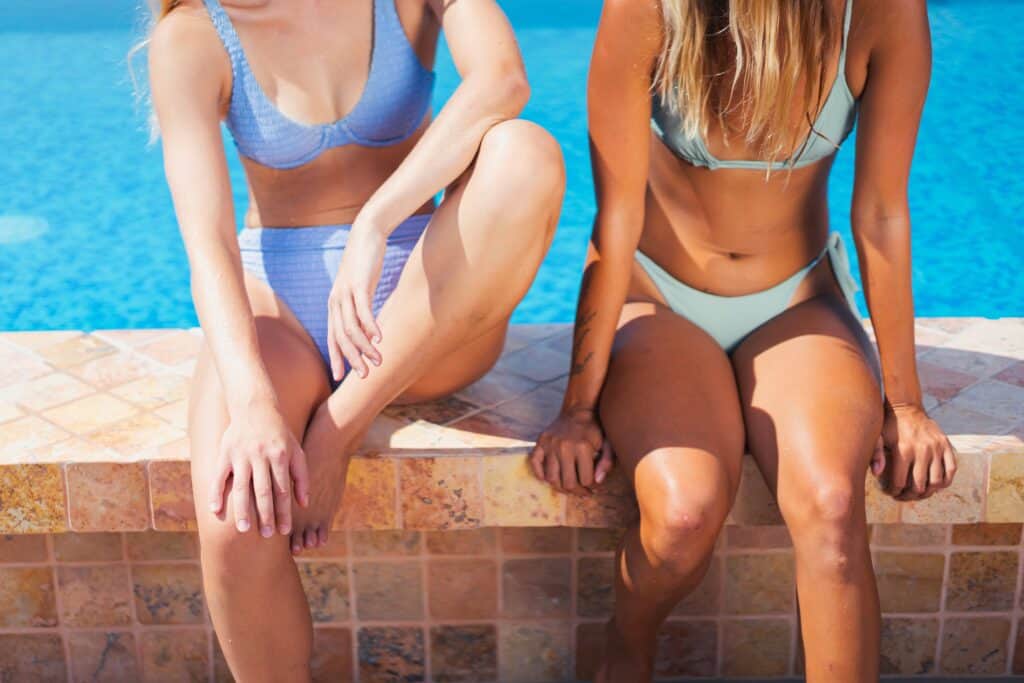 Bold Colors and Swimsuit Patterns in 2023
When it comes to swimwear, you can never have too many colors in your collection. Half the reason you probably buy a new swimsuit is that you want pieces that are in different colors! Here are some of the hottest colors to try out: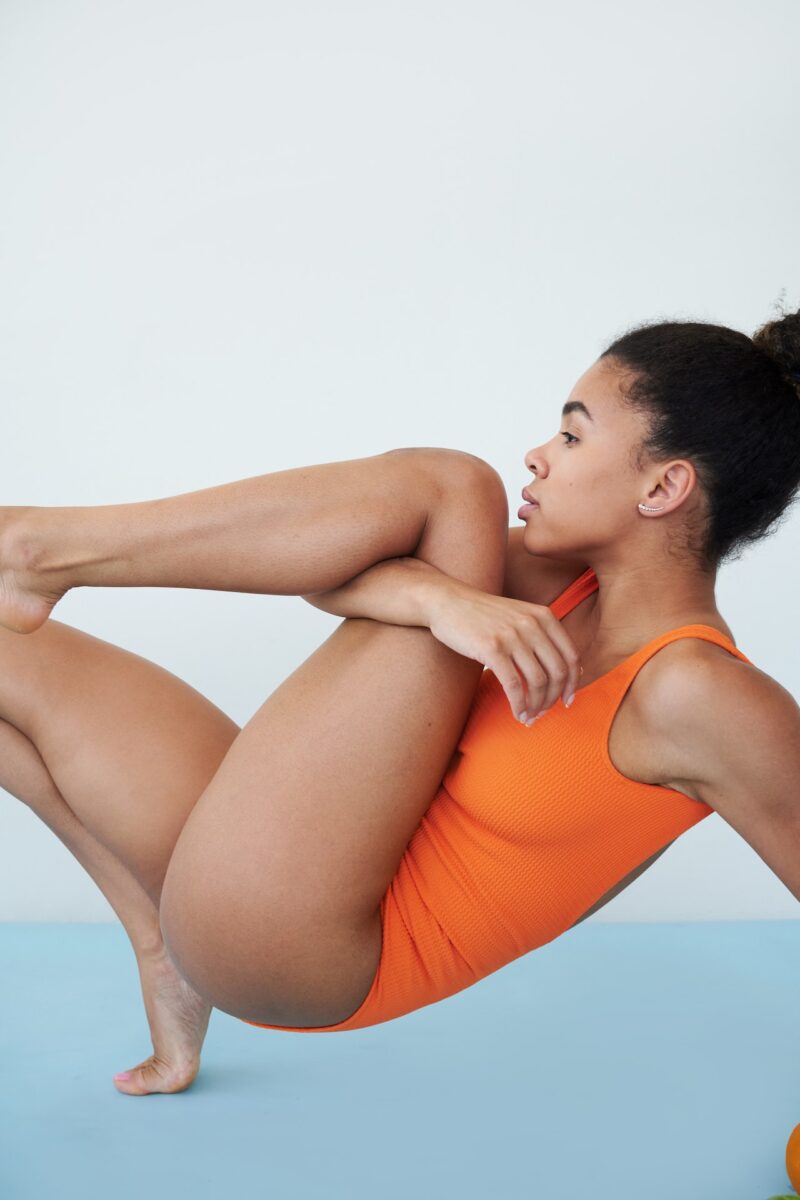 Orange
As one of the key trends this year, expect to see orange hues everywhere. This color brings out a fun, flirty and vibrant atmosphere that is perfect for summer. Plus, orange swimsuits look great with nearly every skin tone.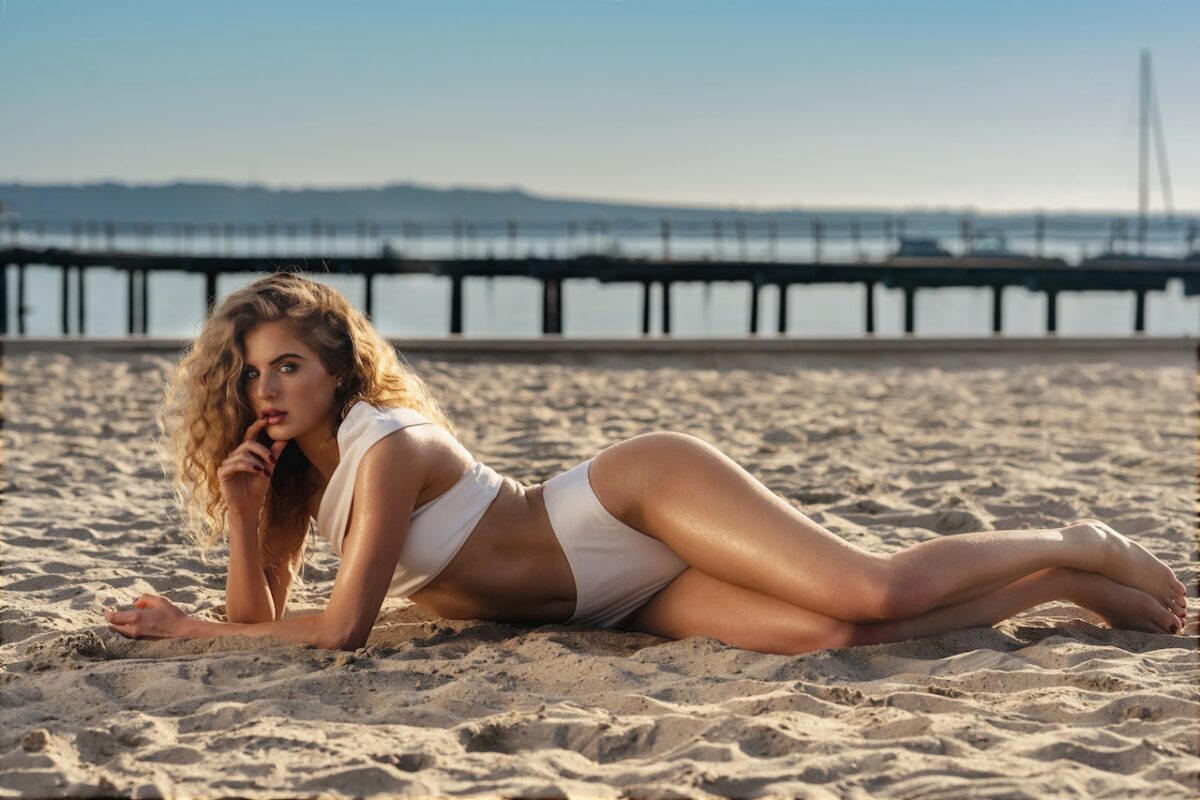 White
If you're going for a minimalist style, you can never go wrong with white. Aside from the chic and classy look that white provides, it's also the best color for showing off a tan. This color gives you a golden glow and makes your skin look more radiant.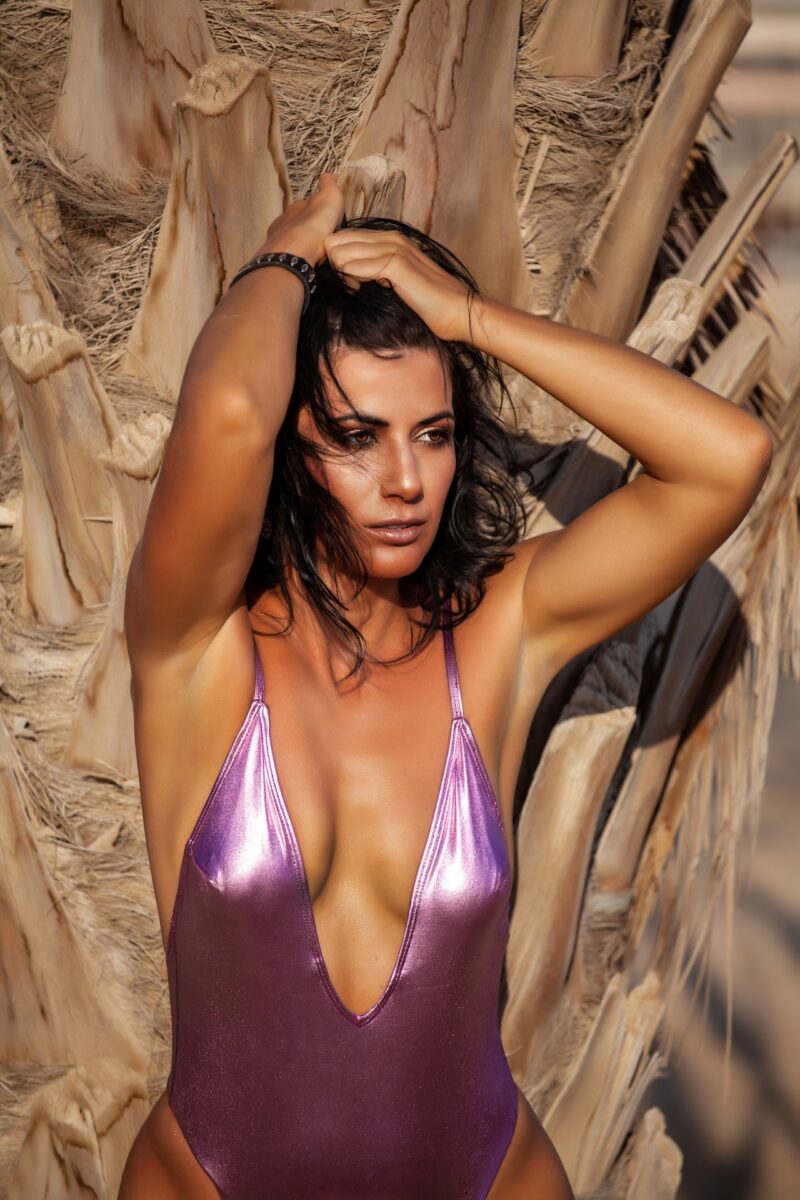 Metallic Colors
Wearing metallic colors is a perfect choice if you want to catch everyone's attention. Metallic swimsuits are challenging to pull off, but the latest designs this year are less tacky and offer just the right amount of glitter and sheen.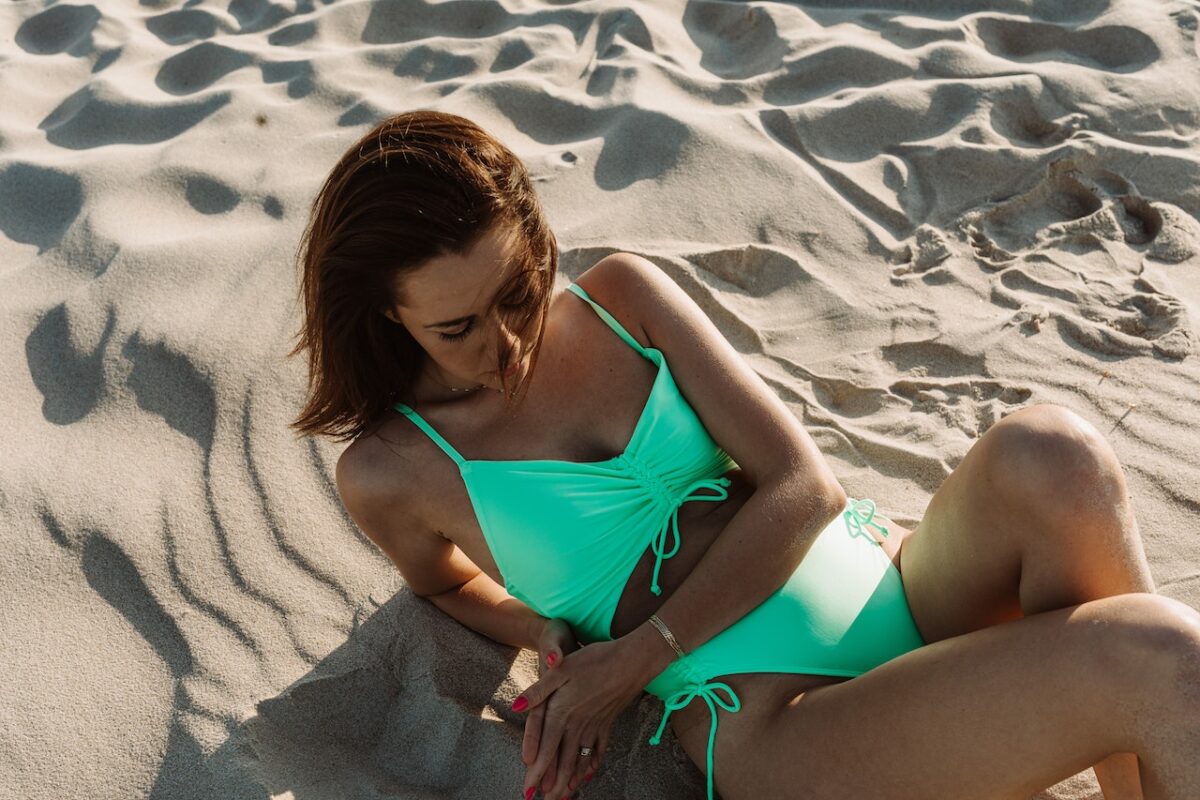 Neon
Neon swimwear is definitely trendy this year thanks to influencers like Jennifer Lopez and the Kardashians. If you want to look bright and flashy on the beach this summer, then add this to your wardrobe. Vibrant shades such as neon also look extra amazing with a tan.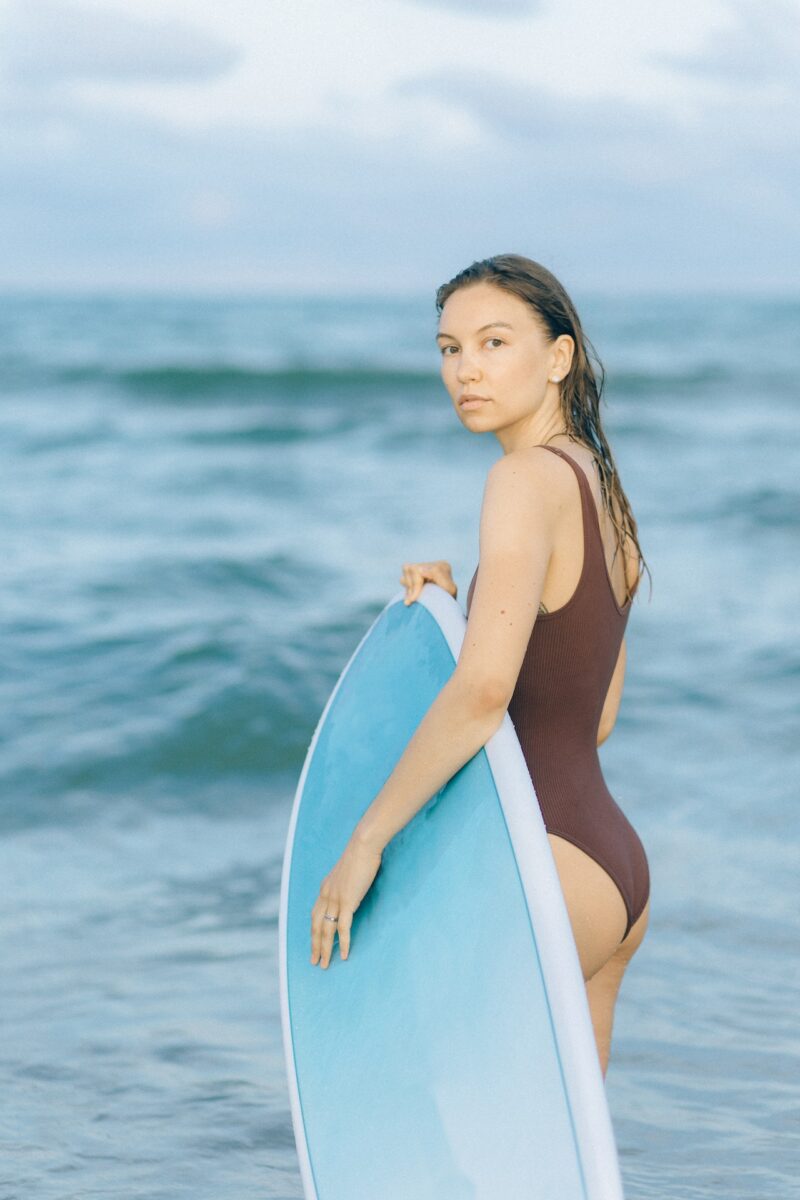 Chocolate Brown
The new trendy neutral color this year is chocolate brown. For those who are into classic and understated hues, this color is for you. Chocolate brown swimsuits pair well with many skin tones and are sure to be a staple for the coming seasons.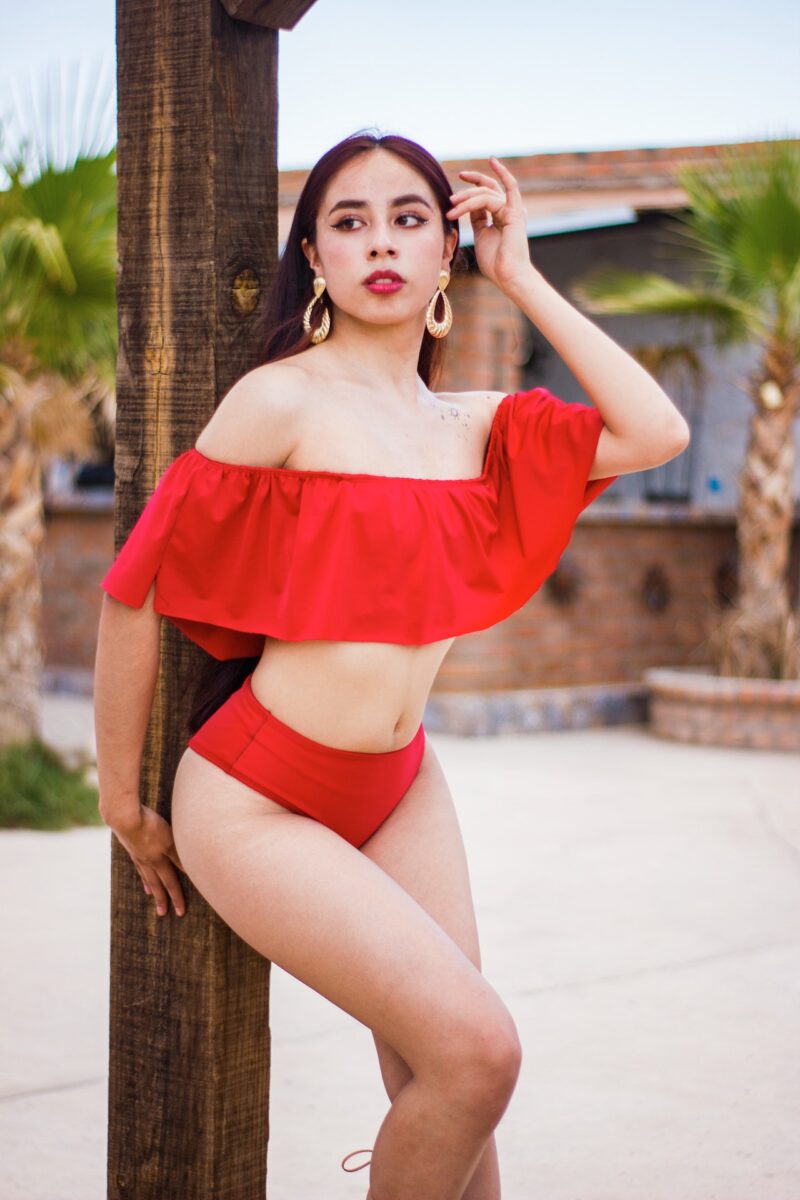 Red
While red might not specifically be a color you see on the top charts for the year, it's still a color you need to have in your swim collection! A bright, bold red screams summer, fun, and flirty. If you think that wearing a solid red suit is a little too bold for you, try pairing a red top with different colored bottoms. 
Accessories
Accessorizing is a great way to look good on a bikini while adding style to your outfit.
Belts
The belted swimwear trend is reminiscent of the '50s and '60s, but now it's back again with a modern twist. Adding a belt can instantly turn your simple one-piece or bikini into a stylish swimwear. Since it cinches in your torso, it gives the illusion of a smaller waist.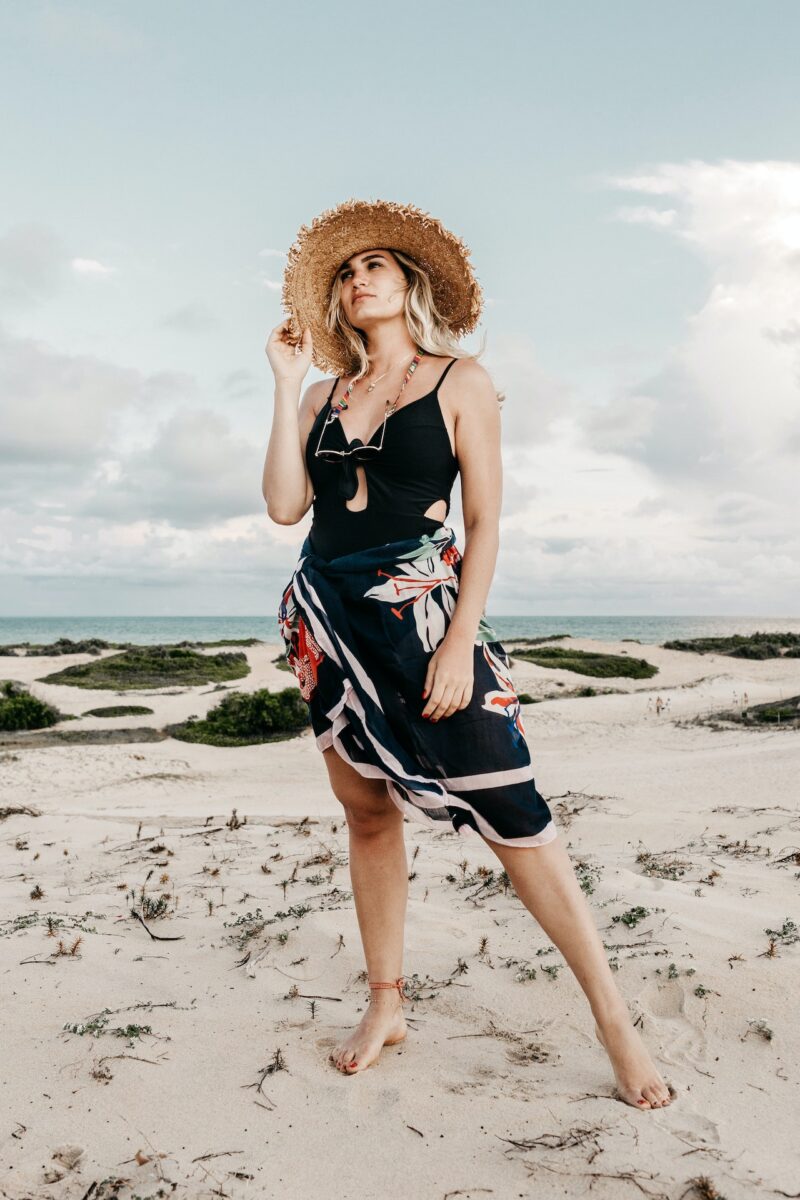 Sarongs
A sarong not only serves as a cover-up but it also adds color and flair to your whole look. There are many different ways to tie and wear a sarong. It can be a short skirt, a bandeau dress, a side slit dress, or a halter dress. The best thing about sarongs? They look flattering on every body type because of how you can easily adjust it to fit your body!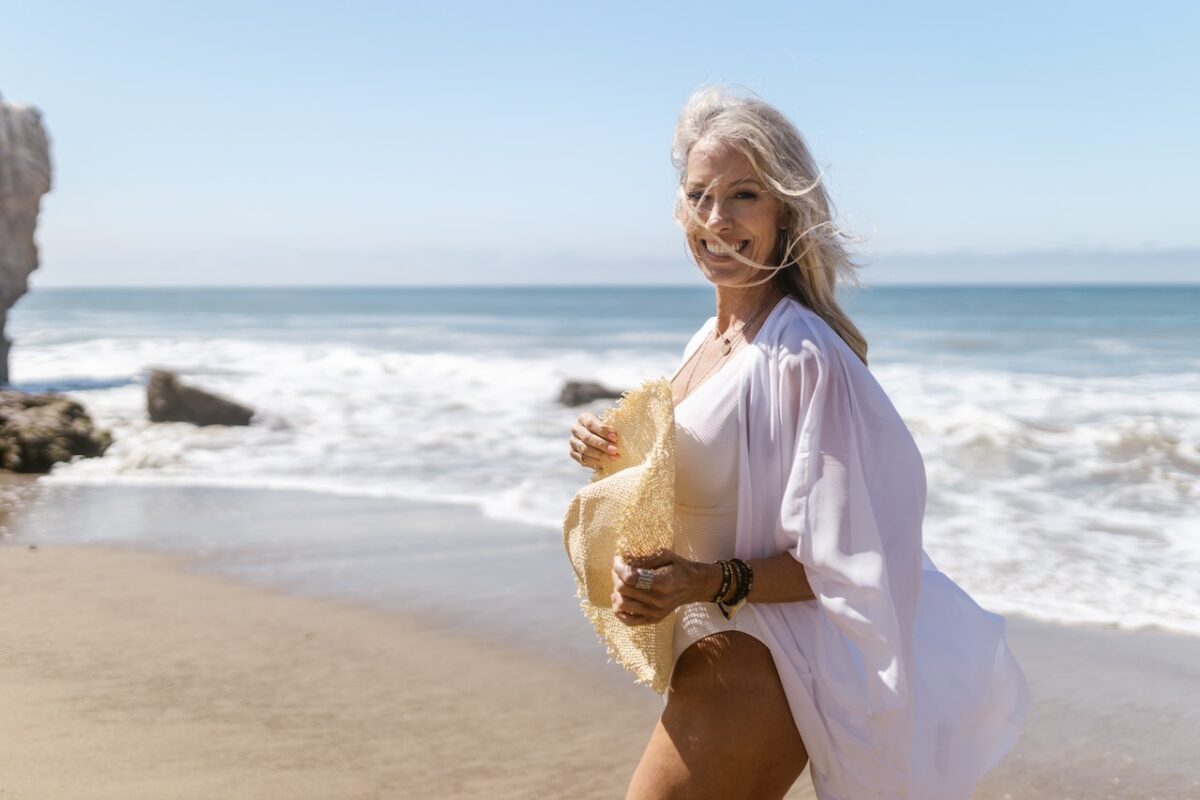 Hats
Don't forget to bring your hat with you for added sun protection. You can don a classic style such as a wide-brim sun hat or a boater hat. 
If you're after the most popular trend this year, then opt for a printed bucket hat. This may come as a bit of a surprise to hear that a bucket hat is one of the top hats; since they are generally more popular with kids or with the older generation. 
Patterns and Designs
Along with colors, patterns are a fun way to express your personality and add different looks to your swim wardrobe. Here are some of the top pattern and design trends:
Snake Print
Looking for a little bit of edge in a pool of solid colored bikinis? It's the perfect mix of fun and fashion when you wear trendy snake print bikinis. 
You can wear a snake print on your next tropical adventure, or even in your leisure time at your local pool. Either way, you can enjoy the oomph that this swimsuit can add to your wardrobe. Generally, this pattern tends to be more popular with the Millennials and Gen Y crowd.
If snake print seems a little too "out there" for you, try a different animal print, such as leopard!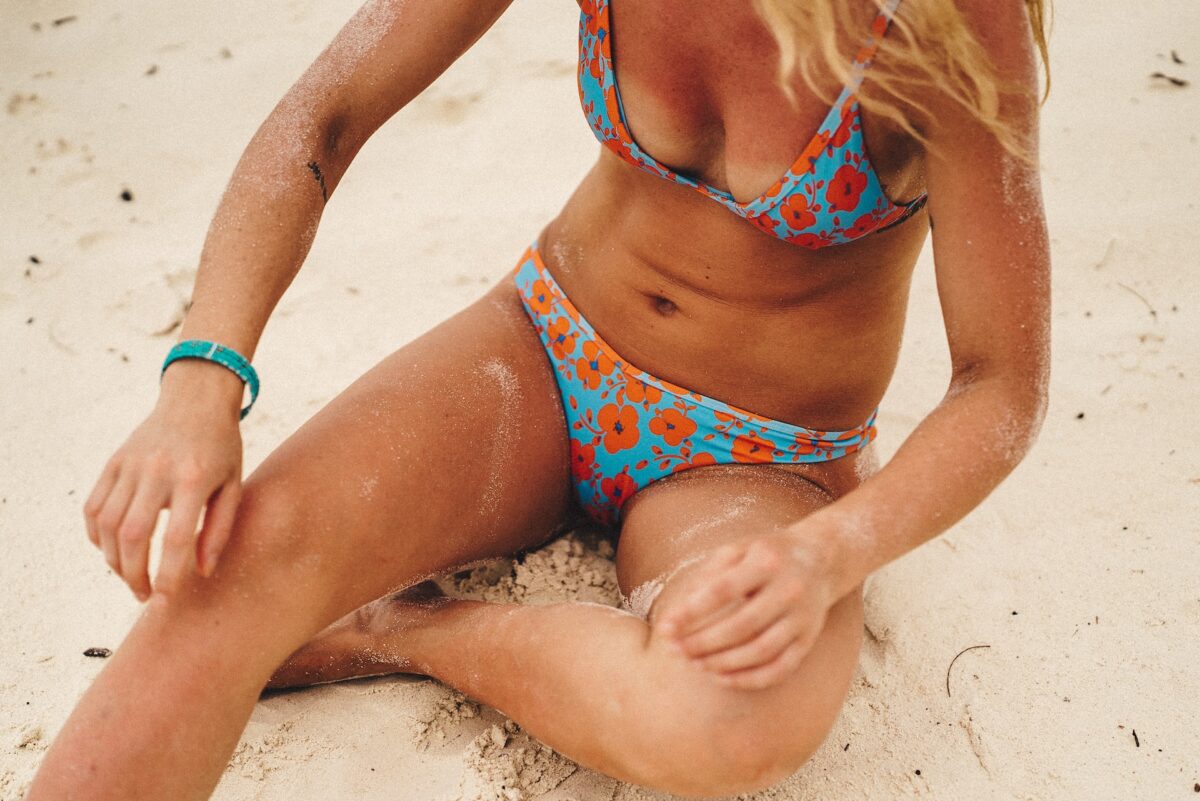 Floral Prints
Nothing else suits the essence of summer and spring-like floral prints. If you want to add a touch of femininity to your swimwear, florals are the way to go. They're available in lots of different designs from tropical flowers to dainty blossoms. 
Tie-Dye
The tie-dye is a retro-inspired motif from the '70s that is making a comeback in the form of swimsuits. Due to its uniquely colorful style that fits the summer aesthetic, this style has become a major fashion trend this year. Tie-dye swimsuits can come in different patterns ranging from full-on swirls to subtle splashes.
Material
The material of your swimsuit can make or break how comfortable it is, especially if you're planning on wearing it all day. 
Nylon
Nylon fabric is a superb choice for swimwear because of its durability and elasticity. More importantly, it's comfortable to wear and allows ease of movement while staying tight. It offers a smooth fit and hugs your body really well.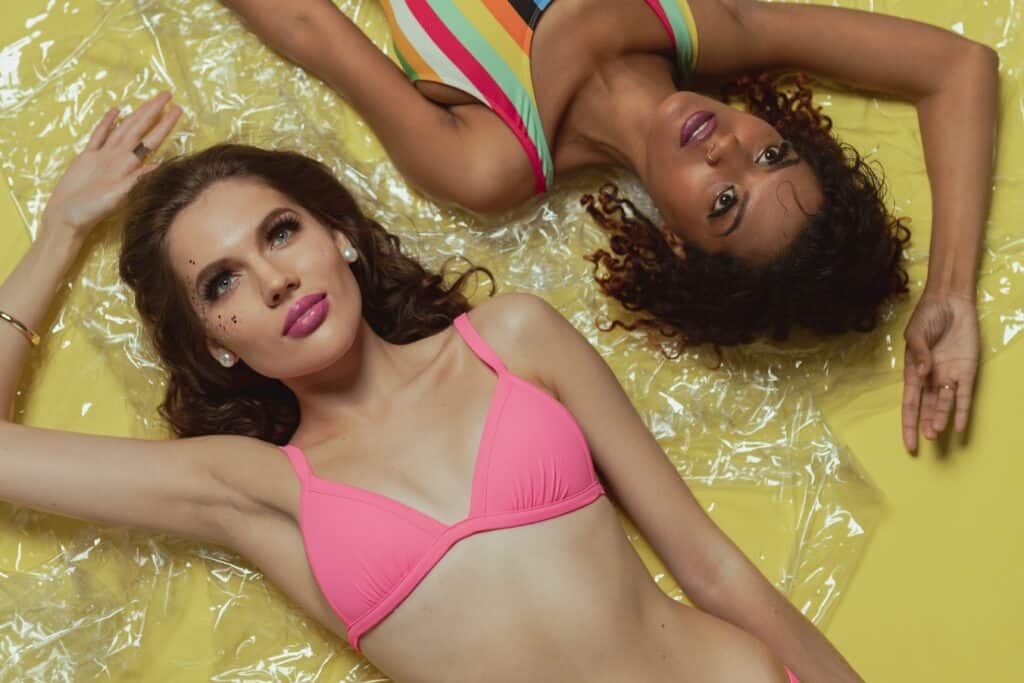 Popular Swimsuit Styles
| Styles | Swimsuits to know |
| --- | --- |
| Style 1 | High-waisted bikinis |
| Style 2 | Cut-out one-pieces |
| Style 3 | Retro and vintage designs |
| Style 4 | Sustainable and eco-friendly materials |
| Style 5 | Wrap swimsuits |
| Style 6 | Triangle bikinis |
| Style 7 | One-shoulder |
| Style 8 | Long-sleeve two-pieces |
| Style 9 | Ruffles |
Frequently Asked Questions
Which Is the Best Swimsuit Style?
The best swimsuit style depends on your personal preference and body shape. For instance, if you are self-conscious and feel uncomfortable with less coverage, you can consider going for full-coverage swimwear.
On the other hand, if you have belly fat that you might want to hide, you can consider going for high-waisted bikinis.
Are High-Waisted Swimsuits Suitable for Everyone?
Yes, high-waisted swimsuits are suitable for everyone. Normally, a high-waisted swimsuit elongates the body, giving you a taller and slimmer look.
For instance, if your waist fat has an undesired appearance, a high-waist bikini will help in hiding the fat.
Are Modern Swimwears More Revealing?
Generally, modern swimwear is more revealing compared to traditional ones. In the past, swimwear was made to cover as much of the skin as possible for modesty, practicality, and comfort reasons.
However, modern swimwear is designed with minimal coverage to reveal curves and make people look sexy.
How to find the perfect bikini/swimsuit for your body type | BIKINI GUIDE | Justine Leconte
Conclusion
With these being the popular swimsuit trends of the year, which of them would you try? Next time you're looking for a new suit to add to your collection, consider trying one of the styles mentioned on my list!