As an Amazon Associate we earn from qualifying purchases.
For all the things you moms out there do for your family, you deserve a break. Perhaps a trip to the beach will be something you can enjoy with the kids, and with it should come a new bikini too for a look that reignites your sensuality. For occasional family getaways, take a pick from these best bikinis for moms that will remind you of that youthful fierceness.
Top Bikinis for Moms Reviews
​Stretch marks, flaps of excess skin, added weight throughout your body – all of these are different features that your body might have if you've given birth. You might even still be struggling, but those doesn't have to hinder you from taking that beach trip or suntanning in your backyard pool.
These bikinis will come to your rescue with esteem-boosting looks and mom body-flattering abilities.
Brand
La Blanca Women's Swimsuit Top
Coastal Blue Women's Bikini Top
SHEKINI Womens Bathing Suit
Product
Material
82% polyamide, 18% elastane, Lining: 93% Polyester + 7% Spandex
Features
Flattering wrap front bikini bra
Unique bandage bikini top and cheeky foral bikini bottoms
Brand
La Blanca Women's Swimsuit Top
Product
Brand
Coastal Blue Women's Bikini Top
Product
Features
Flattering wrap front bikini bra
Brand
SHEKINI Womens Bathing Suit
Product
Material
82% polyamide, 18% elastane, Lining: 93% Polyester + 7% Spandex
Features
Unique bandage bikini top and cheeky foral bikini bottoms
La Blanca Island Goddess Rouched Halter Top and Shirred Band Hipster Bottom
​For my pick of the best overall bikini for moms, I can't go too far from a classic. The La Blanca Island Goddess Rouched Halter Bikini and Shirred Band Hipster Bikini Bottom​ are a bikini pair with traditional shapes but comes with a twist. It's not too skimpy for a triangle bikini, but it flaunts your body like one.
The ruched cups of the top and band of the bottom add an extra element to distract the eyes from other parts of you that you don't want to be highlighted.
It's like a more modest version of a triangle bikini, so even those who feel they've grown out of that phase can wear this with newfound youthfulness.
Coastal Blue Active Underwire Bikini Top and iHeartRaves Scrunch Back Booty Shorts
​From that slightly conservative bikini to this all-out sensual one, theCoastal Blue Swimwear Wrap Front Bikini Top​​ andiHeartRaves Strappy Scrunch Back Rave Booty Shorts are reminiscent of the bikinis a younger you would probably wear.
It's in the cutout of the bottoms and the strappiness of the top, they exude some type of playfulness.
The cuts and silhouette of this bikini really accentuate your curves, which you might think you've lost.
However, it doesn't forget support because the top has sufficient underwires, adjustable straps, and hook closure at the back for a confidently secure fit. You ​won't need to wear a bra underneath your suit for this one.
SHEKINI Bathing Suits Floral Printing Swim Bottoms Padded Halter Bandage Bikini Two Piece Swimsuits
​For the price of one piece of clothing at your favorite mainstream fashion brand, you can get the SHEKINI Floral Print Two Piece Bikini. You don't even have to think twice about it if the fit is what you doubt; it flatters almost every body type.
It gives the illusion of curves from the bandage wraps, and it also simultaneously adds a supportive element to the halter straps that help lift milk-filled breasts up.
With a wide range of sizes from extra small to extra large, this bikini is accommodating for different body types and breast sizes.
The soft cups, which are not removable, can create cleavage if your boobs are apt, and shapes them in the perfect roundness.
The bikini comes in various colorways that all have matching printed bottoms. You can also mix and match it with ones you already have. In features that make a bikini good for moms, this one satisfies almost every aspect.
SHEKINI Womens Bathing Suits Push Up Halter...
Fabric:82%Nylon,18%Spandex;Lining: 93%Polyester,7%Spandex.Fully lined,very comfortable and durable...
Brazilian cut two piece bathing suits feature halter bikini top, crisscross front details,...
Eye-catching low waisted swim bottom with an all over floral pattern, sits at the hips, medium...
CUPSHE Women's Falbala Design Bikini Set
​There's no definitive factor that really makes you consider yourself a proper adult, but maybe raising another human being is one. At the very least, it can make you feel the weight of being an adult. However, it shouldn't make you lose your youth.
Regardless, CUPSHE Pink Floral High Waisted Falbala Bikini Set is one that can reignite it. Its floral and stripes print-on-print design and cutesy colors are like the swimsuits you probably wore as a kid.
This is even more exciting because you can get a matching suit for your baby girl and achieve that matchy mom and daughter outfit. Cupshe is a really good brand, so odds are you'll be really happy with this set.
CUPSHE Women's High Waisted Falbala Bikini Set...
Design: Make Waves In The Fresh Green Stripe Bikini Set. Show More of Your Feminine Side with Flowy...
About Cup Style: With Padding Bras
Garment Care: Regular Wash. Recommend with Cold Water. Do not Use Bleach. Do not Tumble Dry.
Smart+Sexy Secret Halter Bikini Top and ATTRACO Solid High Waist Bottom
​From playful bikinis, I've also got one for those who prefer the most modest option. If the Smart+Sexy Halter Bikini Top​ and the ATTRACO Tie Side Tankini Brief Bottoms were a set, they would fall perfectly in this category. But you can always just wear the two together and they would still work well.
The extra strappy halter top is not lacking in support with side boning and a G-hook at the back.
The same can be said about the bottom. Even if it's a triangle style bikini bottom, it has full coverage on the back, strings at the side for adjustability, and a high waist to cover the common stomach bulge.
Things to Consider When Choosing a Bikini for Moms
Choosing a swimsuit is hard enough as is, though it becomes even harder once you've had kids. You need a bikini that's both stylish and flattering, as well as supportive and flexible. 
We know moms have to worry about much more than a bikini that looks good. You also need a bikini that moves with you and won't require readjusting for when you're running after toddlers or engaging in family water activities. That's why I've come up with a few features to look out for when choosing the perfect bikini for moms like you.
Comparing Bikinis for Moms Features
| Bikinis | Closure Type | Tummy Support | Halter Straps |
| --- | --- | --- | --- |
| La Blanca Island | Tie | Yes | Yes |
| Coastal Blue | Hook | No | No |
| Shekini | Tie | No | Yes |
| Cupshe Falbala | Hook | Yes | No |
| Smart+Sexy | Tie | No | Yes |
Breast Support
Let's face it, your boobs may not be as perky as they once were. Maybe you breastfed or are currently breastfeeding. Either way, your boobs need strong support in a bikini top. 
If you have large breasts due to breastfeeding, choose a full-coverage triangle top. This will give you comfortable support without putting pressure on your boobs. It's also easier if you need to breastfeed while wearing it. If you just need support for breasts that have lost their perkiness, underwire or padding in a bikini top will lift them right up.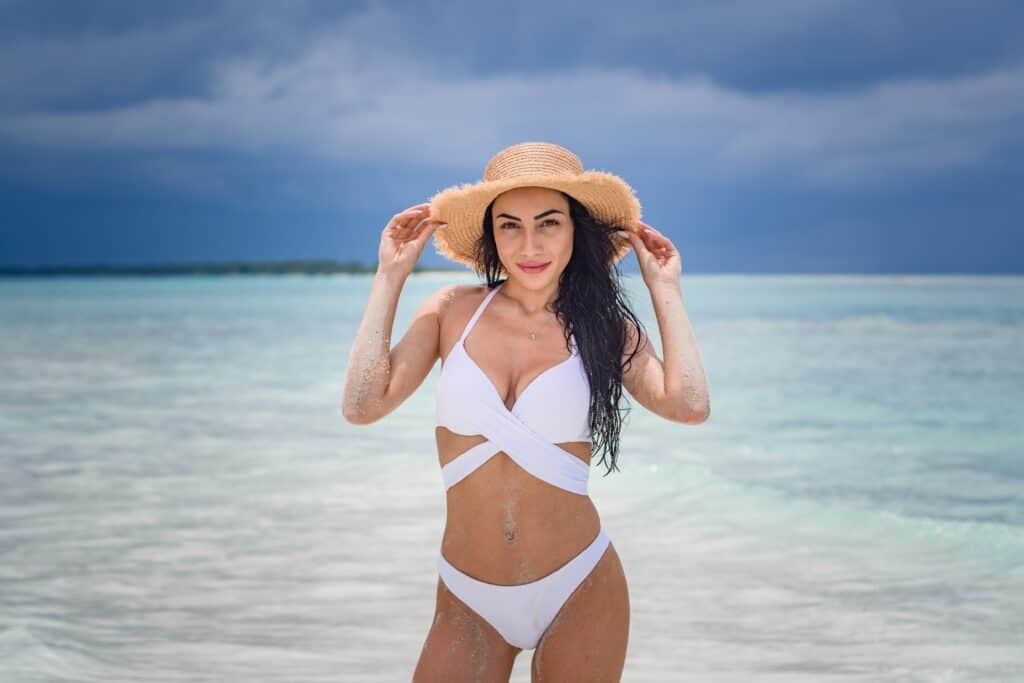 Tummy Support
Most moms have excess weight or skin on or around their stomachs. This can make you feel like a bikini isn't right for you, although that's completely wrong. The right bikini bottom can conceal the extra weight either with strong, elastic material or a high waist style. 
A bikini bottom doesn't need to be high-waist to flatter your tummy. In other words, you don't need to hide your pouch. You might be surprised by how trying different styles of bikini bottoms can accentuate your figure and make your tummy weight insignificant. 
A bikini bottom with thick sides can push your weight down into your hips giving you a curvier appearance. Don't be afraid to experiment with other styles just because you have a little extra weight.
Ruched Detail
Ruched detail on tops or bottoms always adds curves and conceals extra weight. This is especially true for bottoms. Ruched sides can make the bikini look thicker and wider, thus making you look smaller. Try looking for ruched detail on the back of your bottoms. They can easily enhance the size of your butt.
Ruched tops are a great way to make your stretch marks blend in and can give you more room for your breasts. Ruched detail also adds so much style to your bikini, you won't go wrong when choosing it.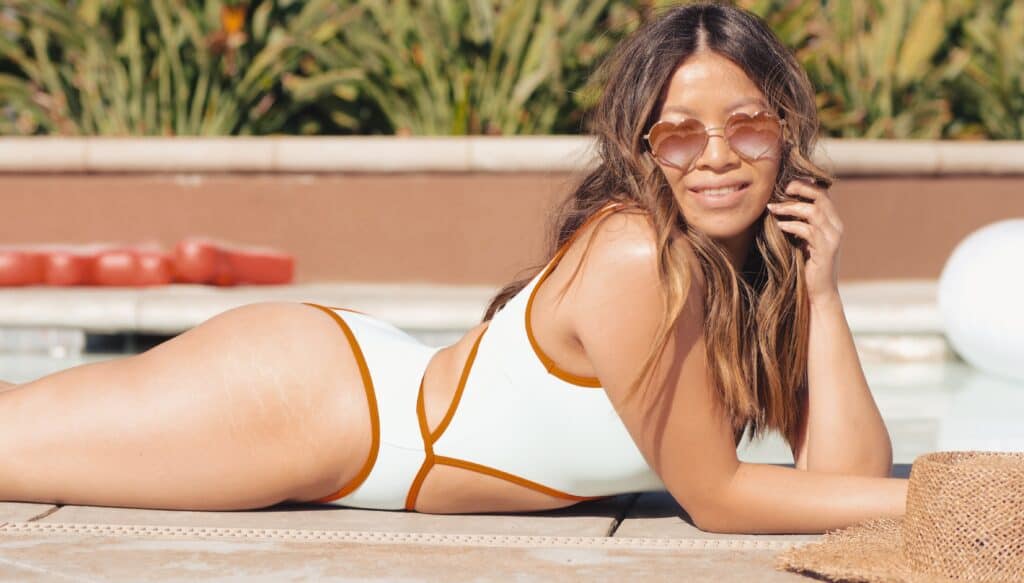 Comfortable Fit
Never choose a bikini that's too tight for you. You may think a tight fit will give you more support, though this is wrong. A tight fit can add bulges and might even allow your breasts to slip out of your top. 
Likewise, a loose-fitting bikini can completely fall off of you or sag, which can give you an unflattering look. It's best to purchase a bikini that hugs your body in a way that you're able to move without any part of you popping out or becoming visible. This is especially important if you'll be running and playing with kids. 
Vibrant Colors or Patterns
If you feel self-conscious particularly about your stretch marks and cellulite, a good choice would be to look for mismatched bikinis with vibrant colors and fun patterns. These things are eye-catchy and can take the attention away from parts of your body that you aren't comfortable with. 
Never let anything like stretch marks or cellulite enable you from wearing a bikini. There are so many styles that can conceal these areas, though it's best not to worry about them at all. These are all-natural things that occur on anybody, not only moms. 
Frequently Asked Questions
Can a Bikini Support My Sagging Breasts Like a Bra?
Yes, a bikini can support your sagging breasts like a bra. Like bras, bikinis are versatile and come with a wide range of styles and designs.
If you are a breastfeeding mom and you want a bikini that can support your sagging breasts, consider going for bikinis with an underwire design, such as the Coastal Blue Active bikini top.
How Can I Prevent My Nipples From Showing Through When the Bikini Is Wet?
You can prevent the nipples from showing through when the bikini is wet by getting a bikini with paddings.
However, nipples can be large and prominent, especially when breastfeeding, and might even show through the paddings. You can prevent this by wearing pasties or nipple covers.
Can I Leak Through the Bikini?
Yes, you can leak through the bikini. Although this might not be noticeable when you are underwater, it's advisable to prevent it by breastfeeding the baby right before wearing your swimsuit and getting in the water.
You can also use breast pads for shorter time protection.
BIKINI / SWIMWEAR for the "BODY TYPES"
Conclusion
​If these bikinis are any indication, moms out there should feel no shame in flaunting their bodies, regardless of the changes it has gone through. If anything, that is one reason to take more pride in it! These bikinis won't fail in highlighting the mom bod your kids have grown in from. Can't get more beautiful than that!