As an Amazon Associate we earn from qualifying purchases.
Having big breasts is both a blessing and a curse. They can give you a flattering, curvy figure, though when it comes to bra and swimsuit shopping, there can be a whole host of challenges in finding ones that actually fit and support your chest. When you're out at the beach or relaxing by the pool, it's important to find a good supportive bikini top that ​will make your ​assets look good.
Best Bikinis for Large Bust Reviews
When it comes to swimwear for those with big boobs, it's important to look for something that is supportive and designed with larger busts in mind. I've scoured the Internet and found 5 of the top bikinis for big busts that you'll want to add to your swimwear collection this year.
If you want my final vote (without all the reading), Coco Reef Five Way Bikini Top Swimsuit and ​Bikini Bottom with Shirred Sides is my best pick overall due to its versatility and comfort.
Brand
Coco Reef Women's Five Way Bikini Top
Skye Women's Bikini Top Swimsuit
Angerella Women Bathing Suits
Product
Material
89% Nylon, 7% Spandex, 4% Metallic
Features
Removable soft cups for added comfort and shape
Adjustable halter straps/shoulder straps
Brand
Coco Reef Women's Five Way Bikini Top
Product
Brand
Skye Women's Bikini Top Swimsuit
Product
Material
89% Nylon, 7% Spandex, 4% Metallic
Features
Removable soft cups for added comfort and shape
Brand
Angerella Women Bathing Suits
Product
Features
Adjustable halter straps/shoulder straps
Coco Reef Five Way Top and Bottoms with Shirred Sides
​You probably won't find a better overall bikini pair than the Coco Reef Five Way Bikini Top Swimsuit and Bikini Bottom with Shirred Sides.
This bikini offers 5 different ways of wearing the top. The removable straps and long ribbons on the cups allow you to customize its look in multiple ways. The bikini bottom stays minimal in its design and is a regular full coverage bikini bottom.
In addition to having molded cups, the top also includes underwire, making this a great bra option for women with D cups or larger. The cup sizes range from C-DD, meaning that this suit was made with larger busts in mind.
Because of the versatility of the top, along with the specific sizing, this is my top pick for the best overall big busted bikini, meaning, you no longer need to wear a bra underneath with this one.
Skye Hilary Underwire Top and Sash Tie Side Med Bottom
The Skye Hilary Underwire Bikini Top is purposely made for large breasts, just like the one from Coco Reef I reviewed.
The sizing on this swim top ranges from size D-F, and it was designed with full busted women in mind. If you're looking for the best bikini for a full bust, we'd highly recommend this top from Skye The underwire will keep you supported as you wear it, whether you are jumping in the ocean or laying by the pool.
The bikini top comes in several different colors and designs, and they all are pairable with the Tie Side Med Bikini Bottom. It's a triangle bottom with ties on the sides, making it more adjustable and allowing you to tighten it to properly fit you.
Angerella Vintage Polka Dot High Waisted Bathing Suit Set
​Bikinis are flimsy by nature which might give you more reason to doubt its sturdiness.
The Angerella Polka High Waisted Bikinis Swimsuits​ addresses those concerns and sets you up for a full beach outfit and supports your big breasts in the process. The stiff construction and stretchable material is a good combination that gives ample support without restricting your big breasts.
The bustier type bikini top and high-waisted bottoms are very trendy nowadays, yet also reminiscent of '50s pinup style. It's supportive and flattering at the same time, and it comes at a price less than the total of separates that cater to your specific breast size.
If you're interested in seeing more of my bikini recommendations, check out my article here.
Angerella High Waisted Bikini Vintage Swimsuits...
♥MATERIALS: imported 82%Nylon+18%Spandex. Smooth fabric, stretchy, durable, quick-drying,...
♥VARIOUS STYLE FOR YOU SELECTED:This bathing suit top with thick, soft& adjustable halter...
♥HIGH WASITED RUCHED BIKINI BOTTOMS :Vintage printed swim bottom has tummy control effect for...
Fantasie Versailles Top and Deep Gathered Bottom
​There's no distinction between bikinis for the beach or for the pool, and some just function better for the latter. The Fantasie Versailles Bikini Top and Deep Gathered Bikini Bottom are a two-piece set that would be efficient for the pool.
The material used for both is a stretch microfiber that is also chlorine-resistant, so it's comfortable to swim in for hours, and it doesn't get that chlorine smell after dipping in the pool. Additionally, it won't make you feel that ickiness from being exposed to chlorine, especially in your chest and intimate areas.
The top is a heavy bra style of bikini, which is​ good for breasts your size, because it provides comfort and support  from the two-layered cups and underwires. The cups are ruched, same as the front side of the full coverage bikini bottom.
DreamGo Halter Cross Top and Aleumdr Retro High Waisted Bottom
​​So far, the size options are the most impactful on the bikinis' support capabilities, and the DreamGo Halter Cross Plus Size Bikini Top​ optimizes its style to give you maximum coverage and support on your chest.
It comes in a triple extra large, and the cross-front halter and thick band really contribute to lifting your breasts.
I've found the Aleumdr Retro High Waisted Bikini Bottom matches the top well with its ruched style. The seaming is strategically placed similar to shapewear so as to show an illusion of curves—a thinner waist and bigger buttocks. Worn together, this pair can only accentuate your curves from top to bottom, or create them if need be.
ULTIMATE BIKINI Guide For ALL BODY TYPES (From A Curvy Girl) | Cupshe
Comparing Bikinis for Big, Large Busts
| Bikinis | Chlorine Resistant | Closure Type | Halter Straps? |
| --- | --- | --- | --- |
| Coco Reef | No | No-closure | Yes |
| Skye Hillary | No | Adjustable closure | No |
| Angerella Vintage | No | Hook and eye | Yes |
| Fantasie Versaillies | Yes | Snap back | No |
| DreamGo | No | Hook and eye | Yes |
Frequently Asked Questions
Do Bikinis for Large Busts Have Paddings?
It's common for bikinis to come with some paddings, even if they are designed for larger busts.
Usually, bikinis for larger busts don't have large paddings like bikinis for women with smaller breasts, as boosting the breast size is not necessary.
However, small paddings are necessary as they can help to prevent nipples from poking through the fabric.
Do I Need to Wear a Bra Under the Bikini if My Bust Is Large?
In most cases, you don't need to wear a bra under a bikini even if your bust is large, as most bikinis designed for larger busts, such as the Skye Hilary, come with an underwire that provides a solid base for the heavy breasts.
However, you can wear a bra if you feel the swimsuit isn't supporting your bust fully.
How Can I Make My Bust Look Smaller in a Bikini?
You can make your bust look smaller in a bikini by choosing a bikini that offers the most coverage. Usually, a more extensive coverage means the fabric will try to flatten your bust to the rest of your body, making the bust less prominent.
Keeping in mind that darker colors create a slimming illusion, you can also consider going for bikinis with darker colors.
Conclusion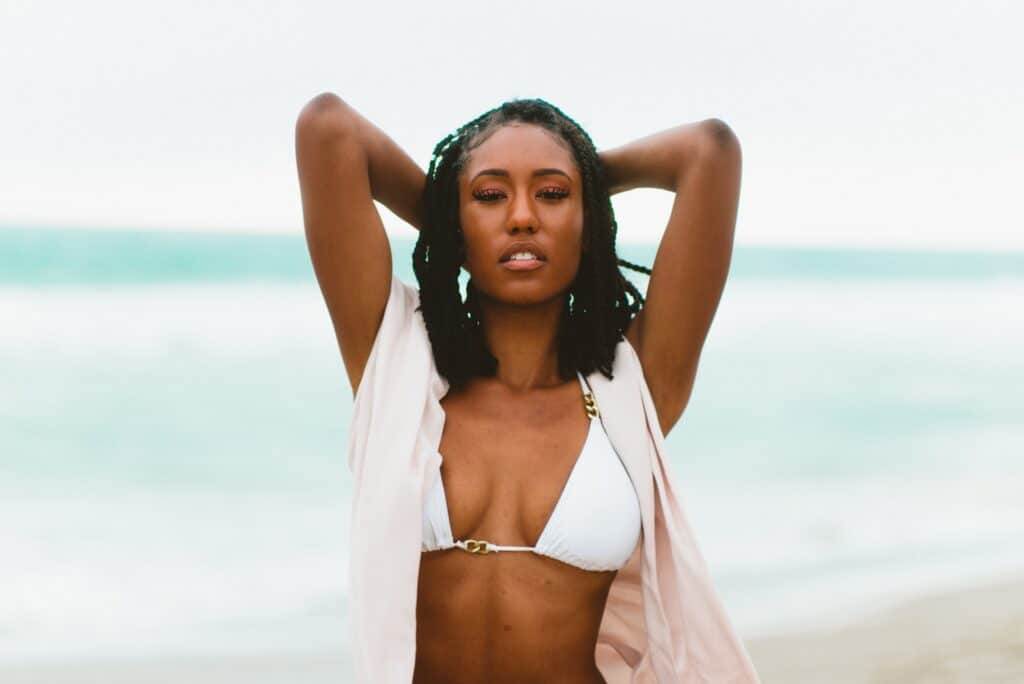 For women blessed with big breasts, bikinis would only seem to be either not supportive or not secure, but you can still find some that satisfies both.
You only have to know where to look, and with these selections, you won't need to go far into the Internet void. These bikinis are supportive, durable, and comfortable, and ample amount of different styles is the least of its flaws.