As an Amazon Associate we earn from qualifying purchases.
It's almost that time of the year again when we let loose and spend time with friends and family. For some of us, we prefer spending the hot summer in a pool or a beach getting that tan. However, for most women thinking of the beach or pool becomes a stressful thought, especially when they think of their swimsuit.
Well, what if we told you, you can still look fabulous in a one-piece swimsuit no matter your bust size. The secret is adding your own padding. If you've ever wondered how to put padding in a one-piece swimsuit, keep reading! 
How to Put Padding in a One-Piece Swimsuit
The best way to put padding in a one-piece swimsuit is by sewing the padding to the inside of the suit. This way, it will be secure and not move or fall out as you wear your one-piece. There are three simple steps to put the padding in: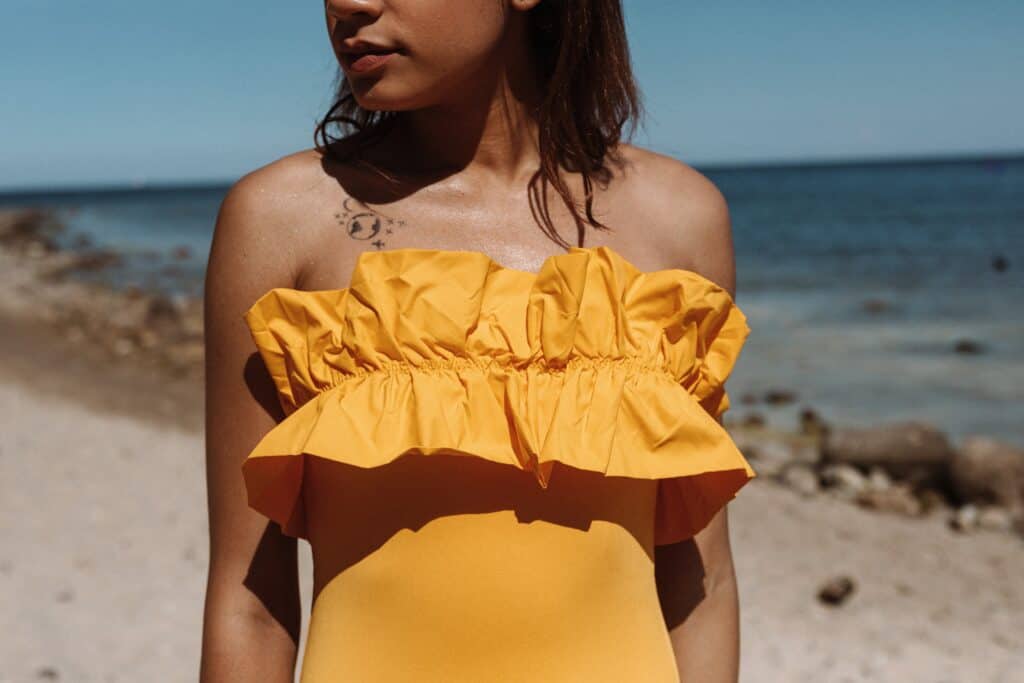 Choose the right padding based on your breast size
Turn your one-piece inside out and position the pads in the proper spot
Sew the padding into your swimsuit
Step 1: Selecting the Right Padding for Your Swimsuit
First, make sure you have the right padding, as bra pads come in different styles, sizes, and materials. The various types of padding you can look for includes:
Bust Enhancers: These give you a full-coverage. They also increase your bust size to one size more.
Push-up Insert: This type of padding pushes your breast inward and up to create cleavage.
Waterproof pads: You can use this type of pads in and out of water.
Shapers: These pads give your breast a smooth fullness to its appearance while improving your bust's natural curves while in a swimsuit.
Step 2: Locate Where You Want to Place the Pads
Once you determine the type, size, design, and material of the padding you need, the next step is locating where you want to place them. Having a precise location ensures you don't make a mistake while placing the pads. After all, you don't want your bra pads to look weird while in a swimsuit.
To pick the best spot, start by putting the swimsuit on to see where your boobs naturally sit when wearing it. Overall, you will want the padding to cover your nipples and end about 1-2 inches below the bottom of your breast. This way, the padding will look more natural within the suit.
Mark this location with headpins. This makes it more accurate than having to guess the location you choose.
Step 3: Sew the Padding
Once you locate the right position, turn the swimwear inside out and sew the padding in the swimsuit. The good news is that you only require basic sewing skills to accomplish this step. Start by sewing the bottom of the pad and work your way around its edges.
When you sew it into the suit, make sure you are only sewing it into the inner lining of the bathing suit. If you sew it through all of the layers, you will see the stitches from the front.
Can I Wear a Bra Under a Swimsuit?
Many women felt tempted to wear a bra under their swimsuit, mostly because they feel like they don't have enough support with the swimsuit alone. That being said, if you really want to wear a bra under the suit, make sure to wear one specifically designed for it.
Here are several reasons why you wouldn't want to wear the wrong bra under your swimsuit, along with several alternatives you can try.
It Won't Probably Fit
Almost all swimsuits, including a one-piece swimsuit, fit your skin tightly. Now, imagine wearing a bra under a tight-fitting swimsuit. The wrong bra will give you an odd-looking bump that won't flatter your figure. If it's not possible to sew pads into the suit and you're looking for some coverage, you can try wearing a sticky bra.
It Will Be Visible
It doesn't matter how well you hide the straps or cups; at some point, your bra will end up popping out of the swimsuit. It can also become quite frustrating to keep on trying to tuck in your bra, rather than have fun with your friends and family.
It Will Soak Up Too Much Water
Swimsuits use materials that enable them to dry faster. Yet, we can't say the same for bras. Almost all bras feature materials that don't allow them to dry as quickly as swimsuits. If you really need to wear a bra underneath, look for one made from silicon..
Can I Sew a Bra into a Swimsuit?
While it is pretty simple to sew padding into a swimsuit, trying to sew an entire bra into a one-piece is a bit more challenging. It can be done; however, it is not recommended. Adding an entire bra into a suit that was not originally meant for that type of support and wiring could stretch out the swimwear or it might look awkward.
If you do want to sew a bra into a swimsuit, the first step is to purchase a custom fit bra or supportive bra cups. Make sure the bra fit you perfectly, as you would not want any slips to occur when you are swimming.
Next, you can sew in the bra or cups in the location you marked. However, unlike putting padding for this particular part, you need to have expert sewing skills. You can also visit an expert tailor and explain the design you have in mind.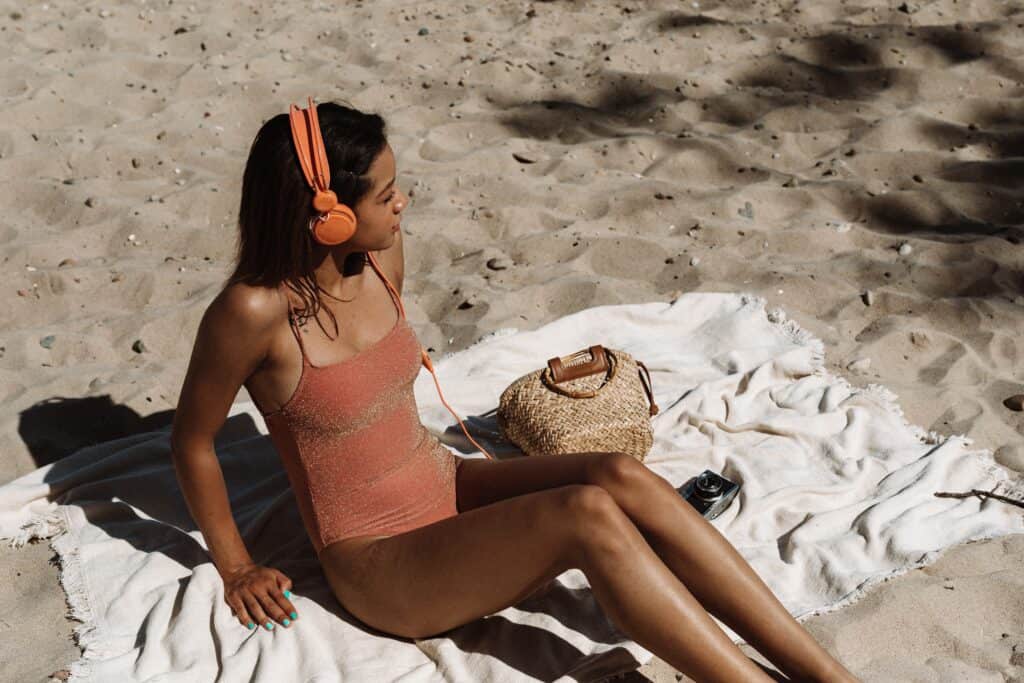 How Do I Insert Bra Pads in My Swimwear?
Almost all swimwear comes with pad pockets so you can insert bra pads in when you require extra support. Well, unlike sewing pads, inserting them is quite easy. All you have to do is choose your bra pad type and place it in the bra pocket.
How To Style A One Piece Swimsuit - Tips You Should To Know
Conclusion
Support is an essential factor for women, especially when wearing a swimsuit. With the skill of putting padding in your one-piece swimsuit, you can enjoy your day out in the pool or beach with friends and family.