As an Amazon Associate we earn from qualifying purchases.
There's more to swimwear than just bikinis and one-piece swimsuits. Monokinis have been around for some time now, it's just that some people aren't familiar with the term, monokini. If you're asking yourself, "what is a monokini swimsuit?", we'll tell you everything you need to know about it.
What Is a Monokini Swimsuit?
A monokini is a one-piece swimsuit with cutouts in the midsection, with the back looking similar to a bikini due to the lack of fabric connecting the top and bottom. 
You can also hear some people saying they're wearing a monokini when they're only wearing the bottom piece of a swimsuit. 
A monokini swimsuit is often thought to be a more revealing one-piece swimsuit. Even though both swimsuits look similar, they're not considered the same swimwear.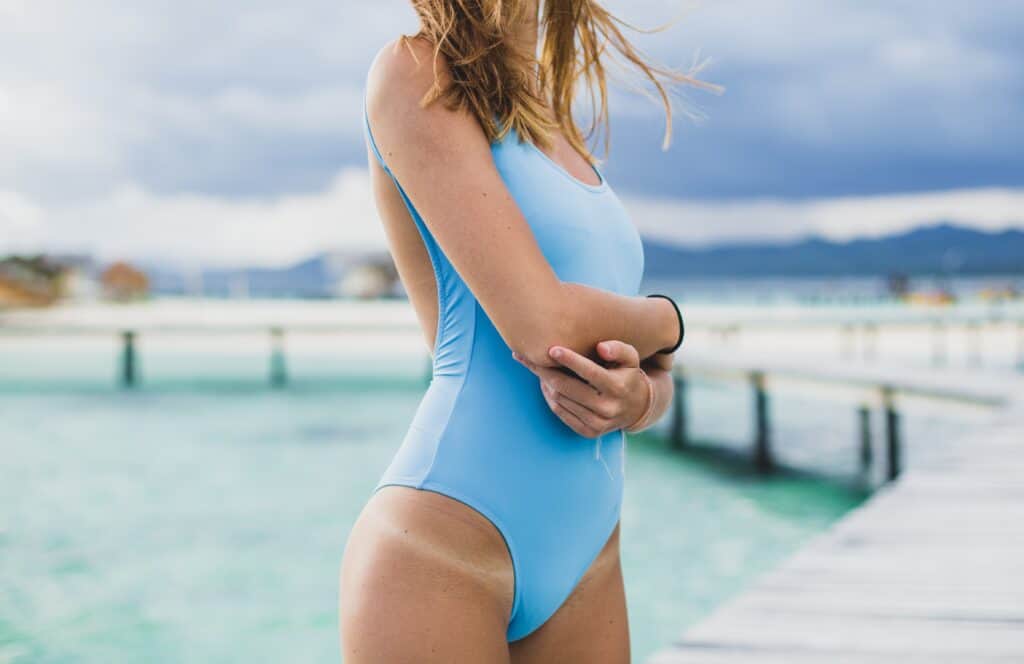 On the contrary, a monokini swimsuit is actually more similar in design with a two-piece swimsuit, or bikini. A lot of monokini designs are just two-piece bathing suits connected by a thin piece of fabric that may or may not cover the navel. The back of a monokini is left exposed as it would be with most two-piece swimsuits. 
This type of 'two-piece' monokini design is sometimes only connected by a few strings or simply by a chain. With these types of monokini styles, it can easily be compared to a bikini rather than a one-piece suit.  
How to Wear a Monokini Swimsuit?
A monokini swimsuit is often 'dressed up'. This is because monokinis are more of a formal type of swimwear. There's something about this revealing one-piece that makes it much sexier than a bikini. Because of this, women like to add accessories to a monokini swimsuit.
You can wear a monokini swimsuit with:
Cover-ups
Scarves
Body jewelry
Sun hats

Attachable belly chains

Sunglasses
These accessories add so much style and you'll often see women wearing them along with their monokini swimsuits. 
What Body Type Is a Monokini For?
You can wear monokini with or without accessories no matter your body type. Depending on the size and style of the cutouts, they can create the illusion of a slimmer, curvier waist. These cutouts in the waist can also help you achieve an hourglass figure. 
A lot of women think that a monokini will only flatter someone with an hourglass shape, though this is not the case! Yes, it can enhance an hourglass figure, however, it can do the same for every other body type. 
Tying a scarf around the bottom part of a monokini can add to the effect of an hourglass figure. This will make the hips look bigger in contrast to the waist slimming cutouts.
Women who want to hide weight in the midsection, yet, don't want to wear a one-piece can have it both ways in a monokini swimsuit. There are many distinct monokini designs that give women support with lower belly fat. Some monokini designs feature high waist bottoms or have a large amount of fabric enough to cover the lower part of your stomach.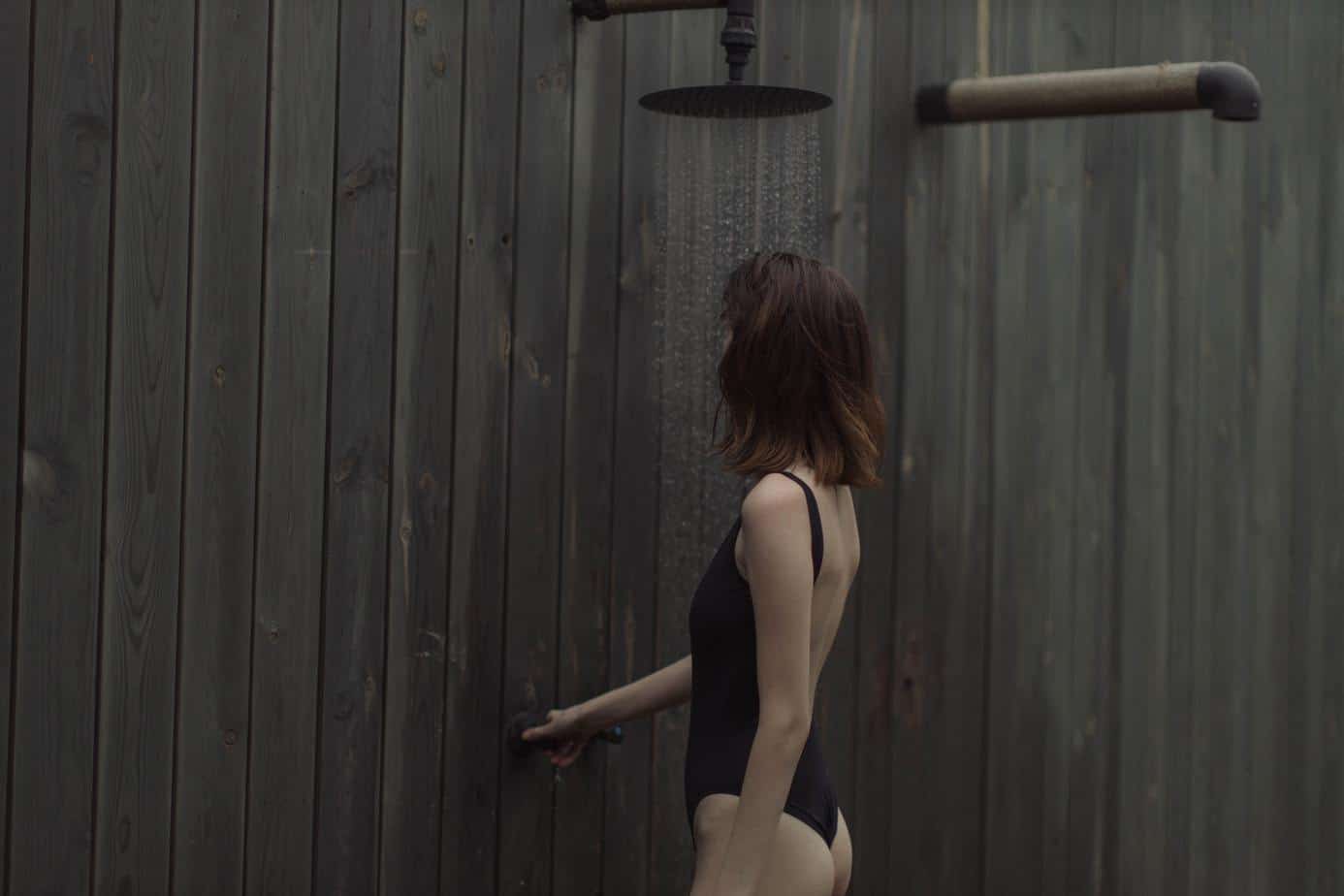 Who Invented the Monokini Swimsuit?
The history of the monokini swimsuit plays a huge role in its description. Many people get confused as to what exactly a monokini is. Is it a one-piece bathing suit with cutouts? Or is it just one part of a swimsuit? You could actually consider the original design as both.
Rudi Gernreich originally designed the monokini in 1964. Gernreich's intention when making this swimsuit was to make a social statement. The swimsuit was never intended to be worn in public places, it was only meant to be a protest against society's dress code. 
There were only a handful of women who wore the design, though the impact of the swimsuit was the overall success. This design played a small role in initiating the sexual revolution.
The original monokini design was a one-piece suit that left the breasts exposed. The bottom half consisted of a full covered panty almost resembling shorts. The bottoms came above the waist and stopped right under the breasts. The breasts were left bare with nothing supporting them. 
To support the bottoms, Gernreich added a thin strap that crossed through the breasts and went over the shoulders connecting to the back of the bottoms. 
The original design is closer to a bikini bottom without the top. This is accurately reflected by the name of the swimsuit. 'Mono', meaning one, was replaced with 'bi' in bikini, meaning two. This name was meant to represent one piece of a bathing suit. 
Somewhere along the line, the monokini's design was changed to a more modest and versatile garment that we see today. However, the modern definition for monokini can still be referred to as only the bottom part of a swimsuit, or in other terms: going topless. This meaning is especially common in other parts of the world where a topless swimsuit is totally acceptable. 
Tips on How to Wear a Monokini Swimsuit
| Tips | Pair a monokini with |
| --- | --- |
| Tip 1 | Cover-ups |
| Tip 2 | Scarves |
| Tip 3 | Body jewelry |
| Tip 4 | Sun hats |
| Tip 5 | Attachable belly chains |
| Tip 6 | Sunglasses |
Frequently Asked Questions
Is a Monokini Better Than a Bikini?
A monokini can be better than a bikini, especially if you are self-conscious and feel comfortable wearing a bikini.
Typically, a monokini offers more coverage than a standard bikini, especially around the stomach area. This makes it a great option for women who are self-conscious about their belly fat.
Do I Need to Wear a Bra With a Monokini?
Keeping in mind that a monokini is a one-piece swimsuit, you don't need to wear a bra or pantie under it. Usually, the monokini comes with a built-in bra that helps support your breasts.
You only need to choose a monokini design that suits your bust size. For instance, you can go for a monokini with padding if you have smaller breasts.
What Is the Difference Between a Monokini and a Bikini?
The main difference between a monokini and a bikini is that a monokini is a one-piece swimsuit, whereas a bikini is a two-piece swimsuit.
That means a monokini falls between a standard swimsuit and a bikini, with a skimpier style and V-cut bottom. On the other hand, a bikini comes in two pieces, one covering the breasts and the other covering the bottoms.
How To Style A One Piece Swimsuit - Tips You Should To Know
Conclusion
A monokini swimsuit is much more than a one-piece swimsuit with cutouts; it's a preferred style, it's a way to wear something that's both revealing and supporting, and most importantly, it's a symbol that gives women the right to dress how they please no matter what society thinks is normal or not.