As an Amazon Associate we earn from qualifying purchases.
One style of swimwear that's seen commonly at public pools and beaches is the tankini. It's not so much the suit that stands out from regular two-piece and one-piece swimwear. What stands out is the top; the tankini top.
Well, what is a tankini top? And what makes it so different from other swimsuits?
What Is a Tankini Top?
A tankini top is the upper part of a tankini swimsuit that very much resembles a tank top, hence the name. A tankini top is sleeveless and often consists of two thin straps that go over the shoulders. Depending on the length, a tankini top can cover your entire torso.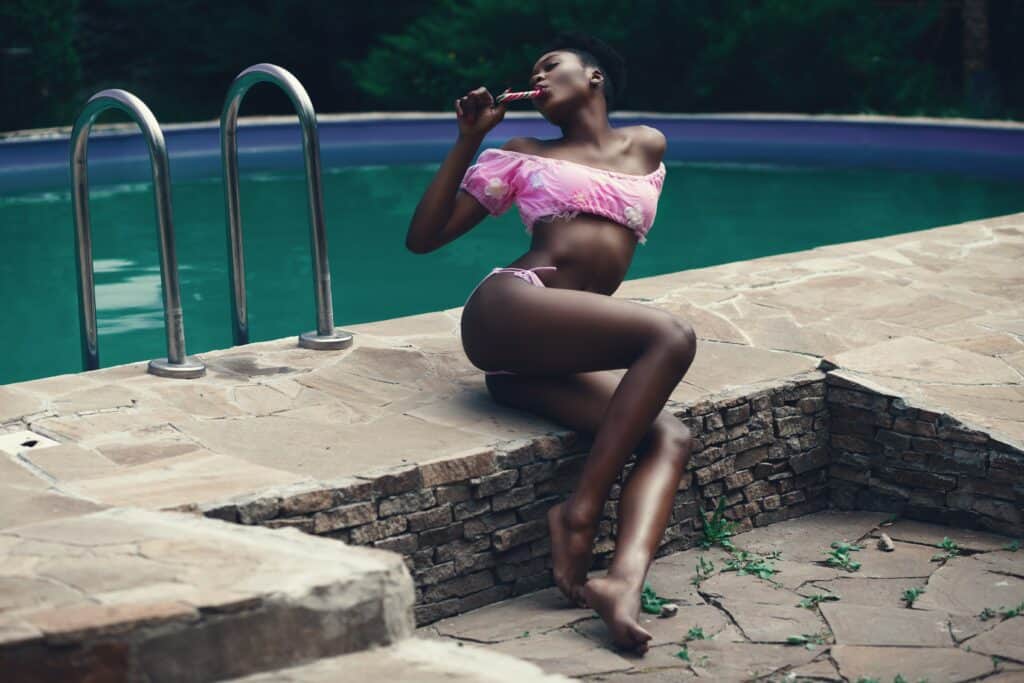 What Does a Tankini Top Look Like?
Tankini tops vary in design and fit, from loose-fitting ruffles to form-fitting apron styles. There isn't just one definite description for a tankini top. Just like the many styles regular sleeveless tops come in, tankini tops are no different. 
To give you a better description of what a tankini top is, it's best to go over the many styles and fits and how they flatter the body. 
Halter Tankini Top
A regular tankini top usually features a low neckline that puts your chest on display. Tankini tops usually provide more coverage. This is one reason why many women prefer a halter tankini top. The halter tankini top features a high neckline that reaches all the way up to the neck and ties around it. 
A halter style can cover the entire chest while supporting the breasts. This helps women to freely swim and engage in activities without worrying about their breasts being exposed or falling out of their swimsuit top. 
Strapless Tankini Top
A strapless tankini top is similar to a bandeau style top. This design often comes with removable straps and can support your breasts with or without the straps. Many women choose this style to avoid the tan lines that other styles can create. A strapless tankini top can be loose or tight-fitting in the midsection. 
Apron Tankini Top
This tankini top is very similar to an apron, hence the name. An apron tankini top leaves the back bare with only a string tie to keep it fitted along the chest. There is an additional string tie that goes around the neck to support your breasts. 
The fabric in the midsection is typically loose-fitting and does not provide any support to the waist. This type of style will most definitely rise up once you get in the water. However, it will only reveal the stomach. The chest area is secure enough to stay down while underwater. 
Ruffled Tankini Top
Many women choose this swimwear style to conceal weight in the midsection. The part that supports the breasts can come in any style, though, the area that covers the abdomen is layered with ruffles. This can either be form-fitting with attached ruffles or loose-fitting. 
Blouson Tankini Top
Other women choose a blouson tankini top for much of the same reason as the ruffled style. The blouson design is loose in the waist and has a tight band attached to the bottom to keep the top down and in place. It's ideal for women who have extra weight on their bellies, or pregnant women to give them space for their growing bumps. 
What Do You Wear With a Tankini Top?
The wonderful thing about tankini tops is the ability to mix and match with so many colors and styles. You can wear a tankini top with a wide variety of bottoms, from swimming shorts to swimming skirts. You can even take a bottom from a bikini you own and wear it with your tankini top. 
However, it's always best to know how to choose the appropriate style for the activity you wish to engage in.
Swimming Skirt
A swimming skirt is a popular pick to pair with a tankini top. They are stylish and give you great coverage. Swimming skirts come with attached panties underneath the skirt for when the skirt rises underneath the water. 
Even though a swimming skirt may provide enough coverage, it can slow you down in the water. If the skirt reaches down to the knees, it may be difficult to swim with. A swim skirt is best for light swimming activities when you won't need to move around so much in the water. 
Swimming Shorts
Shorts are the best option when it comes to both modesty and free movement. You can pair a tankini top with any pair of shorts that are water-resistant. Swim shorts offer great coverage and you can find them in many different lengths. 
Bikini Bottoms
Many women pair a tankini top with a bikini-style bottom. If you search for tankini swimsuits, you'll be sure to find that most consist of a tankini top and bikini bottom.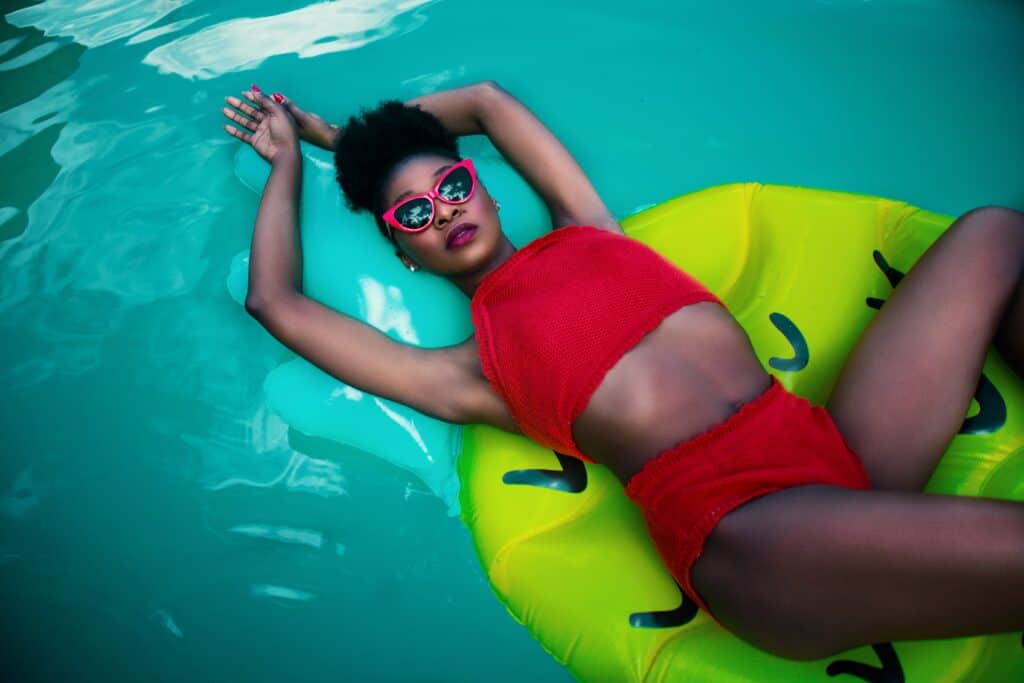 You may be asking yourself, "what's the point of a tankini?" Even though a tankini top is similar in design to a one-piece swimsuit when paired with a bikini bottom, it still has some advantages that a one-piece does not. The point of a tankini is that you're able to easily pull it on and off while getting the same amount of coverage as you would with a one-piece.
Tankini Tops Styles
| Styles | Types of tankini tops |
| --- | --- |
| Style 1 | Halter |
| Style 2 | Strapless |
| Style 3 | Apron |
| Style 4 | Ruffled |
| Style 5 | Blouson |
Frequently Asked Questions
Is a Tankini Top Better Than a Bikini Top?
Generally, a tankini top is better than a bikini top as it offers more coverage. Typically, a tankini top is like a tank top with the fabric extending below the breasts. This makes them modest and flattering at the same time.
Which Material Makes Tankinis?
Like most swimsuits, tankinis are made of a blend of spandex and nylon or polyester. That means even if the shape of a tankini is like that of a tank top, they are stretchy and form-fitting like other swimsuits.
Can a Tankini Suit My Body Shape?
The design of tankinis makes them versatile and suitable for a wide range of body shapes. For instance, you can wear a tankini even if you have belly fat or sagging breasts as the fabric extends below the breasts.
ULTIMATE BIKINI Guide For ALL BODY TYPES (From A Curvy Girl) | Cupshe
Conclusion
Tankini tops are versatile and allow you to cover yourself up and feel comfortable while swimming. There are so many styles to choose from that don't adhere to just one age group or size. Feel free to move, swim and play on the beach with a tankini top!