As an Amazon Associate we earn from qualifying purchases.
With all the new different types of swimwear, it's hard to know which is which. Bikinis, alone, have so many style variations: tankinis, monokinis, and trikinis. Because of some design similarities between trikinis and other styles of swimwear, trikinis are often confused with other variations. So, what exactly is a trikini? 
What Is a Trikini?
A Trikini is a swimsuit consisting of three separate pieces that have been sewn together to form a one-piece suit; one bottom piece, and two separate pieces for the breasts. You can also describe it as a one-piece swimsuit with cutouts.
The three separate pieces are how the trikini got its name. Just change the "bi" in bikini, representing two pieces, to "tri" which represents three pieces. That being said, you should also know not all styles of trikinis comprise three separate pieces.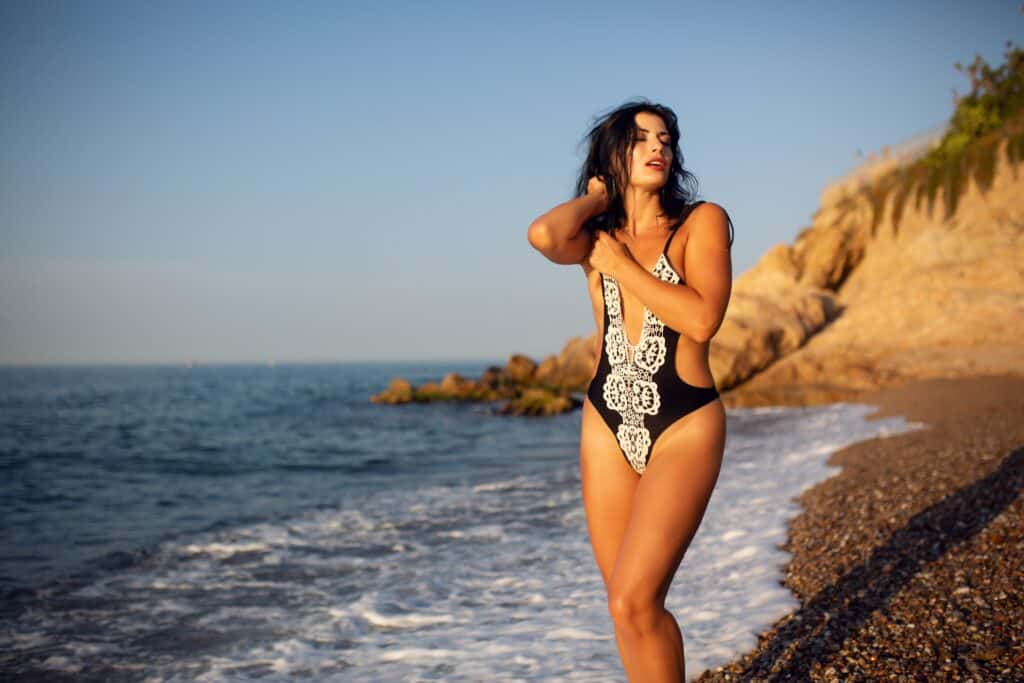 What Are the Different Styles of Trikinis?
Trikinis have been around for decades and have seen a major shift in style and design to fit the fashion scene. There are many different styles of trikinis being designed these days. 
Here are just a few, out of the many variations out there:
Trikinis with cutouts: This is probably the most popular style due to the ability to make the waist appear thinner and add curves to your body. This design is technically a one-piece swimsuit with cutouts in the waist. The breast area usually has two string ties for the top that goes around the neck and back much as a bikini top does. 
Trikinis with two pieces: This style is the most accurate when describing a Trikini. It has two separate pieces, a bikini bra, and panty. The bottom has an extended piece of long, thin fabric that goes up and connects to the bra. This long piece of fabric is just thick enough to cover the navel. Depending on the style of the top, this trikini could be described as having three separate pieces. For example, if the top is a triangle bra, this is actually two separate pieces of fabric that are sewn together.
Trikinis with a halter top: This style is basically a one-piece halter top swimsuit with large cutouts in the waist. The halter top fully covers the breasts and reaches up to the neck with a string tie. There is also a string tie that goes across the back.
There are many other styles, some being more or less revealing than others. Some other variations include bandeau tops, as well as sling tops. Bottoms can feature string ties or metal hoops to keep the sides together. 
Trikinis are especially popular because they give women who like to wear one-piece swimsuits more revealing options. Due to the many styles of trikinis, some can conceal your problem areas while enhancing your figure.
Trikini vs Monokini
Today, monokinis and trikinis are very similar in design. Depending on where you purchase one, the terms may be used interchangeably, since there is minimal distinction between them.
The main difference between both of these one-piece variations is that a trikini includes three pieces of material that are connected together, whereas a monokini has two main pieces sewn together.
While trikinis have two individual pieces of fabric at the top of the suit to cover each breast, a monokini typically has one that spans across your chest.
To better understand the differences between a trikini and a monokini, it's best look at the history of how each of these swimsuits got started and how much they have changed since then.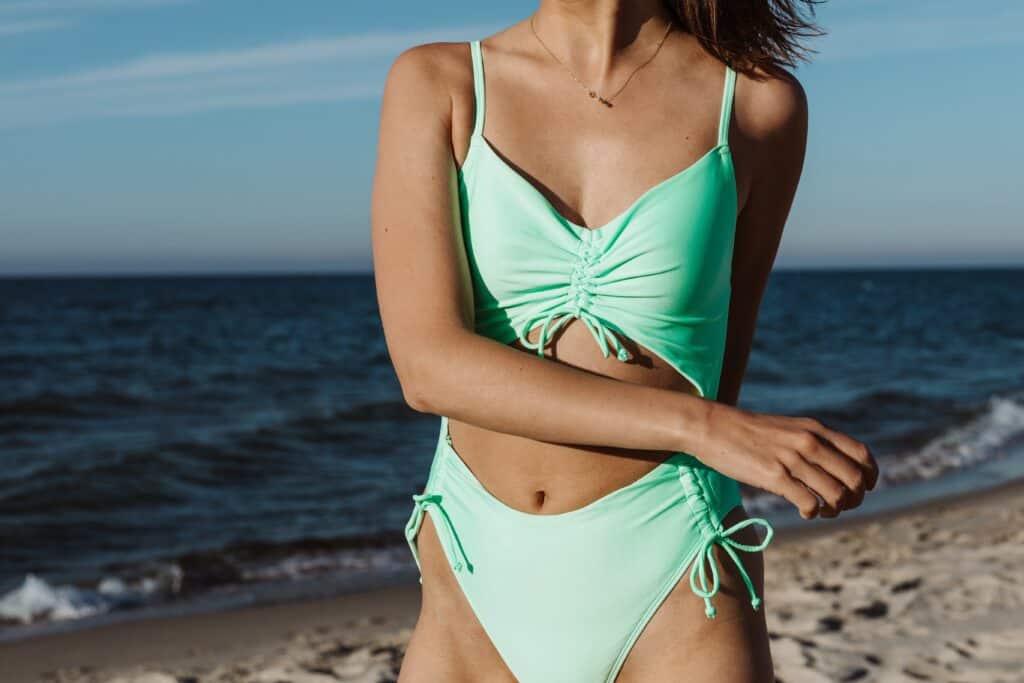 Trikini History
When trikinis first showed up in 1967, people described them as being, "a handkerchief and two saucers", which, back then, referred to a revealing bikini style that briefly covered the bikini region and breasts. 
This original design was made of two separate pieces for each breast and one for the bikini area which were all sewn together.
These days, a modern trikini can come in many different styles, which makes it easy to get confused with other swimsuit styles, like the modern monokini and regular one-piece swimsuit.
Monokini History
Monokinis were created before the trikini, in 1964, and were given their name by replacing the "bi" in bikini to "mono", which means one. The first Monokini ever designed was a high-waist bottom that covered the entire buttocks. The bottom piece came above the belly button and stopped right under the breasts.
There were two thin straps that connected to the bottoms on both the front and back, and crisscrossed between the breasts and over the shoulders. The breasts were left completely bare. This is where it gets its name; mono representing only one piece of the swimsuit.
A monokini is accurately referred to as only the bottom piece of a swimsuit. Sometimes, a monokini can also refer to 'swimming topless'. 
Fashion has changed dramatically since the 60s, and so has the monokini. The modern version of a monokini is basically a one-piece swimsuit with cutouts at the waist and a bareback.
This is the reason why monokinis and trikinis are commonly advertised as the same style of swimsuit, though they were originally far from the same thing.
Comparing Trikini and Monokini
| Features | Trikini | Monokini |
| --- | --- | --- |
| Fabric | Includes 3 pieces of fabric | Includes 2 pieces of fabric |
| Coverage | Covers the bikini region and breasts | Covers the front part and has a bareback |
| Design | Has two pieces to cover each breast | Have one piece to cover the breasts |
Frequently Asked Questions
What Type of Swimsuit Should Men Wear?
Trunks are the preferable swimsuit for men of all age stages. Trunks are similar to shorts, only that trunks are made of polyester or nylon fabric which are lighter and more elastic compared to the fabric in shorts.
Normally, a mid-thigh length trunk is a preferable size for men.
What Are the Most Flattering Trikini Colors?
For dark skin people, it is advisable that you wear warm color trikinis such as deep orange and red, warm green and yellow.
On the other hand, light skin people can wear black and dark color bikinis such as navy blue, dark purple, and olive green for them to have a fair skin tone.
What Are the Most Popular Materials for Trikinis?
The most popular and trendy materials for swimwear are spandex and polyester or nylon and blend. Generally, this is because nylon is soft to the feel and has a glossy or satin sheen.
Polyester, on the other hand, is resistant to UV rays and chlorine, making the swimwear ideal when swimming in public pools.
ULTIMATE BIKINI Guide For ALL BODY TYPES (From A Curvy Girl) | Cupshe
Conclusion
To sum it all up, a trikini is basically a one-piece swimsuit with cutouts. Though its design makes it difficult to differentiate between other variations of swimsuits, the trikini is still unique in its own way and I should be thankful for all the many styles of swimwear there are to choose from.