As an Amazon Associate we earn from qualifying purchases.
After giving birth to your beautiful baby, you'll naturally experience some body changes and a new lifestyle. Taking care of yourself is equally important as looking after your child. During this transition, the best postpartum leggings can help smoothen your stomach, while also providing core stability and comfort.
Best Postpartum Leggings
We've compiled the best postpartum leggings with snuggly fabric, compression, and figure-flattering abilities as you guide your child in this world. While they differ in some aspects, all of them aim to provide support and help you get back in shape.
Brand
Thick High Waist Slimming Leggings
Kindred Bravely Louisa Leggings
High Waist Tummy Control Leggings
Product
Material
85% Polyester, 15% Spandex
92% Polyamide, 8% Elastane
Features
Seamless, Chade-free, Tight Fit
Ultra-soft and durable fabric
Moisture wicking postpartum leggings
Brand
Thick High Waist Slimming Leggings
Product
Features
Seamless, Chade-free, Tight Fit
Brand
Kindred Bravely Louisa Leggings
Product
Material
85% Polyester, 15% Spandex
Features
Ultra-soft and durable fabric
Brand
High Waist Tummy Control Leggings
Product
Material
92% Polyamide, 8% Elastane
Features
Moisture wicking postpartum leggings
Homma Premium High Waist Tummy Compression Slimming Leggings
Living up to the hype, the Homma Premium Leggings is a star performer when it comes to expanding as you move, while also keeping you fresh and stylish. These postpartum leggings provide excellent waist control while resting, doing chores, or taking care of your newborn child.
Thick yet comfortable, these leggings use well-blended nylon and spandex to ensure breathability, especially on hot days. The thickness also guarantees opacity, so you can squat and sit without worrying about your leggings becoming see-through.
The fabric also optimizes a four-way stretch to expand in all the right directions for added support and a form-flattering effect. No matter how many pounds you lose, the material will recover back to shape and conform to your body.
Aside from that, spandex and nylon are permeable fabrics, allowing them to wick moisture away fast. In this way, you can maximize wearing the leggings for the day, even as you sweat.
In time, you may finally gain the strength to do your workout routines again. These postpartum leggings can support your stomach area while helping bind the loose skin. You can also continue using them as part of your everyday wear months after the recovery period.
The Homma Premium Leggings feature a high-waist style and seamless construction that work together to prevent chafing or digging marks. This also means you won't have to adjust the waistband every time you stand up or sit down.
Its compression threads can contour all body types, with sizes available from small to extra large. Imagine the compression is like a gentle hug, working on your curves without being too snug. With many colors to choose from, you can wear a different pair everyday and partner them with your new clothes.
Pros
Compresses belly and thigh fats well
Dries sweat and moisture quickly
Thick, stretchable material that recovers shape
Cons
Cut may be too long for short women
Machine washing can shrink the leggings
Kindred Bravely Louisa Leggings
If you're looking for the best bottoms to pair with your nursing tops, the Kindred Bravely Louisa Leggings deserves a section in your wardrobe. These postpartum leggings feature a high-rise style that can stretch right below your breasts, providing you excellent cover in the stomach area when it's time to breastfeed your child.
Like the first leggings, this one combines polyester and spandex for a thin yet non-see-through material for breathability. The ultra-soft fabric creates a velvety touch that feels comfy for you and your kid. Additionally, it is flexible enough to smoothen your natural curves gently.
The unique thing about the design is that instead of sewing a noticeable waistband, the waist hemline connects the fabric from the belly up to the thigh part. Hence, the upper hemline may rest right under your breast, and touch the bra's underwire.
You can adjust how high you want to pull the leggings up, although it may form a bundle around the hips if you don't stretch it out. Likewise, you can fold the fabric as dual support for the belly area.
With sizes available from small to double extra large, the Kindred Bravely Louisa Leggings allows you to stay true to your size and find the perfect fit. However, it would be better if you consider your bust and hip measurements instead of waist size.
Overall, you can live in these sleek, versatile, and stylist postpartum leggings every single day. Whether you need to travel or stay at home, it can mold your body while assisting you in breastfeeding. Even after a few washes, this pair won't stretch out or get loose at the ankles.
Pros
Excellent coverage for your transition from pregnancy to breastfeeding
Easy to wash and maintain
Soft, stretchable, and breathable material
Cons
Only available in black
Comes with a high price tag
Kindred Bravely Louisa Ultra High-Waisted Over The...
IDEAL FOR ANY STAGE - Designed for ALL women, these high waist maternity leggings are especially...
CHOOSE YOUR STYLE - Choose from the Classic Style for a sleek, smooth look, or the Pocket Style,...
VERSATILE AND FASHIONABLE - Comfortable enough for lounging around the house, fashionable enough to...
Mothers Essentials Postpartum Slimming Leggings
When you simply want a comfortable pair of postpartum leggings without forking over some serious cash, there's no better option than the Mothers Essentials Postpartum Leggings. True to its name, these slimming leggings can have a significant contribution to your recovery.
Form-fitting, yet not painfully tight, these leggings optimize polyamide and elastane for exceptionally high stretchability and moisture-wicking abilities. Even with a soft buttery feel, the fabric guarantees breathability to keep you fresh as your body undergoes changes.
End your worries about waist or extra bulges, and let the wide waistband stretch the fabric over your belly for support. These affordable postpartum leggings offer the necessary cover, especially after a C-section.
The control top is thick, and sucks everything in place, particularly if you feel extra bloated. With the help of a four-way stretch, the leggings can conform to your body movements while retaining shape.
What's also special is that the high rise design comes with compression panels for a slimming silhouette. You won't have to wear birth girdles. Moreover, the panels improve posture by providing muscle support, resulting in pain relief.
If ankle-length leggings seem a bit long for your height, you can benefit from the capri cut of these leggings. With no poorly placed seams in the middle, the Mothers Essentials Postpartum Leggings also eliminates the feel of itchiness or chafing as you move.
Whether you're staying at home or needing some new work clothes, you can easily style this versatile pair of leggings and make them look like regular pants. Even after you flatten your belly, you can still maximize these leggings for everyday use.
Pros
Stretchable fabric without becoming translucent
Great moisture-wicking abilities for postpartum conditions
Compression panels for back support and improving posture
Cons
Crotch area may suffer from wear after constant use
Low heat retention
Movemama Postpartum Support Leggings
From the brains of a mother of two, Movemama's maternity clothes aim to combine comfort and functionality without sacrificing style. Specially designed with breastfeeding mothers in mind, the Movemama Postpartum Support Leggings guarantee much-needed support and protection for your recovering body.
When you're caring for a newborn, there may be times when clothes shopping is the last thing on your mind. However, you need something that can make you feel great while helping you overcome the postnatal stage.
These polyester-based leggings create a silky, buttery feel on the skin. With the addition of spandex, the leggings can repel moisture and other water elements you'll encounter daily. The fabric also includes compression threads, helping you get back in shape faster.
Similar to the second item, the ultra high-waist style results in an adjustable fabric that you can wear over the belly or roll down for double support on the lower stomach. Transform the Movemama Postpartum Support Leggings into low or mid-waist — whatever suits your taste.
If you're nursing on-the-go or conscious about exposing the stomach, you can confidently lift your top and let the waistband provide you with privacy.
More than that, the 7/8 cut is perfect for mothers below 5.5 feet, which means the length won't appear too short, yet the hem won't bunch around the ankles.
The laser-cut design adds a flair to the otherwise plain black-colored leggings. In addition, there are small pockets that let you carry valuables when you need to go out.
Lastly, you can choose any size from extra small to extra large, so there's no hassle in snatching the perfect fit.
Pros
Adjustable high-waist style
Comfortable and dry-quicking material
Stylish and convenient design
Cons
Compression may feel too warm for summer days
Length may appear short on tall women
Movemama Women's Active Maternity to Postpartum...
MATERNITY LEGGINGS FOR WOMEN: ultra high waisted legging style fits pregnant women as a full panel...
POSTPARTUM SUPPORT: designed to transition from pregnancy to postpartum. Wear unrolled for a super...
POCKETS AND BUTTERY FABRIC: On the hunt for maternity leggings with pockets? Us too! Perfectly size...
Factors to Consider When Choosing Postpartum Leggings
There are a few things to think about before making the final decision. The following aspects should help you pick the right leggings to accompany you on your postpartum journey.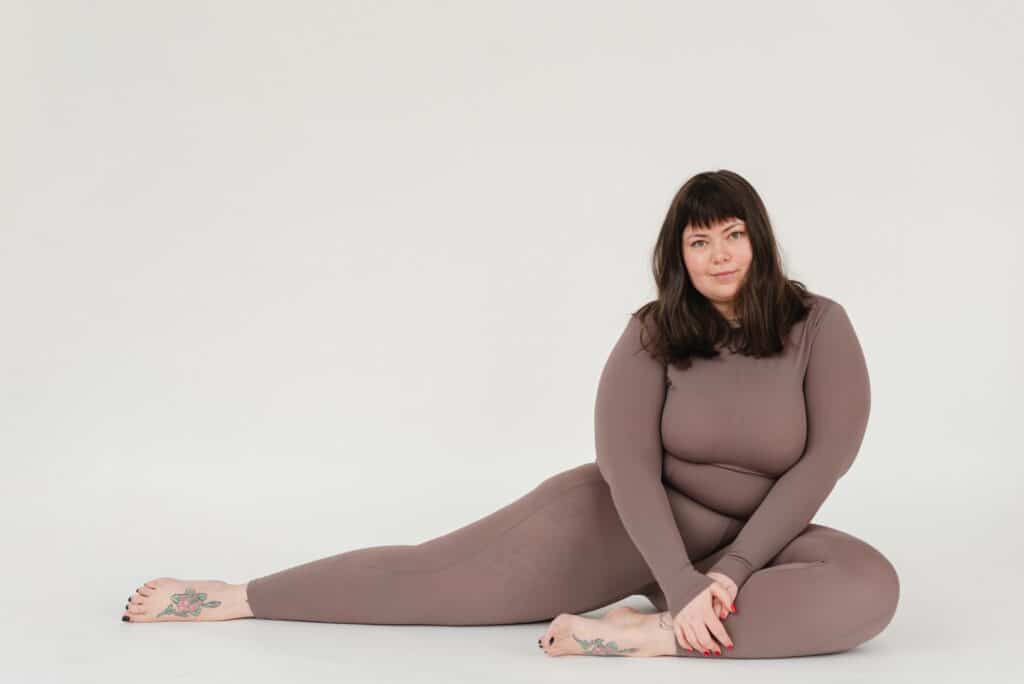 Comfortable Fabric
Several things can happen during your postpartum recovery. Your incision may be painful, you might feel exhausted for most days, or it's harder to control the bladder. At this stage, you should prioritize comfort over almost anything when choosing clothes.
Opt for breathable fabrics like cotton, wool, lycra, polyester, spandex, or a combination of them. You may also consider a thicker material, especially if you want to wear them as pants.
Furthermore, it's practical to select a moisture-wicking fabric as postnatal involves milk spillage and baby baths. All of the leggings in this list have fast-drying yet breathable fabric to ensure you can spend your postpartum days in comfort.
Read our review on the best postpartum underwear while you're at it!
Supportive Waistband
While you can pick low-waist or mid-waist leggings, it would be better to go for high-rise ones as they provide more support and cover for your belly.
If you want to gradually and safely smoothen out your post-baby belly, a high waistband can stretch as necessary, while containing excess fat. It may take a few weeks before you can return to your old body shape, yet postpartum leggings can serve as support as you form new routines.
All of the leggings we've shared have high-waist styles, although the ones from Kindred Bravely and Movemama feature exceptionally high waistbands that can also transform into mid or low-rise cuts.
Compression Properties
Remember that your body is recovering, and you need all the help you can get to become stronger for yourself and your baby. Postpartum leggings with compression abilities improve blood flow, and consequently, your breathing.
The leggings from this list contain compression properties that mostly work on the stomach, thigh, and leg areas, helping you control the shape of your body.
Need some clothing to go out in? Take a look at our recommendations for the best postpartum jeans!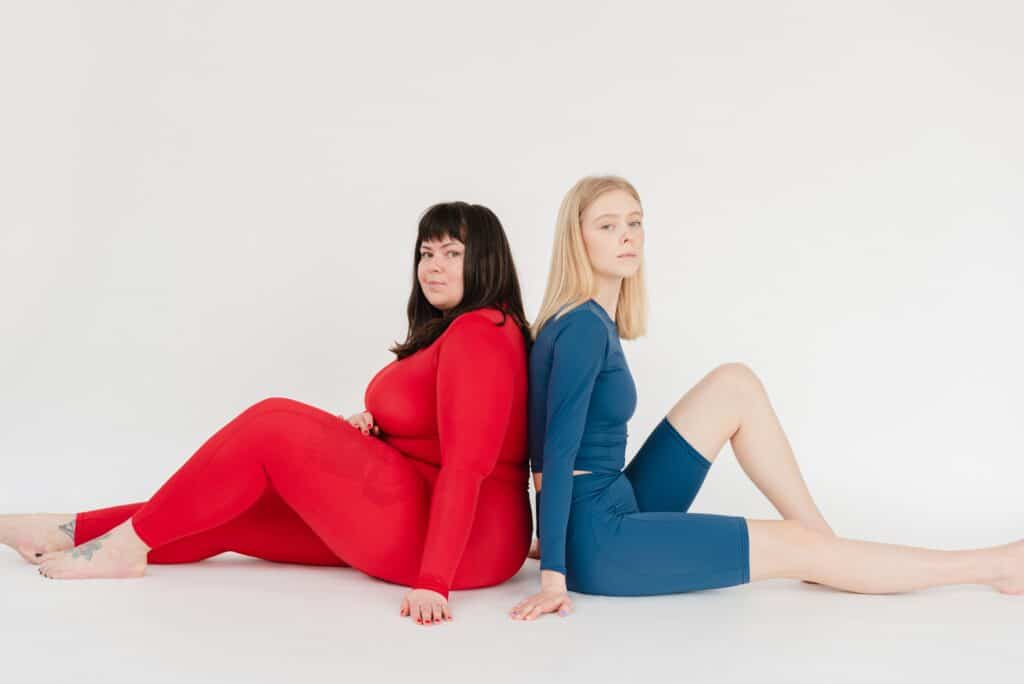 Conclusion
Dressing for postpartum can be challenging since your pre-pregnancy clothes might be a bit small, or your maternity clothes are too big. The proper-fitting and comfortable postpartum leggings can help you adapt to your new body and look more confident.