As an Amazon Associate we earn from qualifying purchases.
Many women prefer evolving their style as they grow older to reflect their age better. While there is nothing wrong with dressing however you want, some styles suit my aging body better. Fortunately, the versatile leggings look good on almost everybody. The only question is what to wear with leggings over 40!
What to Wear With Leggings Over 40
There are endless ways to style your leggings in graceful and stylish ways. The best top lengths to pair with the fitted bottoms are towards the longer side as they look chicer than the shorter lengths. Moreover, you can wear almost any footwear with your leggings, depending on your personal preference.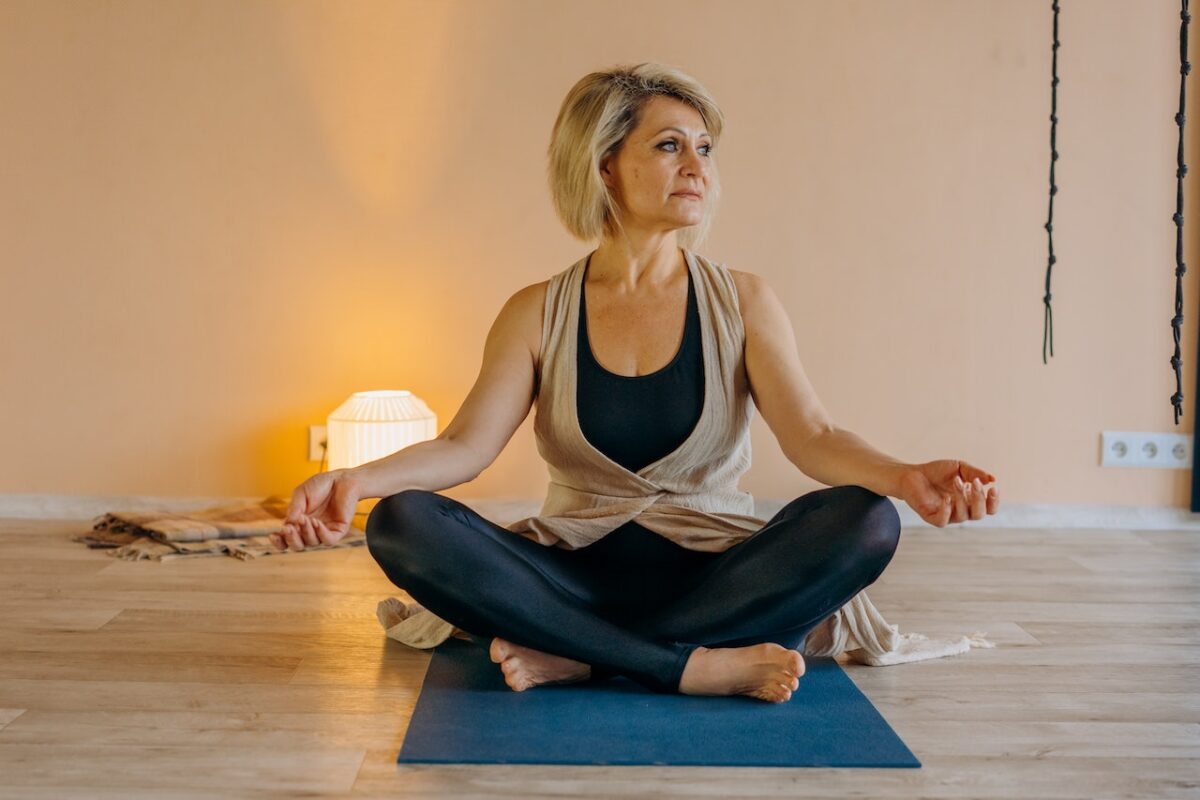 Here is what you can put on with your leggings once you have crossed the 40-year mark.
Tunic Sweater
A tunic sweater combines the flattering length of a tunic and the luxurious knit of the sweater, providing you with the best of both worlds. This type of knitwear is better paired with leggings as it hides any extra weight on your upper thighs while providing you with a slimming effect.
You can either wear a fitted variety that highlights your curves or go for a looser fit with small slits on the side. Both styles work well with the tights. Complete your look with small dangly earrings, some dainty rings, and a satchel bag for the perfect fall outfit.
Chambray Shirt
A chambray shirt may not be everyone's cup of tea. However, when styled correctly, it is among the most statement-making tops that work for all ages, especially for women over 40. 
Create your base with a thigh-length shirt, which looks more tasteful with skin-fitted bottoms and a pair of high-quality black leggings.
Next, you can add more layers, such as a knit scarf for an interesting clash of fabric or a long open cardigan for a dressier look.
If you would rather skip layering, simply finish the ensemble with brown, suede, knee-length boots and a crossbody bag matching the shoes. The combination of brown and blue is perennially in vogue.
Lightweight Cardigan
We have already mentioned that adding a cardigan to a top immediately makes your attire look more put-together. In addition, you can also pair it with any top and leggings combo, where the length of the shirt may need to be longer to go with a fitted bottom.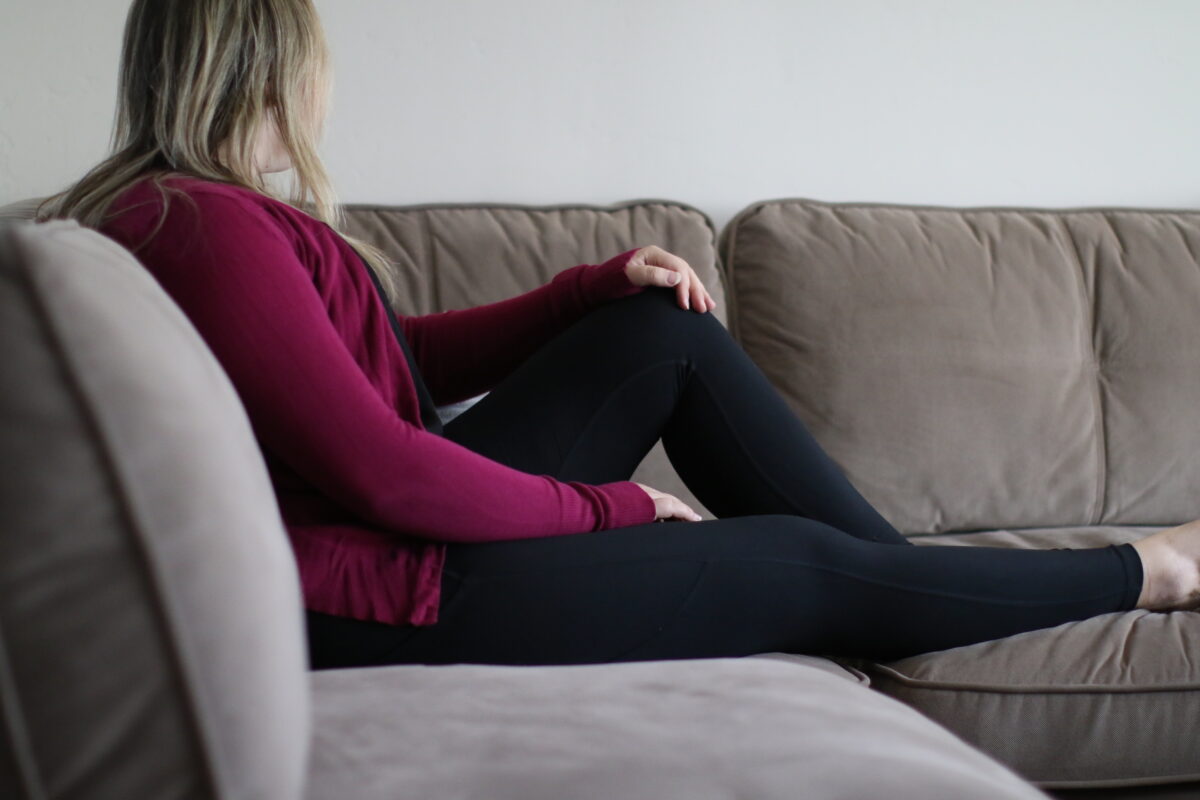 This way, you can wear your favorite top without worrying about it looking inappropriate. Moreover, the additional layer protects you against the elements during the fall season while looking incredibly appealing. Accessorize with a crossbody or shoulder bag and put on boots, sneakers, or heels, depending on your destination.
Loose Blouse
The loose blouse is a generic term that indicates any top that is a bit roomy, with a more feminine style. The style is extremely flattering for all body types and suitable for middle-aged women who prefer loose-fitted tops. This type of blouse also offsets the form-hugging property of the leggings exceptionally well.
You can go for vibrant floral prints for the spring and summer months while transitioning to fall colors once the air turns chilly. These blouses can also be dressed up with a few carefully selected jewelry pieces, a classy clutch, and elegant heels for a sophisticated look.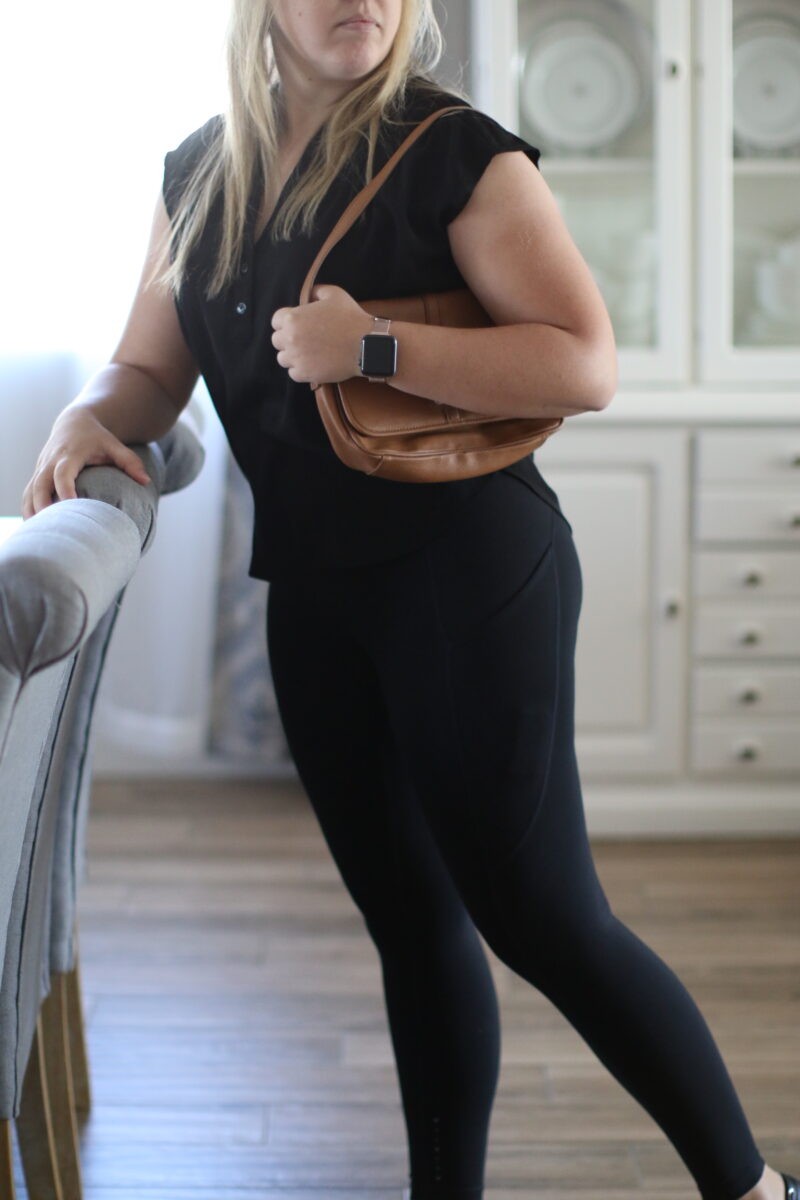 Knee-Length Knit Dress
Combining a dress and leggings may only sometimes be a good idea unless the dress has a few specific qualities. For starters, the dress must be fitted to blend with the tights. While the knit dress conforms to your body, the thick fabric makes it more forgiving, camouflaging any bumps and rolls that are the side-effect of aging.
Moreover, it should ideally be of a longer length to create a homogenous look and offer you some extra coverage. Black on black is the holy grail for most fashion icons, yet anything towards the darker spectrum will look modish and chic. The ensemble is also the perfect backdrop to showcase your chunkiest gold jewelry.
Lace Top and Blazer
Women may love wearing leggings everywhere since they are comfortable, appealing, and complementing, yet you are still determining if they work in a professional setting, especially at your age. The good news is that leggings can absolutely function as office wear when paired with a lace top and blazer.
Opt for a white or cream-colored lace top that ends below your waist to create a monochromatic look. Combine it with a sleek, long, black blazer that covers your hips and thick black tights. Steer clear of any see-through leggings or thinner material, as it is unsuitable for a work environment.
Long V-Neck Tee
Sometimes, you just want a laid-back look that is comfortable and practical for everyday chores. In this case, reach out for a long, v-neck tee to wear with your trusty pair of leggings. As usual, the length of the top is of prime importance since anything too short does not look appropriate.
Moreover, the v-neck is a visually appealing neckline that also makes you look more feminine and refined. It also provides you with the perfect opportunity to wear your most precious pendant necklaces, which can be the highlighting feature of an otherwise simple ensemble.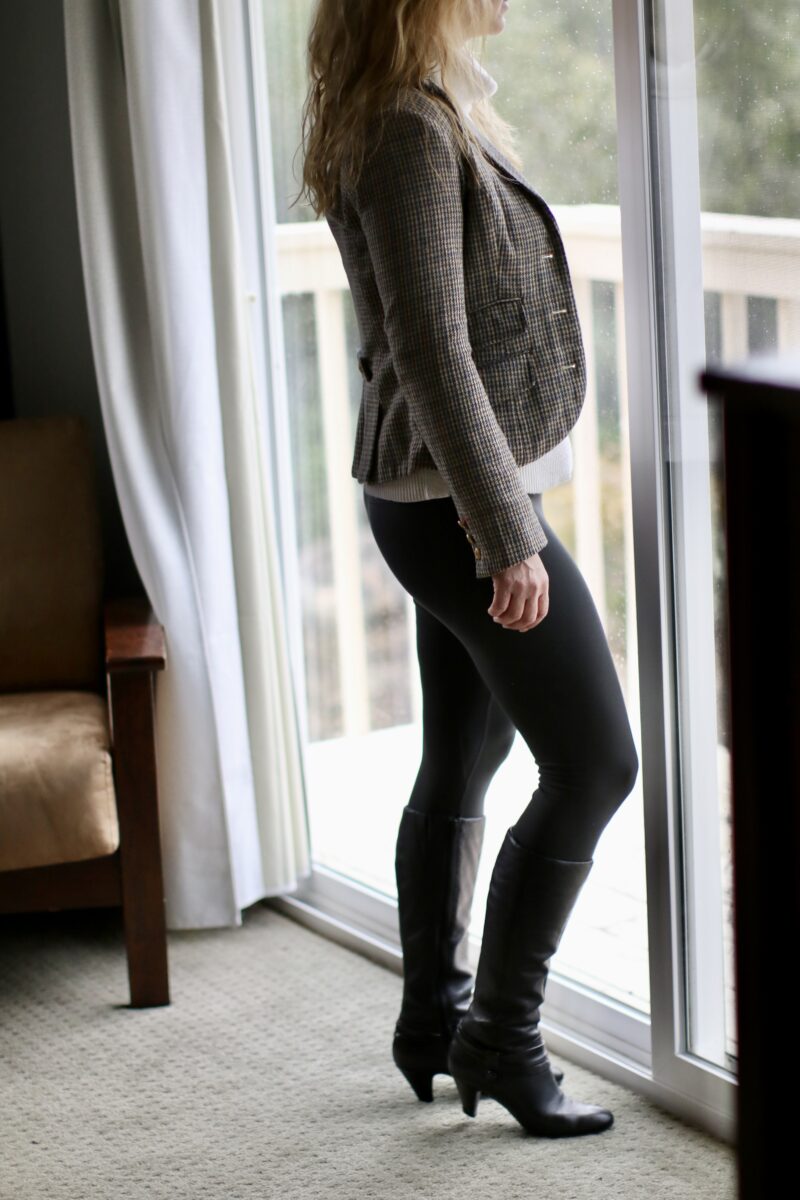 Riding Boots
Riding boots make the top of the list for their high style quotient. The tall boots complement your leggings perfectly, imparting a sporty and youthful edge to your entire look. Whether you are partial to the smooth leather variety or prefer the more robust suede ones, you can rarely go wrong with these boots.
In addition, these shoes will be the star of most outfits, so you can wear almost any top and still look trendy. However, if you are unsure, I suggest the tunic sweater or the long cardigan look from the suggestions above for the classic autumnal affair.
Black Heels
Almost every woman, regardless of age, owns a pair of black heels that are sleek, classy, and, hopefully, comfortable. These seemingly simple shoes are the epitome of elegance. Hence, when you want to add a touch of finesse to your outfit, you can put on the quintessential black heels.
Moreover, the black pumps perfectly counterbalance the unassuming leggings, which are often associated with casual wear. Thus, whenever you feel that your leggings and a top combo look too plain and boring, add a pair of heels to enhance your appearance since they will instantly provide you with some extra inches and poise.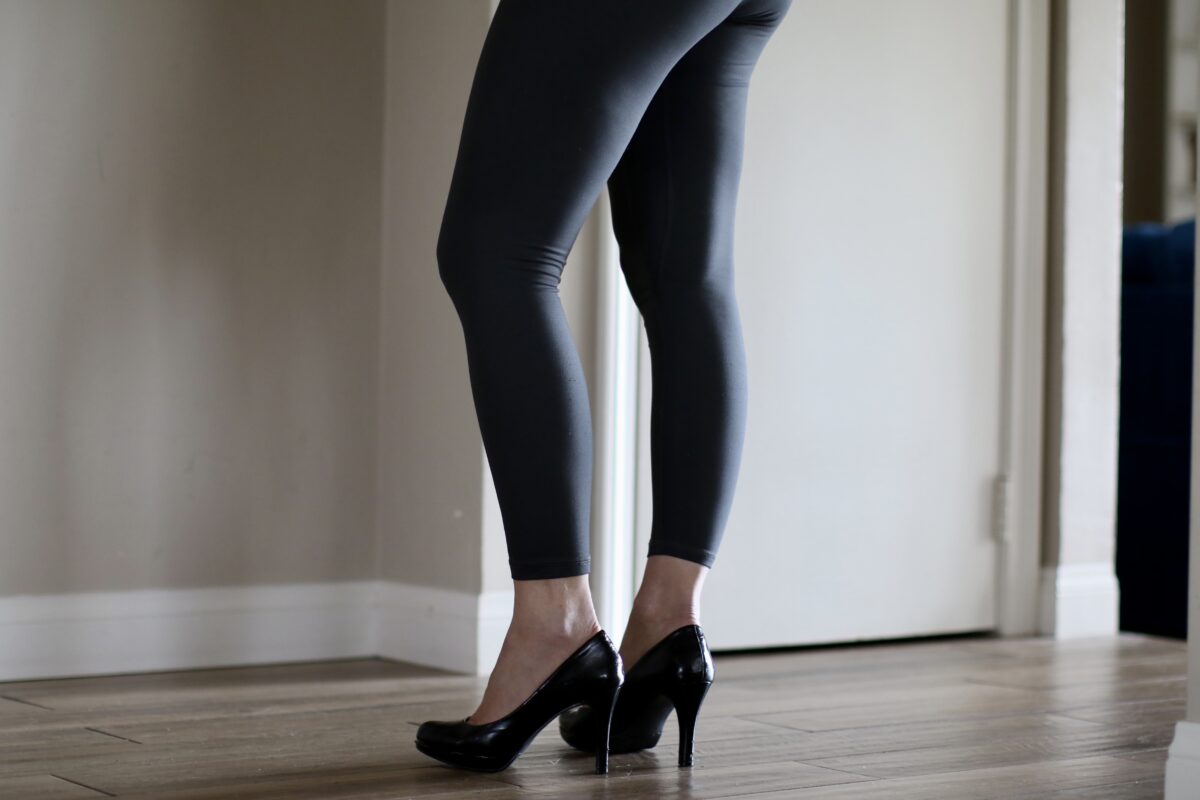 White Sneakers
A sharp contrast from black heels, conventional white sneakers are another footwear that works flawlessly with your leggings. In theory, the combination of leggings and sneakers should be the personification of unpretentious dressing. However, with more people prioritizing comfortable fashion, this combo works well for women of all ages, from school going to middle-aged ones.
While there are so many types of sneakers to choose from, I recommend going for either plimsoll or slip-on sneakers. Both of these styles are more suited for women over 40, as they are muted yet fashionable. They are also very easy to put on and blend well with most of your daily attires.
How to Wear Leggings - And Still Look Chic! (Over 40, Outfit Ideas)
Conclusion
There are limitless possibilities for styling your basic leggings that work for many settings. Wear them with a blazer for a formal event, a sweater for lunch with friends, or a simple tee for a grocery run. The list goes on!
Leggings are not pants, so ensure your rear end is covered with a long shirt, tunic, or dress. Add a pair of heeled pumps or comfy sneakers, and you are ready to step out in style!