While we're definitely invested in the drama and the romance that has occurred during the 17 seasons of The Bachelorette, another reason we tune in each week is to take a look at the various outfits the bachelorette is styled in.
Let's review some memorable outfits and discuss why they did (or didn't) work. Plus, we'll share if that style could still be worn today or if it's a trend that is long gone. 
The Bachelorette Fashion and Style Guide
Each bachelorette that has appeared on our screens has had a slightly different style. Cary Fetman is the wardrobe designer for The Bachelorette, and each season he takes the latest trends and combines that with the woman's personal style to create unique outfits for them.
Katie Thurston's Outfits
Katie's outfits have been the most controversial outfits to come from this franchise. Bachelor Nation has criticized Cary Fetman for being lazy with his outfit designs for Katie, and even purposely putting her in ugly outfits. 
Katie has somewhat defended Cary, saying that she knows she's not the trendiest bachelorette, and she chose and approved many of the outfits Cary selected. So, let's talk about some of them: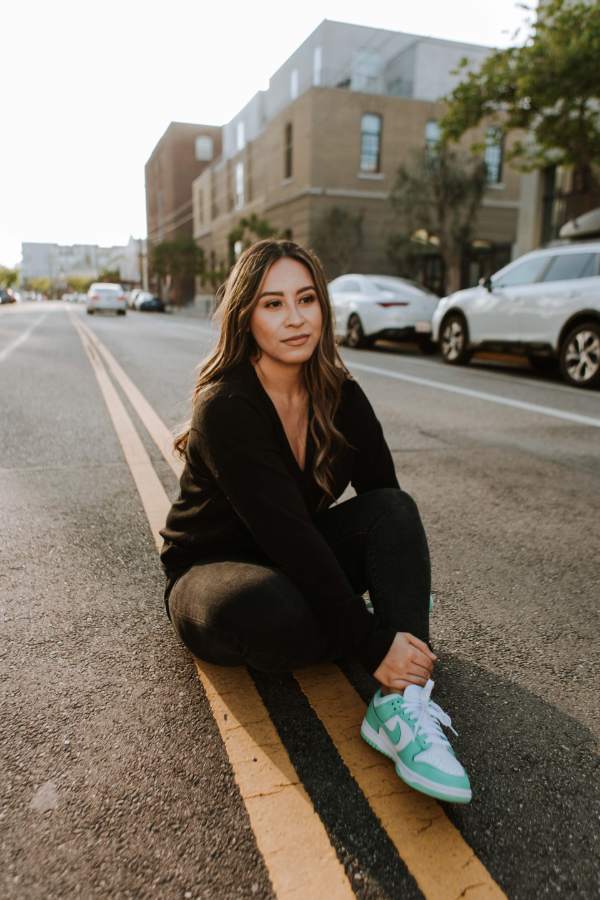 Colorblock Zip Bikini
This bikini had a lot going on – multiple colors, random zippers, and various style elements. The top was the Endless Summer Push Up Top from Beach Bunny, and even though it claims to be a push up bikini top, it didn't appear to give Katie the "oomph" you'd expect from a push up top. 
If anything, her chest almost looked flatter in the swimsuit. While the zipper on the top was likely meant to bring a bit of sexiness to the suit, it didn't achieve that goal since Katie is a bit flat-chested.
The aqua and popstar pink color blocks on the swimsuit were distracting and awkwardly placed. This bikini is not one we'd recommend adding to your collection. Instead, look for styles that focus on one main element, rather than trying to cram multiple features into one bikini.
Lululemon Wunder Train High-Rise Leggings
During a group date on The Bachelorette Season 17, Katie looked ready to get active with the guys in her athleisure wear. She just proved the staying power of athleisure with her Lululemon leggings, Lululemon hooded jacket and APL Athletic Propulsion Lab sneakers.  
Compared to the previous alumnis of the show, the 30-year-old marketing manager opted for comfort over formal attire and evening gowns for her date outfits. 
Sporting Lululemon's cult-favorite leggings during the competition-fueled group date, Katie paired the black leggings with a zip-up style jacket and black sports bra. 
Katie also wore the TechLoom Breeze sneakers from APL Athletic Propulsion Labs to complete the look. Sneakers and leggings are a great combo, especially for a good athleisure outfit.
The leggings are flattering and versatile, and are considered one of Lululemon's best products. They look fresh and make casual wear look even better as it is comfortable and tailored to perfection.
The Lululemon leggings are light and have great movement capability, allowing Katie to comfortably hang out with the guys as they compete to score a one-on-one session with her. They also complement her long legs. 
Leggings are ideal for any type of weather, workout sessions, and they can be paired with almost anything. From Katie's season, we saw that she was sort of a minimalist with her outfit choices, and a basic t-shirt with jeans was her ideal outfit.
Tayshia Adams' Outfits
Tayshia Adams conquered The Bachelorette season 16 and ended up getting engaged to Zac Clark. However, her season was also filled with beautiful and steamy bikini moments and cocktail dresses. 
The fans of the show fell in love with Tayshia when she was first introduced on The Bachelor season 23, which was headlined by Colton Underwood.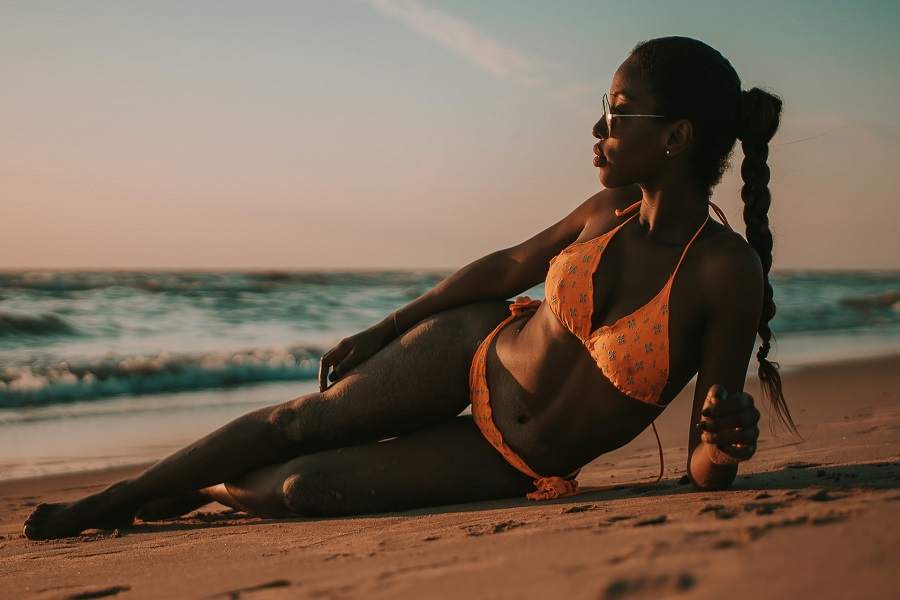 The 28-year-old phlebotomist from California became a fashion icon overnight even though she was eliminated during the Final 3. There is a good reason why the show's producers chose Tayshia as the lead on season 16: she exudes confidence and looks beautiful in any outfit. 
Red-Orange Swimsuit
Tayshia showed off her bikini body during her run on the show, with most of her swimsuits even posted on her personal Instagram page. 
One of the most talked about swimsuits that she wore was the L Space red orange bikini top and bottom. The L Space swimsuit looks soft and feminine, which is an overall look that women love. 
The bright and hot color combination of red and orange look amazing on a classic triangle cut, which is a popular bikini top style. Made of spandex and nylon, the swimsuit's fit and color matches Tayshia's figure and skin tone. 
The swimsuit has a flexible fit, which provides comfort even after it gets wet after swimming. The cup pads were neatly in place, covering Tayshia's chest area safely while its push up feature allowed her to show off her figure. It is also removable so the wearer can customize the fit as they want. 
As for the bikini bottom style, it has a seamless design that can easily be paired up with any top. Its classic fit hugs Tayshia's hips in a flattering and curvy way. The full coverage fit offers a bit more concealment at the back. 
ViX Paula Hermanny Swimsuit
Tayshia has spent a lot of time wearing bikinis on the show, and one of the most talked about looks that she had was the Vix Paul Hermanny swimsuit that hugged her figure and added elegance to her whole attire.
The swimsuit is beautiful and is made of well-constructed materials, making Tayshia look like a poolside goddess. It has the signature style of Brazilian cut bottoms with an amazing fit that combines the exquisite print and lavender color with gold-plated accents and incredible details. 
Vix Paul Hermanny gave Tayshia a feminine and flirty look. What makes the swimsuit different from the rest is its attention to detail. The bikini has a ruffled structure, a deep-v neckline, and a high-waist swimsuit bottom. It draws the eyes to the most narrow part of Adams' frame. 
Vix also assures extra comfort, and because of its elegant design, it is great for Tayshia's coastal getaway, in which she posted about on her socials while filming The Bachelorette. It can also be a bodysuit that is worn just beneath lightweight linen pants as seen on the show's behind the scenes takes. 
The swimsuit's style elevates the standard of a basic bathing suit, giving Tayshia a modern look while splashing in the pool with her dates. 
JoJo Fletcher's Outfits
As the lead of the 12th season of The Bachelorette, all eyes were on JoJo Fletcher. Described as a "sexy girl next door," JoJo's outfits per episode had designers dive into her look every time. 
The major consensus was she is one of the well-dressed Bachelorette, with most designers agreeing that it has something to do with her personal style and her grasp on what works really well with her body. 
Fans also gave credit to Cary Fetman, the show's stylists, and noted that everything JoJo has worn has been tailored well because it speaks volumes to the importance of wearing outfits that suit her.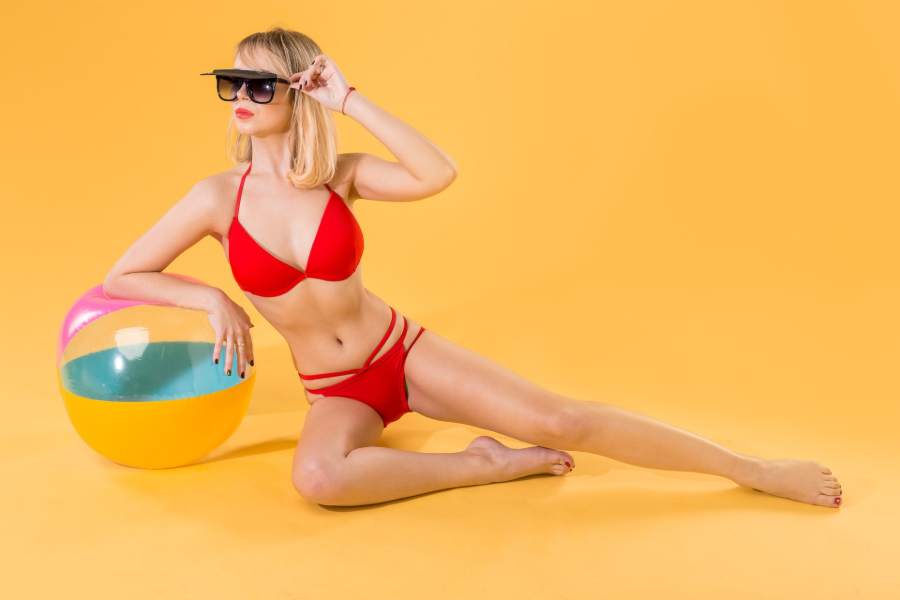 Spanx Cut & Sew Cropped Leather Leggings
The Spanx leather leggings can be used at almost every event, and Fletcher proved that as she paired it with almost any casual outfit. 
The leather leggings do an amazing job of placing the seams in areas that let circulation throughout. Although faux leather and comfort don't always go together, the fit holds up amazingly on JoJo's body and it is incredibly comfortable to wear. 
The Spanx leather leggings are a total compliment magnet, and JoJo just upped the game after she paired the leather pants with Tolani Emma flannel, Lulu Dharma Howlite & Hematite wrap bracelet, and the Nashelle Wander arrowhead cuff to complete the look. 
The leggings have the brand's famous contoured power waistband that make JoJo's backside look great and crafted, thanks to the blend of polyester and nylon. 
Beach Bunny Red Swimsuit
JoJo rocked the Beach Bunny red hot bikini while in Fuji. The sliding triangle bikini top had scalloped edges that sweetened the look of the halter swimsuit top, while the contrast trim design makes the swimwear a standout from the rest, and it looks beautiful on JoJo. 
The bikini has a beautiful fit on JoJo's body, and its adjustable ties at the neck and the back were adjusted according to Fletcher's body type, hugging all of her assets well. It also has removable pads, making it a great choice for her beach swimwear. 
The low rise bottom with contrasting trim at the edge added an amazing and playful detail to JoJo's overall look. The hipster swimsuit bottom offered moderate coverage on her butt, and it showed her long legs.
The bikini is made of 82% nylon, 18% polyester and 7% spandex and the lining is made of 93% polyester. The fit is both charming and comfortable on her. 
The pads in the bikini top added shape and support for her larger chest. The ruffle trim on both the top and bottom part show a fun and sweet look, and the low waisted bikini bottom provided safe cover for JoJo's backside without hiding her shape. Overall, this was another great bikini we saw on the show.
Hannah Brown's Outfits
Hannah Brown may have failed to find love on The Bachelor season 23, she became the bachelorette of season 15 and she owned the show with her beautiful outfit choices.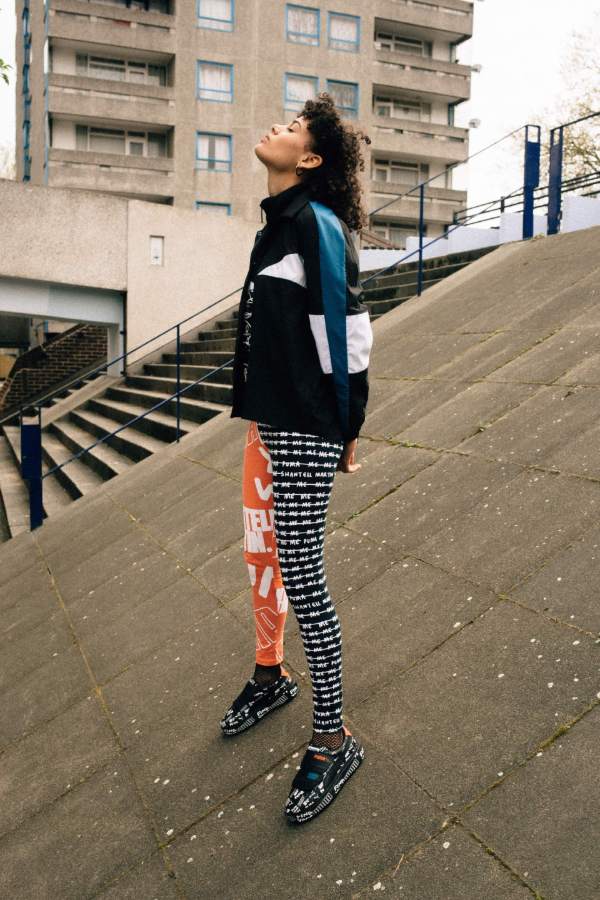 The fans first met the beauty queen when she joined the 23rd season of The Bachelor. In the end, Colton Underwood chose another contestant during the season's finale. However, fans were not ready to say goodbye to her yet. 
When Hannah returned, she was the one calling the shots and determining who would be the lucky man to win her heart. Throughout her season, she managed to rock some of the most memorable and glamorous looks. 
Bandana Leggings
Hannah is into fitness, and it showed during her time on the show. While sharing her fitness routine with her dates and the fans of the show, she rocked the Bandana leggings from The Year of Ours. 
The leggings are designed with the brand's athletic material, which allowed Hannah to confidently show her routine without having to worry about the fit.
The stretchy and breathable fabric, made of spandex and polyester blend, is quick-drying, so Hannah was able to get her sweat on and still go on a date with the contestants after without having the need to change. 
Camo Workout Leggings
Even though Hannah may no longer feel the need to be picture-perfect since her season on the show is over, it is becoming clear that it does not apply to her style at all. Even her workout wear is amazing, as she was seen with Camo leggings while going out for a run. 
Hannah looked stunning while she went for a quick run. The leggings are also great for yoga, which Hannah posts on her TikTok and Instagram accounts. 
With its drawstring waistband, it is easy to adjust and it fits well no matter what activity Hannah does. With its second-skin fit, it moves when Hannah moves, showing off her beautiful, long legs. 
Conclusion
Katie, Tayshia, JoJo, and Hannah each had their own distinctive style they brought to the show, and we're here for it.