As an Amazon Associate we earn from qualifying purchases.
There is often confusion between stockings vs leggings. They are commonly mistaken as a clothing piece. If you find yourself among the number of women who are in a dilemma as to when, where, and how you will wear both your stockings and leggings, this article aims to help you with just that.
Stockings vs Leggings
At first glance, it may seem that stockings and leggings are indeed one and the same. However, there are primary differences between the two. These include their coverage and the materials used in their production.
In terms of coverage, stockings cover your toes to the level of your knee or mid-thigh. Leggings, on the other hand, span from your waist down to somewhere between your knee and ankle.
As for the fabrics between the two, you can easily say that one is a stocking if it is made of a sheerer, somehow borderline transparent, material. A legging is made of thicker, heavyweight, and more substantial fabric.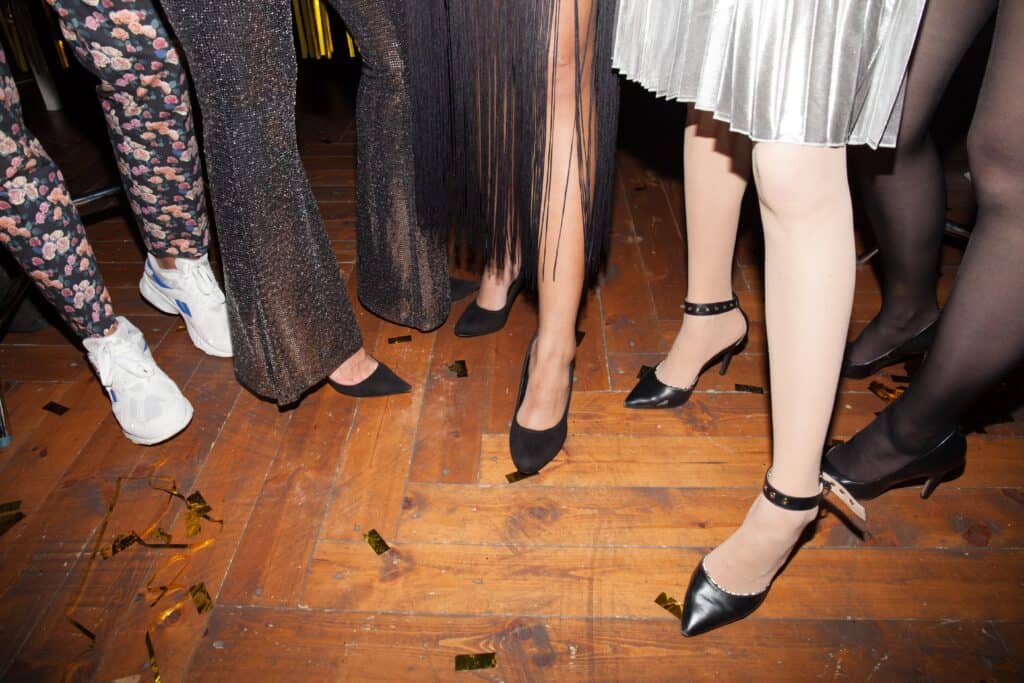 What are Leggings?
Historically speaking, leggings originated as a tight-fitting garment worn by men, particularly horse-riders and military men, during the 18th century. They were commonly worn for the purpose of preventing skin chapping common to horse riding. In addition, they helped in avoiding animal and insect bites, dirt, and mud, and served as ankle support.
Throughout the evolution of the fashion industry and the boom of aerobics and athleisure, it is now a popular streetwear and everyday staple. Both women and men wear them. They can be worn when hitting the gym, doing athletic activities, or simply going to the grocery store. They are now considered one of the most versatile athleisure garments, loved by many for comfort and style.
Leggings also have a thicker material that is usually composed of the synthetic fiber Lycra, polyester, nylon, cotton, and/or spandex. These fabrics, when combined, give them the ability to stretch out easily, mold to your body, and absorb moisture and sweat to avoid unnecessary marks.
What are Stockings?
Whilst leggings are usually for sports or athleisure wear, stockings are designed for more semi-formal and formal occasions or gatherings. They are close-fitting and made of elastic materials that vary in color, design, and transparency. Some of the most common fabrics used in stockings are rayon, silk, and mixed fabric.
In the past, stockings were usually worn with stay-ups or garter belts. These went around the waist of the person wearing it with suspenders clipped on the top part of the stockings. Although stockings are still styled in this way today, it is now commonly used as an individual complementary piece underneath mid-length or short skirts or dresses. 
Stockings have thinner fabrics compared to leggings. They are usually not worn during winter or places with cold temperatures as they don't necessarily help in giving additional warmth. They also need more care in washing. The fabrics are vulnerable to wear and tear.
Similarities and Differences Between Stockings and Leggings
To give you more clarity as to how stockings and leggings are different, you must take into consideration the similarities and differences of both. In knowing these, you will be able to identify which of the two should you choose for a certain need or dress code in the place or event you'll be going to.
Comparing Stockings and Leggings
| Features | Stockings | Leggings |
| --- | --- | --- |
| Coverage | Covers from toes to knees | Covers from waist down |
| Fabric | Rayon, silk or mixed fabrics | Lycra, polyester, cotton, wool |
| When to wear | Formal and semi-formal occasions | Workouts, casual outfit |
| Fabric Thickness | Sheerer and transparent | Thicker and more substantial |
| Functionality | Enhance legs appearance | Athleisure outfit |
Similarities of Stockings and Leggings
In terms of styling, stretch, and fit, here are the common similarities of stockings and leggings:
Way of Styling
Both stockings and leggings are commonly designed to be worn underneath short or mid-length skirts or dresses, and even sometimes, shorts.
Leggings can be worn as an alternative to pants whereas stockings are too sheer to do so. You will still usually see many women wearing both of these garments under their skirts and dresses.
Tight-Fitting and Stretch
Stockings and leggings are also made of fabrics that are stretchy and fit tightly to your body. The downside, however, is that they may also be prone to become worn out and loose when they are overused or washed improperly.
Support and Mold to Your Body
Because both pieces are tight-fitting, they are able to mold your body shape and give your legs some kind of support. This is the reason why it is said that you look sexier, more appealing, and more in shape when you wear either of the two.
Differences Between Stockings and Leggings
Now that I have tackled the similarities between the two, you may also be asking about what makes them different from each other. Their differences are listed below:
Coverage
Stockings are footed in a way to cover your toes up to your knees or thighs. Meanwhile, leggings start from your waist down to somewhere between your knees and ankles. This depends on the style of your leggings.
Thickness
The fabric of stockings is sheerer and more transparent compared to leggings. Some kinds of stockings, like pantyhose, are meant to camouflage to your skin. This explains the transparency.
The leggings have a much thicker and more substantial material. These give you the option of being able to wear them on their own and in places with colder temperature.
Composed Fabrics
As mentioned above, fabrics used in the production of leggings are performance fabrics such as the synthetic fiber Lycra. This has been popularized by the leggings brand, Lululemon. Other fabrics such as nylon, polyester, wool, cotton, and spandex are used.
Some stockings can also be made of mixed fabrics including nylon, polyester, or spandex. Usually they are made of rayon and silk.
Common Use
Stockings are used for more formal uses such as parties, formal events, or professional work. Leggings are known to be more of an athletic and sporty wear that people commonly use when hitting the gym, attending sports training, or going for a run.
Needless to say, leggings are still versatile enough to be worn in other semi-formal events. You can wear them when going to work if carefully styled. Put an effort into mixing and matching your outfit pieces.
Functionality
Stockings are hosiery undergarments that can make you look even sexier and make your legs look flawless. This works especially if you are wearing a transparent, nude-colored one.
However, leggings have more functionality. Most of the designs have added features such as secret pockets, performance fabric, or moisture-wicking technology.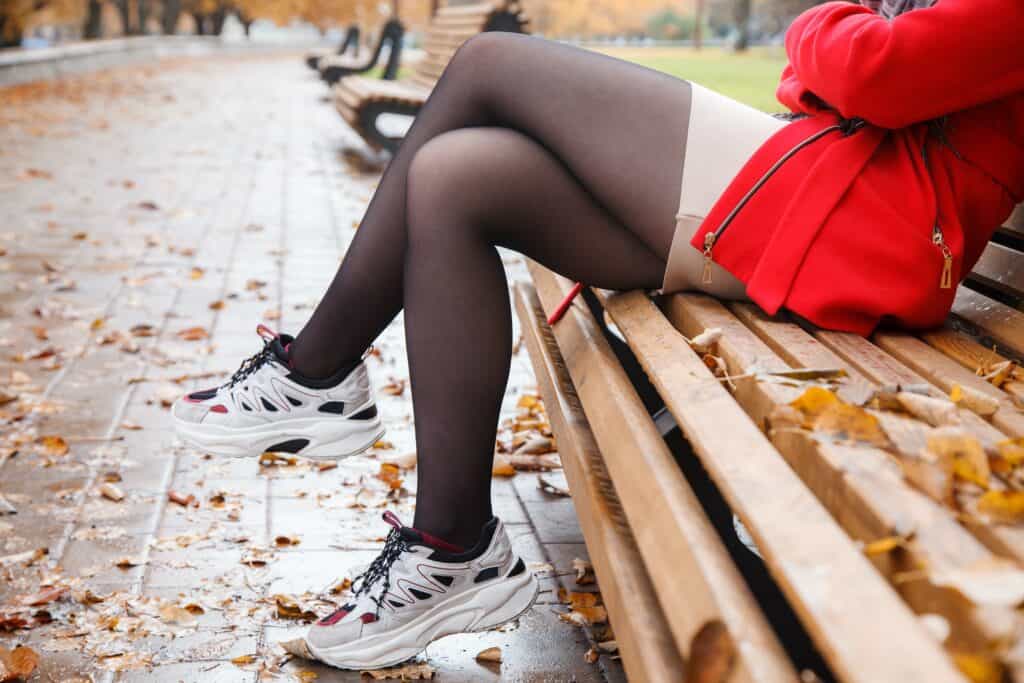 Which One is Better?
In the end, your choice when asked the question "which one is better?" will all boil down to what you will use the garment for and how regularly you are planning to use it.
If, for example, you are more into sports then you would lean toward leggings. Add more time and effort in choosing your favorite features and fabrics. You might also prefer leggings when you're planning cozy, winter outfits. Their thicker fabric will clearly give you additional warmth.
When you are looking for an undergarment that will simply complement your skirt or dress and make your outfit more appealing, you may choose stockings There are countless options with  designs and details. You may also choose a plain, transparent one if you're just looking for something to serve as a second skin.
When to Wear Leggings
Leggings are known for their versatility. They can often be styled in many ways for you to wear in various events or places. You can wear them under your skirts, long tops, dresses, and shorts. You can even wear them on their own if you're only planning to go to the gym.
You can also wear your leggings when you're heading to work. Simply pick a work-appropriate legging (usually the classic black legging will do) and style with a long and crisp white button-down top. Layer with a plain or patterned structured blazer. You can then choose heels or flats depending on what makes you feel most comfortable.
You may also opt to wear your leggings as winter staple outfit. Several leggings already have a heat technology feature. You can easily look fabulous when you pair them with your oversized sweater, accessorize with the right amount of bling, and layer with winter coats that match the overall color of your outfit.
Here are other DO's when wearing your leggings:
DO stick to solid- and dark- or neutral-colored leggings so there is more versatility.
DO pair your leggings with tops and dresses that cover your bum especially if you're intending to wear them outside the gym.
DO check if your leggings stretch out in a way that they become sheer. Avoid unnecessary showing off of your underwear.
DO ensure that your leggings help elongate your legs.
DO mix and match your clothing pieces when going out with leggings to make sure you're not looking too casual
DO try layering your outfit pieces and avoid bulky pieces that will go with your leggings.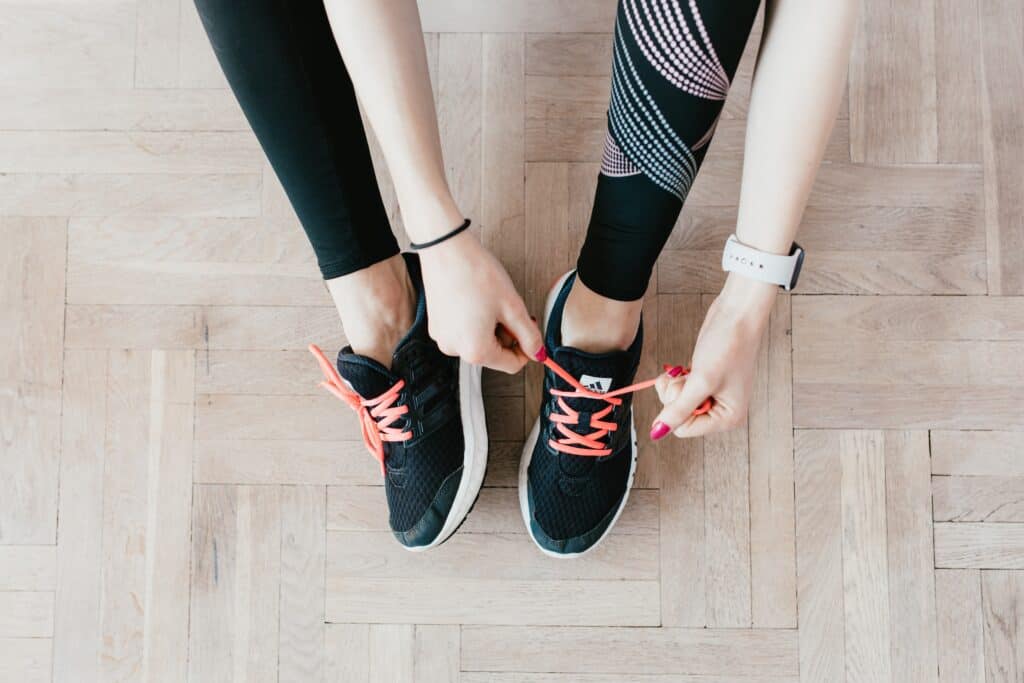 When to Wear Stockings
You have the option of wearing stockings when you are heading to semi-formal or formal events that requires a bit more sophistication in your outfit. There may also be times when you feel uncomfortable going out only with skirts or dresses and with bare legs. Those times may exactly be the times you can make use of your stockings.
Stockings also add a more conservative touch to your outfit. If you are going to church, significant ceremonies, or job interviews, stockings might be your next best option to cover your legs.
Here are some DO's when wearing your stockings:
DO choose stay-up stockings that have a top band to grip your thighs and stay molded to your skin despite your movements. This helps avoid the uncomfortable situation of having to pull up your stocking every single time.
DO examine your stockings to make sure there are no extra stitches and wear and tears that will lessen the quality and appeal of your stockings.
DO pick neutral-colored stockings for a more classy and sophisticated look
DO try on other types of stockings such as fishnets and lace for when you are going for a sexier outfit to parties or night-out events.
DO ensure that your stockings are not too tight for you to make sure you're not constricting your blood circulation.
DO get stockings styled with woven socks to get some additional warmth for when you are planning to wear your stockings on winter or colder nights.
Frequently Asked Questions
Are Leggings Hosiery?
Although it is a skin-tight garment, leggings are not particularly considered hosiery as opposed to tights, pantyhose, and stockings.
This is also because leggings are used more for sport and athleisure wear. They help you not feel constricted when doing intense and highly athletic movements and exercises.
What Do You Call Leggings That Cover Your Feet?
Unlike stockings, leggings are generally not designed to span until your toes and cover your feet.
However, there are still some called wrap foot, footed, or stirrup leggings. These are still designed to cover your feet while enjoying the thicker and warmer material of leggings.
What is the Difference Between Spandex and Leggings?
CLASSY Leggings Outfits that look Chic and Sophisticated
Conclusion
There is quite a lot to know about stockings and leggings. In the end, having this kind of knowledge will help you be able to choose the right garment that will be useful for your needs. 
When in doubt, just remember that stockings are more transparent and cover your toes to knees or thighs. Leggings have thicker materials with additional features and span from your waist down to your knees to ankles.